By Debbie Adams
Gauntlet winner Bonnie Chavez founded Building Beloved Communities in 2018 in her home state of New Mexico "to provide community-centered business solutions for small business owners and non-profits of all sizes." In addition, she "provides executive coaching for those wanting to advance or deepen their leadership role."
She established the business when she found herself unexpectedly unemployed after her prestigious and lucrative management position was eliminated in a business merger.
Her solution to the dilemma she faced included moving herself and her nationally based business across the country to Roanoke last year—in the midst of a pandemic—because she "loves the mountains and being outdoors and has a great support system of friends here."
In the time since, Chavez has firmly established herself as part of this community as she has grown her business. She entered the 2021 Gauntlet Business Program and Competition, winning on the gold level. She has devoted fundraising efforts to a venerable charity, the Roanoke Hospitality House (the Ronald McDonald House concept, but for adults), with benefits far beyond this community. She has bought a home in the Grandin Village area. She has hired her first employee; and to top it off, met the love of her life who was also a Gauntlet participant. And now her beloved parents are preparing to join her here in Roanoke.
Chavez based her new business on a speech delivered by Martin Luther King Jr. in which he envisioned "building The Beloved Community as our goal; to create a world in which poverty, hunger, homelessness, and bigotry will not be tolerated because international standards of human decency won't allow it."
While that sounds like a lofty goal, maybe even a head-in-the-clouds idea, Chavez has actual business credentials to use in building those communities. She is fiercely pragmatic and a visionary at the same time. When she asked herself how she could contribute to King's vision, she took stock and came to the conclusion that what she had to offer was "I have really good business skills" that can be used to "keep the goodness going." Pragmatism from the heart.
Chavez graduated from Okanagan University (now a University of British Columbia campus) with a degree in Business Management and earned her Master's in Business Administration from the University of Phoenix.
She started out in 2004 in graphic design, creating business cards, wedding invitations (her favorite), flyers, and brochures, and assisted with marketing and sales. Her climb up the corporate ladder continued apace for the next several years.
She worked for the non-profit United Blood Services, cultivating public support for community-based blood drives; directing, training, and supervising blood drive coordinators; and managing blood drive logistics for a large segment of northern New Mexico and southern Colorado. That led her to a job as a Hospital Services manager for the same company, managing the blood and blood component inventory for the state of New Mexico.
Her next move was to Molina Healthcare, a Fortune 500 company focused exclusively on government-sponsored health care programs for families and individuals. Initially she worked as the director for Community Engagement, for the philanthropic arm of the health insurance company, directing their marketing efforts. Within a year, she had moved up to director of Government Contracts Marketplace and Medicare for Molina for the state of New Mexico.
She was headhunted by another healthcare company and became director of the Affiliate Network for the DaVita Medical Group of New Mexico. That job was hers for several months until DaVita was acquired by Optum health services company, and her position was eliminated, stalling her corporate climb.
Chavez says she loved the day-to-day impact she was making in the corporate world, but she also keenly felt the grind—what kept her going was the "big paycheck on Friday." In her early 30s, she was "really kicking it" with a high six-figure salary, a home, investments—a phenomenal lifestyle—especially as a second-generation American with English as a second language. She was the first in her family to get her bachelor's and master's degrees, fulfilling her parents' dream to "have a successful kid."
When she lost her job, she "wasn't happy," but because she had lived conservatively and been "smart with money," she had time to ponder the future. She had business skills and felt a need to help her community. She had always been community-centered, believing "we all rise together," and that "our mission should be to raise up the community we are in."
So, she came up with Building Beloved Communities. She had just met with her financial planner who said she had enough cash and investments to fund her life for about six months. She was surviving on a diet of Ramen noodles when she was tempted to accept a job with a substantial salary, but ultimately turned it down and launched her company.
Chavez says it took a year to get on good financial footing with Building Beloved Communities. She made just $50 from her first client. Her marketing at the time was word-of-mouth. She was down to "bare bones living" when her business "took off." She was able to juggle more than one client at a time, some online, some full-time, some part-time. She kept consuming Ramen but started "getting traction."
Since she could work basically from anywhere with 90% of her contracts online, she made the decision to move to Roanoke, which has "cool places," supports entrepreneurs, and is a tight-knit community. At about that time COVID hit. She took a leap of faith and continued with her plans.
Her Building Beloved Communities enterprise is multi-faceted and includes working with small businesses to help them grow and flourish, with non-profits to help them galvanize themselves to survive, and executive coaching to help individuals find more satisfying careers and lifestyles.
Chavez focuses on a community-centered business concept in which small businesses and non-profits are encouraged to use local suppliers, buy from non-profits, increase their influence in the local community, and make charitable donations to support the community. Collaboration and community have always been key.
Now her "business is booming," in part because she is "reasonably priced," and while most consultants charge by the job, she has chosen to charge by the hour to give customers the best value.
Chavez seems to have a special talent for saving the organizations she works with money. She streamlined the operations of one company just by making changes to their photocopying system, saving $5,000—and convinced the company to donate the old photocopier to a non-profit to boot. She had another client switch to a cash back rewards credit card and saved $8,000 over time.
How do small businesses and non-profits afford a consultant? One non-profit client in Taos, N.M., can pay Chavez for her services because they received a grant to build up capacity. There are many grants available to help non-profits and hiring a consultant is a legitimate, and even encouraged, use of funds. Consultants like her come in and assist with "tightening the nuts and bolts," scaling, solving business problems–increasing efficiency and saving time.
Chavez says she signed up for the 2021 Gauntlet with "zero expectations." She wanted to network and meet entrepreneurs in the area and to understand business in Roanoke and the New River Valley. She gained far more from the Gauntlet than she anticipated.
She has hired her first employee—Shannon Dominguez, who directed the Gauntlet program for The Advancement Foundation (TAF) this year—to be her director of Operations.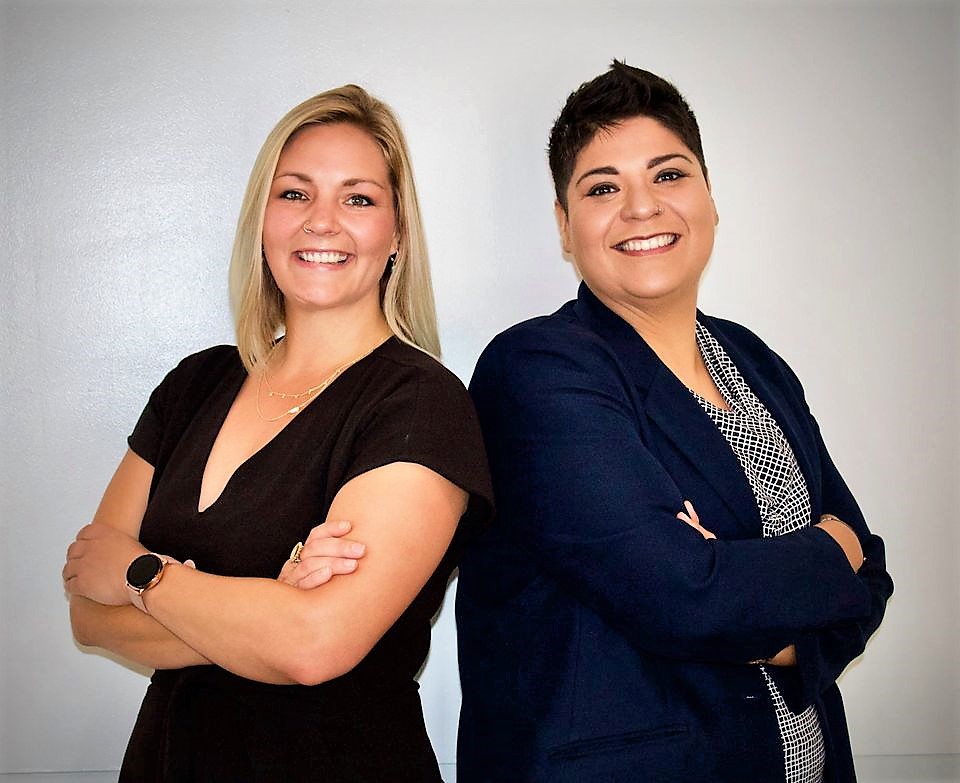 At the Gauntlet, Chavez met the love of her life, Kim Whiter, another Gauntlet entrepreneur—and Platinum Level winner—who has just cut the ribbon for her Elder Care Solutions business at the HIVE Business Incubation Center in Vinton. Gauntlet classes met online this year, and they first got to know one another by sitting at the same virtual discussion table.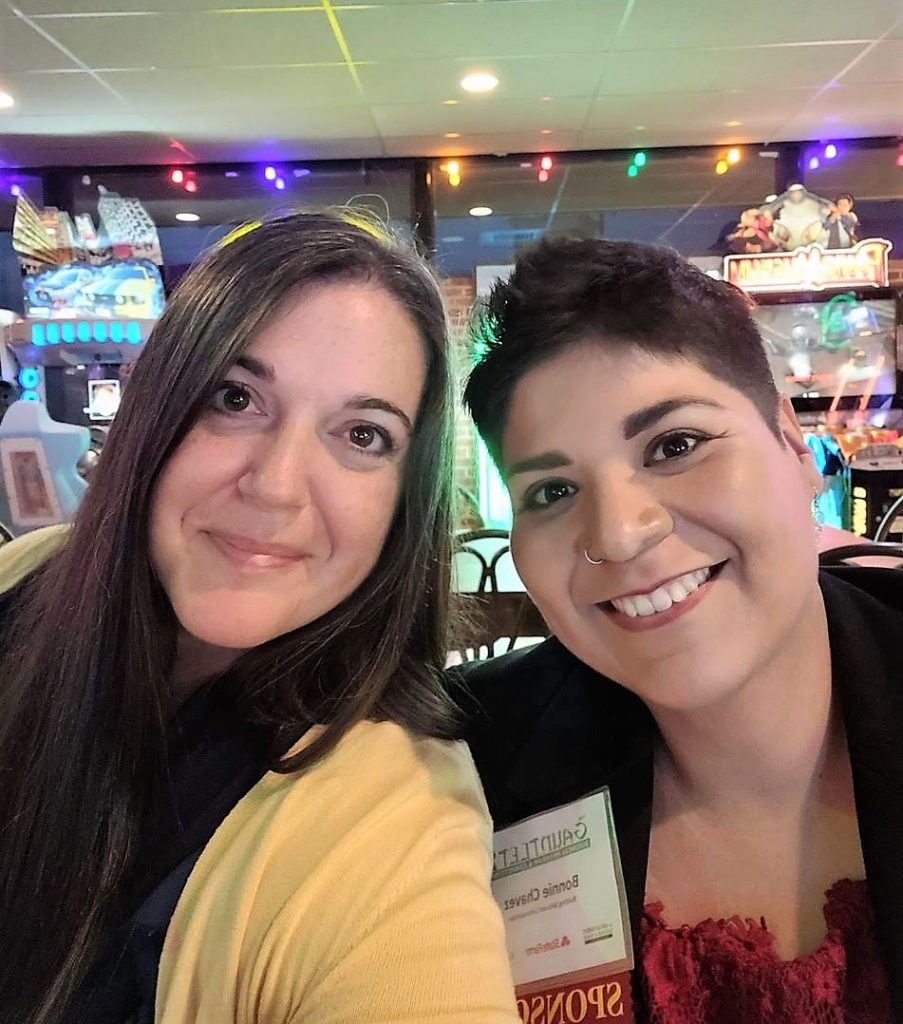 Chavez says the Gauntlet 10-week business program "takes a lot of hard work and guts—it's not called the 'Gauntlet' for nothing."
For more information on Building Beloved Communities, call Bonnie Chavez at 505-702-3858. Talking to her will make you feel better about the world.
For more information on the Gauntlet, visit https://theadvancementfoundation.org/the-gauntlet.