The Vinton War Memorial has joined partners from across the state of Virginia for Childhood Cancer Awareness Month in September. On September 15, Chasity Barbour, Dana Boyd, and Amanda Payne wore yellow and took the #gogoldva pledge, promising to "go gold and light up my home/building and be an advocate for children with cancer in Virginia."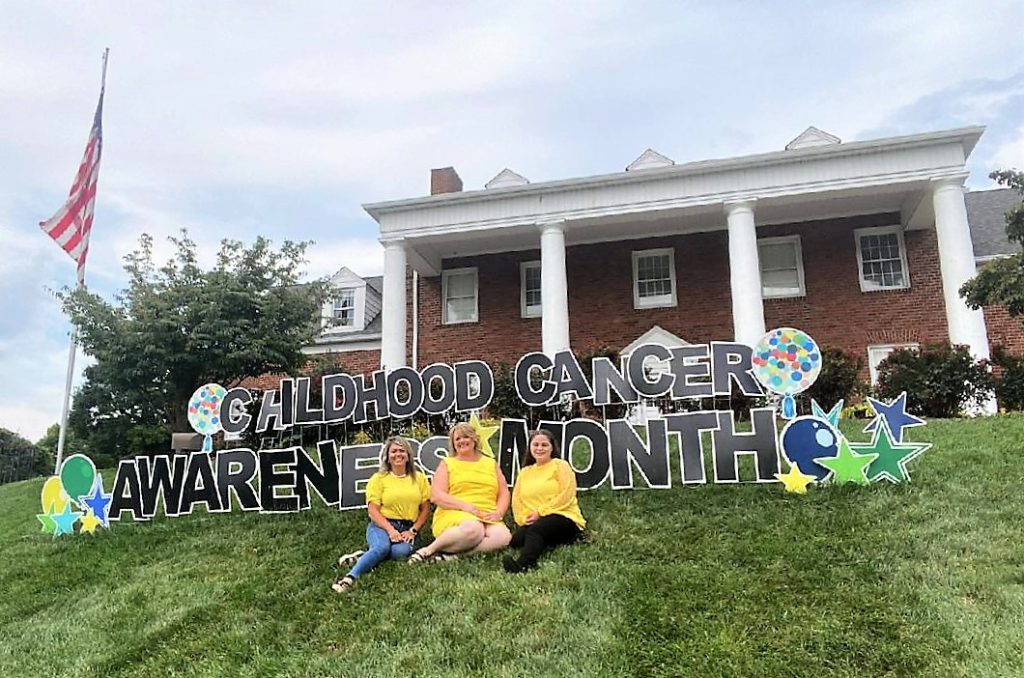 on who steals another person's property, especially by stealth and without using force or violence. Childhood Cancer is a thief. It's not a person who steal's another person's property, but what it does might be worse. Cancer steals the childhoods of so many kids around the world. It steals their livelihood, their light, and their future. It steals our next generation as we speak, and not enough is being done about it."
The #gogoldva organization is "on a mission to light up 337 buildings and homes in gold during September's National Childhood Cancer Awareness Month. That's the number of children across the state who are diagnosed with cancer each year." In addition to the Vinton War Memorial, buildings across the state partnering and taking the #gogoldva pledge include the Governor's Executive Mansion and numerous other buildings in Richmond; the Wells Fargo Tower, the Berglund Performing Arts Theatre, and Roanoke Fire and EMS in Roanoke; Woods Service Center Towing and Transportation in Vinton, and the Salem Civic Center. For the complete list see https://www.gogoldva.org/partners.
Earlier this year, the War Memorial had the opportunity to house the HeRow Expo Car Show put on by Hopedriven for the Rowan Price family. Rowan passed away in 2019, diagnosed just a year earlier in 2018 with a rare form of Leukemia, AML M7, also known as AMKL.
SignGypsies Roanoke helped remind Vinton of childhood cancer awareness with a bright, colorful, donated sign at the Vinton War Memorial, including the designated color yellow.
SignGypsies was started in 2019 by two Roanoke County teachers, Amanda Waldron and Lauren Burgess, as a side business. The two spend their mornings before school and on weekends travelling around Vinton, Roanoke, Botetourt, Salem, and sometimes beyond, surprising residents with celebratory signs for birthdays, graduations, weddings, retirements, and baby announcements. Their mission is to bring smiles and joy to Roanoke and the surrounding areas.
For more information on SignGypsies, visit SignGypsies.com.