By Debbie Adams
The Salem Red Sox welcomed student registered apprentices and their partner businesses to the ballpark on September 16 for a pre-game signing ceremony for the Regional Registered Apprenticeship Program.
The apprentices work in paid, real-world companies in the Roanoke Valley while attending local high schools. Roanoke County, Roanoke City, and Salem City Public Schools are partnering with local businesses to provide registered apprenticeship opportunities for juniors and seniors.
Three students from William Byrd High School were among those signing up for apprenticeships: Alyssa Nunley, Alex Theodor, and Sam Wilcox. Nunley is now working for Brown Hound Tree Services. Theodor and Wilcox are employees of the Western Virginia Water Authority.
The Virginia Registered Apprenticeship (RA) is a training system that produces highly skilled workers to meet the demands of employers competing in a global economy, through a combination of on-the-job training and classroom instruction. It is a "win-win" approach to workforce development for more than 13,000 apprentices throughout the Commonwealth.
Through the apprenticeship program, students can learn many skills all while earning a paycheck, high school credit, and an industry credential that means they could go straight into the workforce, skipping college. For students, apprenticeships can lead to careers. For employers, apprenticeships can help companies train future workers and fill open jobs.
William Byrd student Alyssa Nunley will be an office management apprentice with Brown Hound Tree Service.  She is 16 years old and a junior at William Byrd. She works at Brown Hound Monday through Friday mornings and then takes classes in the afternoon at Byrd. She began working with Brown Hound Tree Service this summer as an office specialist and by signing as a registered apprentice will "take the next step up."
Nunley will be doing a variety of office tasks—administrative, research, filing, and training in Microsoft Word and Excel. After completing the two-year apprenticeship program, she is interested in exploring a career as a veterinarian. Her parents are Nikki Nunley and Jamey Chocklett.
Family owned and operated, Brown Hound Tree Service employees have more than 50 years of combined experience in the tree care industry. Serving the Roanoke Valley and surrounding areas, the company performs complete tree removals, trimming, stump grinding, and hazardous tree assessment and removal. Brown Hound is seeking apprentices in the office management field.
The mission of the Western Virginia Water Authority is to protect and manage essential water resources through the delivery of quality water and wastewater service to customers. It is seeking apprenticeship candidates interested in working in the drinking water, wastewater, and distribution sectors of the company.  The Water Authority helped launch the student registered apprenticeship program as a pilot program in Roanoke County in 2017 with just five students in the first year. Mike Altizer, who has served as a member of both the Roanoke County Board of Supervisors and the School Board, facilitated the pilot program. It has continued to expand, adding students and business partners.
Alex Theodor will be a water production apprentice with the WVWA. He is 17 and a senior at William Byrd. He is in his second year of a three-year program—junior, senior, and one-year post-graduation. He says that in his first year of the WVWA program he was exposed to many different learning experiences and "loved it." He says the Water Authority employees "treat you like family." The work is hard, and you must stay focused. "It's the start of a career for me," Theodor says, as he hopes to explore a career with the WVWA after graduation. Theodor is from Vinton. His parents are Chris and Mark Theodor.
Theodor says he signed up for the RA program because he "wanted a job" but didn't want to work in the fast-food industry or in retail. He decided instead to work at the WVWA. His position is at Carvins Cove, helping to provide safe drinking water. Part of his job is gathering multiple samples and performing multiple tests on the water at the reservoir daily, along with maintaining the filtration system. He works eight-hour days at the WVWA on "A" days and takes a half a day of classes at William Byrd on "B" days.
Sam Wilcox will also be a water production apprentice with the WVWA. He is 16 years old and a junior at WBHS. He attends the Burton Center for Arts in Technology in the Masonry program and then works for the WVWA and takes classes at William Byrd on alternating days
He signed up for the apprenticeship program to get his "foot in the door," although he remains undecided about his future plans. His parents are Scott and Jennifer Wilcox. They say he has always been good with his hands, designing and building from a young age.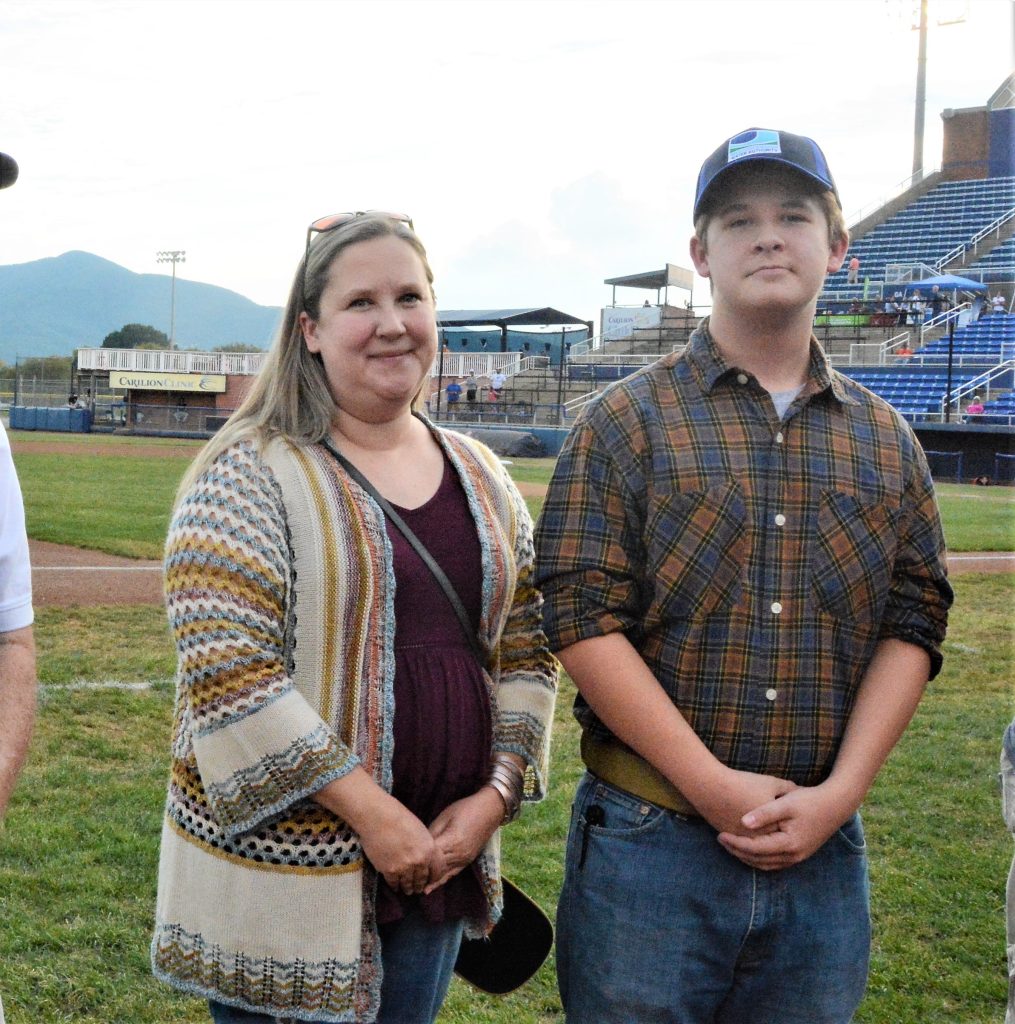 Other businesses participating in the Registered Apprenticeship signing ceremony on September 16 included Balzer and Associates (design and architecture firm), Blue Ridge Tire Center, G&H Contracting, G.J. Hopkins (mechanical and electrical contractors), Integer (design and development of medical devices and power solutions in medical and non-medical market), Medeco (security), Mersen (corrosion resistant and process equipment manufacturer), and Tread Corporation.
The Regional Apprenticeship program is actively seeking more businesses to participate as sponsors in the program.
The RA Program was designed in the 1930s by the Roosevelt Administration– originally as an adult job preparation program. Over the years it has expanded to encompass over 1,300 jobs in a variety of businesses and industries.
Managed by the Department of Labor and Industry (DOLI) in Virginia, the RA program offers a unique work-based learning model for students 16-18 years of age. These are not internships—students are employed by the companies.
Some facts about the RA program:
Students work about 20 hours per week.
Most RA positions require a minimum of 2000 on the job hours and 144 hours per year of industry-related instruction.
Students receive school credit for their apprenticeship.
Student schedules are arranged by the student, parents, school system, and employer.
The Virginia Department of Education (VDOE) has developed guidelines (including safety standards) for work-based learning to be followed by the school system and employer.
Students who wish to participate in the RA program first attend a Business Partner showcase to decide if the program fits their goals; attend a company tour with their parent; attend an interview and resume writing workshop, submit a resume and application; attend an interview with the company; and attend an RA Signing Day ceremony, like the one on September 16.
Typical apprenticeship students want to apply what they are learning in school, want to earn money, and want to become highly skilled and credentialed soon out of high school. In many cases the sponsor business will help students further their education and minimize student debt. Students must be 16 to start the RA program.  They must commit to maintaining good grades and working part-time.
Participating employers agree to provide on-the-job training and related instruction over multiple years. They both mentor and pay students to become highly trained.
If the business is in need of a skilled workforce to replace veteran employees departing, the RA process might help fill those needs.
"What makes the registered apprenticeship program beneficial is the flexibility it offers to both the schools and the partner businesses," said Jason Suhr, director of Career and Technical Education (CTE) for Roanoke County schools at a previous signing ceremony. "Students are able to enter into the workforce in small numbers where they are needed.
"At each partner business, students are taking their related instruction while on the job," Suhr said.  "Students begin learning about the company and begin to develop related skills years earlier than if they waited until they graduated from high school or college.  More importantly, the students begin to develop a relationship with the partner."
For more information on the program, visit www.rcps.us/Page/3268.