By Debbie Adams
Acclaimed artist Jon Murrill has now completed the beautiful wall mural at the new Vinton
Veterinary Specialty Services Center on Washington Avenue in Vinton. Those who
commissioned the work of art and the community in general are delighted.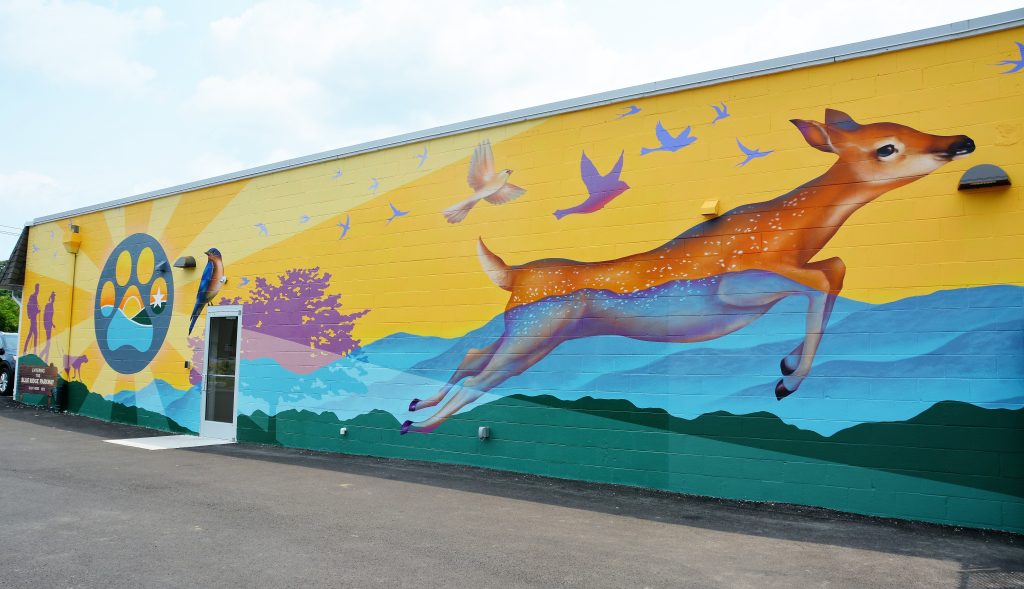 Since April 23, Murrill, assisted by art students and teachers from William Byrd High School,
and some additional members of the community, has turned a blank white wall at the center into
a work of art.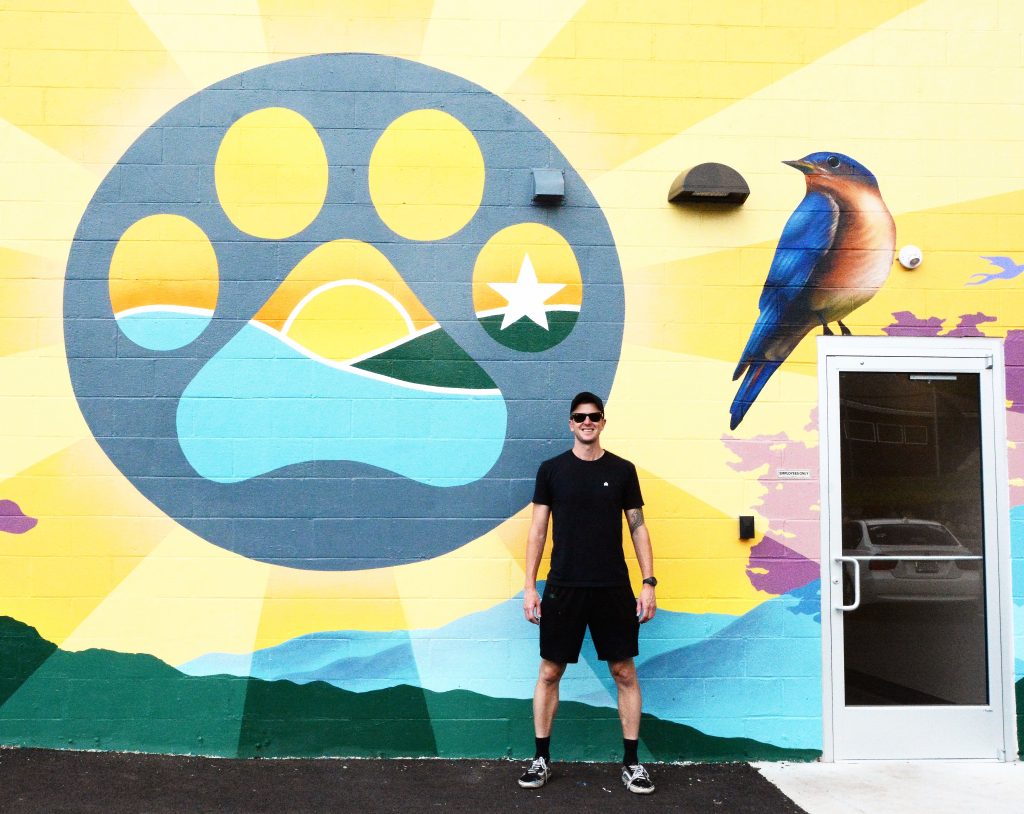 Vinton Vet Chief Medical Director Dr. Courtney Wiegard explained how the project came about,
"Once we knew the Specialty Services Center project was a go and there was a huge blank white
wall, we knew we had to make it gorgeous. I posted on Facebook asking for recommendations
for muralists and Jon Murrill's name was mentioned repeatedly. I reached out to him, and he
immediately came to see the wall. He was thrilled with the idea of bringing gorgeous mural art to
Vinton and we loved that he is an alumna of William Byrd (Class of 2005) and a Vinton resident.
We collaborated on the idea, and we are just thrilled with the final concept. Being able to have
William Byrd art students help is the icing on the cake. Truly a community effort!"
Murrill designed the artwork, in collaboration with the center. The project began with Vinton Vet
first pressure washing the wall and having white primer applied. Murrill then roughly sketched
his design, which features the great outdoors and local wildlife, on the primer layer.
Working on weekends, he, along with the volunteer students and their art teachers ,Denise
Sartell, Alicia Spangler and Allyson Goin, applied base coats of paint to fill in the basic shapes
of wildlife and mountains with rollers and brushes.
Then Murrill used a special artist spray paint to add the fine details. On June 15, he sealed the
mural with a coat of anti-graffiti paint which enhances the vibrancy of the colors, and which will
protect the mural for five to ten years.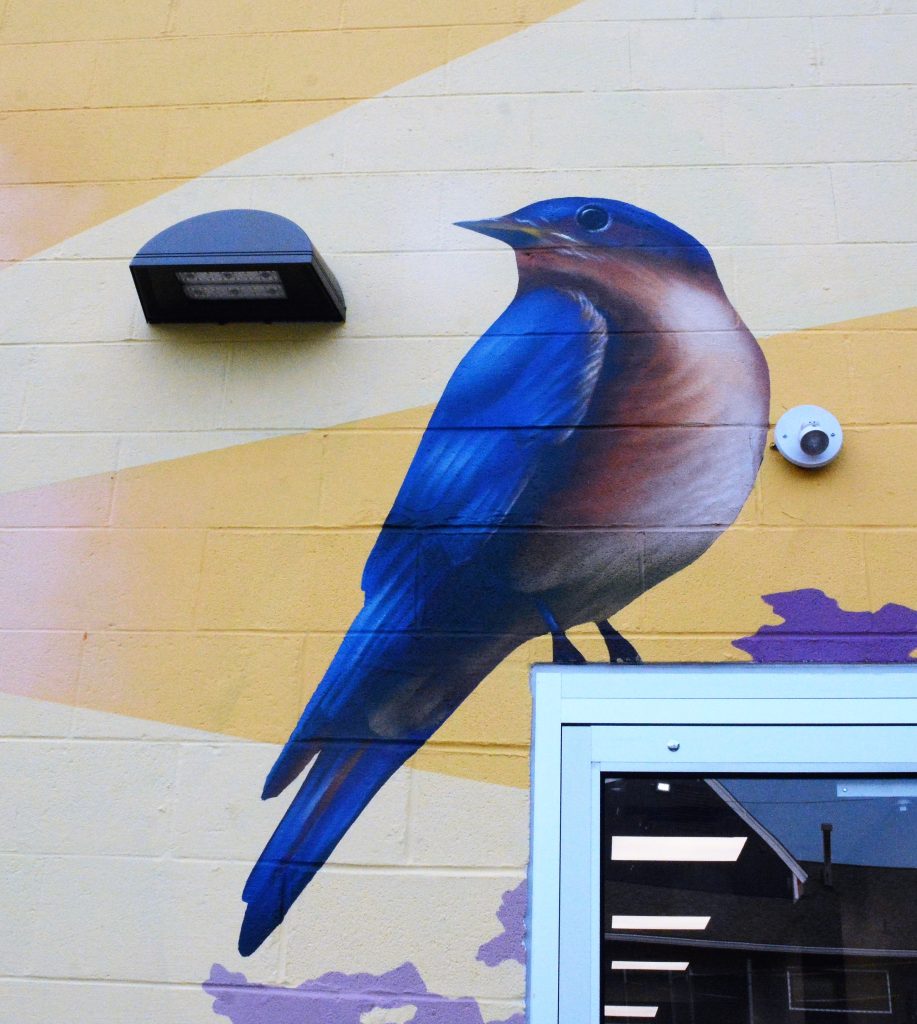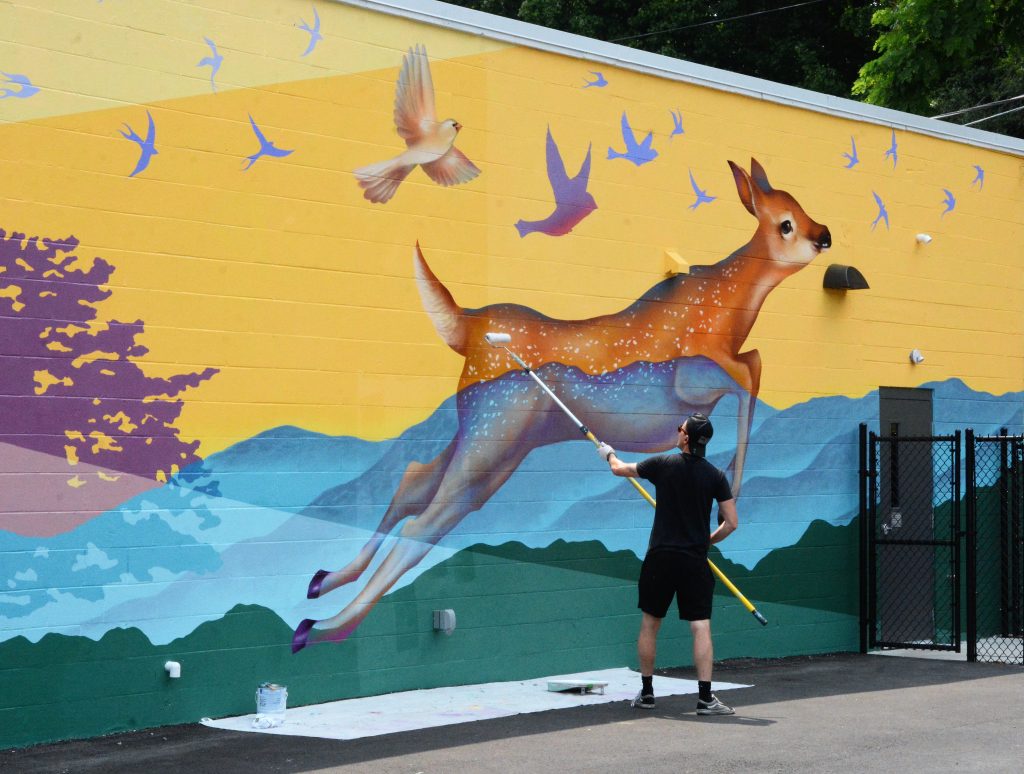 Expect to see more of Murrill's exterior artwork in Vinton in the coming months. He has a
history of community-driven projects. His large-scale artwork can be seen throughout the
Roanoke Valley, from Salem to Roanoke, and now in Vinton. His murals can be found beneath
the 9th and 13th Street bridges in Southeast Roanoke, work funded by the National
Endowment of the Arts and Roanoke City.
He is spending much of June working with 40 volunteers on a 300-foot wall mural in downtown
Martinsville, funded by the Harvest Foundation's Project Hope grant series. The mural celebrates
the diversity of Martinsville and features local flowers and large hands representing different
ages, races, genders, and cultures.
The Martinsville mural is a community project and Murrill has developed a passion for
collaborative efforts that bring people together.
July will be dedicated to creating a large-scale privately funded mural at Dixie Products in the
Melrose community. Its theme is unity and celebrating the historic neighborhood.
Murrill has been an art teacher for about 10 years, most recently at Patrick Henry High School,
but is now pursuing his passion for art full time, focused on exterior art and bringing
communities together to produce art. He plans to continue his work with youth by drawing them
into the public arts scene.
"We are thrilled to bring beautiful art to the Town of Vinton," said Dr. Courtney Wiegard,
Medical Director at Vinton Veterinary Hospital. "It has already brought so much joy to the staff
and clients of Vinton Veterinary Hospital, which was always the intent. It was absolutely
wonderful to work with Jon Murrill who is a major talent. We are incredibly grateful for the
generosity of our sponsors who made funding possible."
"We are so happy with all of the community involvement with this beautiful testament to the
animals we serve and the natural beauty that surrounds us!" said Alice Dantzler, General
Manager at Vinton Vet. "Our sponsors include Kris and Doug Oursler. This lovely couple
donated a chemotherapy hood in memory of their dog, Garrett, who Dr. Wiegard treated for
cancer. The treatments gave them several more months with their beloved pet. The chemo hood
did not cost the total amount they wanted to donate, and so they gave the rest towards the mural
in memory of Garrett. We also have a picture of Garrett in the room in our hospital in which we
do chemo. Other contributors are Pretty Paws Dog and Cat Grooming, Offleash K9 Training,
Zoetis, Moneta Heating and Air, Judge and Mrs. Humes Franklin, and Merck Animal Health."
Dr. Wiegard added, "Please come by and snap a photo with the sunbeam paw print, the blue bird
or the deer fawn and tag #vintonvet or #vintonvetmural on Instagram and Facebook!"