By Debbie Adams
Jeff Janney opened Vinton Appliance Center at the corner of South Pollard Street and East Lee Avenue on Jan. 1, 2001. The location had previously been the home of Holdren's, Inc., since the 1960s and before that, Vinton Hardware. Janney joined Holdren's in 1975 and sold appliances there until the store closed.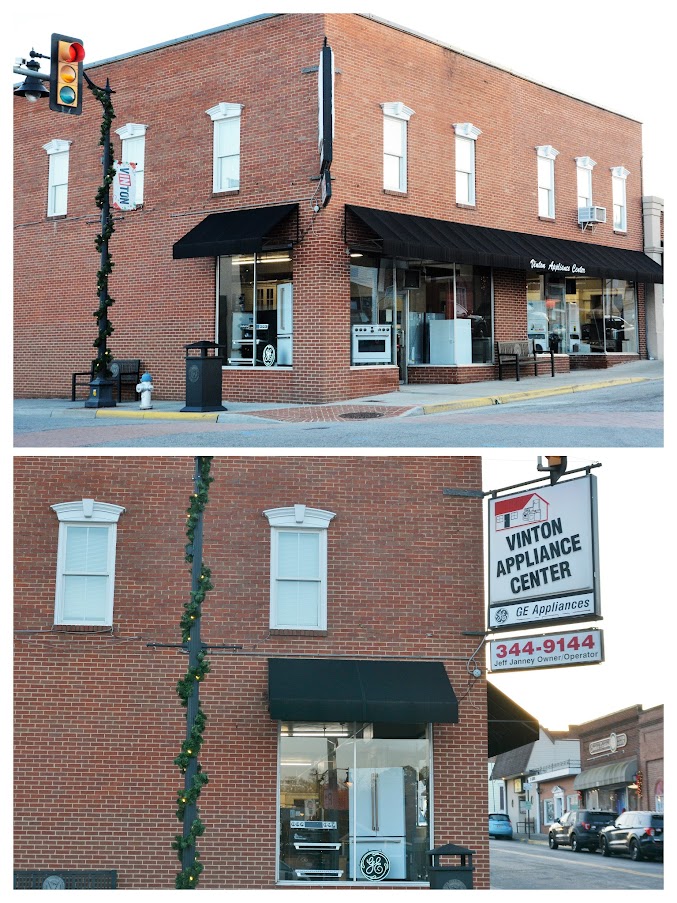 At that point, he began selling and delivering used appliances out of the back of his minivan. That shoestring-budget business grew quickly and gave him "the money and the courage" to open his own store.
He credits the Cundiff family with helping him launch Vinton Appliance; in fact, they renovated the store for him.
He and his wife, Pam, were the only employees for a couple of years; however, the business quickly began booming and the number of employees increased over time. The staff now includes owner/operator Janney, general manager Paul St. Clair, and associates Vic Pennington, Penny Burkholder, and Todd Brinkley, all from Vinton. Vinton Appliance also has its own delivery staff dedicated to customer service– no third-party deliveries.
Janney says an element of that early success was the customer base that had been established by Holdren's, and another factor was the quality of their merchandise. However, something else he gained from Holdren's during his years as an employee, something invaluable, were their business practices, based on excellent customer service.
He discovered early on that "people buy from people they trust and have a relationship with." He also firmly believes that "service starts when you walk in the door." He and his employees not only know how to sell appliances, but they have established a different environment not found in your typical appliance store.
For instance, unlike some of the "Big Box" stores, you don't have to roam the aisles and hunt for a salesman when you enter the store– a Vinton Appliance associate is there to greet you immediately. Actually several usually call out "hello" and "welcome," and "thanks for coming in" when you walk in the front door. You immediately feel as if you are among friends.
The dedication to service doesn't end there.  It continues as they help you "navigate your purchase," and do the research to discover the best product to meet your needs, on through the sales process, and then throughout the life of your purchase.
And you never leave empty-handed. If you don't buy an appliance, the team gives you an "oven stick" rack pull to remember them by (10,000 have been given away so far). They send thank you post cards to customers who make purchases, featuring a copy of Pam Janney's famous pound cake recipe.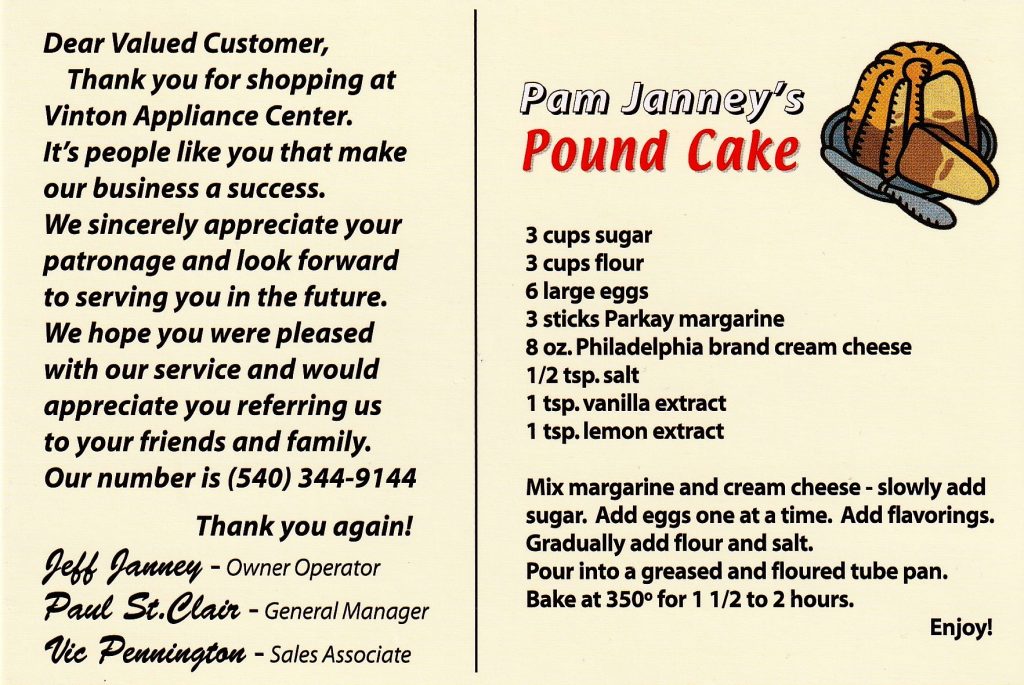 "It's the little things you do that make the biggest impression on people," Janney says. He strives to make every customer feel that "nobody wants your business more than I do." In talking with him, you soon discover Janney is a man "passionate about" his business.
The store has received a bulletin board full of notes of appreciation in return from satisfied customers.
"We have been so blessed," Janney says.
He says those business practices have led to "lots of return customers," including four families now in their fourth generation and multiple third-generation families they continue to do business with.
The company sells mid-grade to premium grade major appliances to fit all budgets. In his experience, the average person who buys an "entry level" appliance ends up disappointed in the purchase. And buying at Big Box stores is not always the bargain it may seem. Those stores frequently hire second or third parties to make deliveries, which leaves customers sitting home for hours waiting on the delivery truck, instead of at work, only to find out their doors are not wide enough to accommodate the appliance or that the appliance doors might need to be removed for installation.
Once again, their store is unique in that you don't see only rows of appliances, you see appliances displayed in kitchen settings surrounded by cabinets so you can envision what they will look like in your own home. The business will even assist you in developing your own kitchen plan– for when you are building a new home or renovating and need to purchase several appliances at once.
Janney says if you are in the beginning, or even planning, stages of construction or a remodel, you can go ahead and purchase your appliances and Vinton Appliance will store them until your home is ready– so no weeks or months of waiting for delivery when you are ready to move in.
While many businesses suffered during COVID, Janney says they have never been as busy as in the past two years.
For example, at the beginning of the pandemic, when everything was uncertain, anxiety led people to purchase food freezers at an unprecedented pace, fearful that the food supply would run out and they needed to stock up. Janney purchased appliances and stored them in the warehouse so that customers didn't have to wait two months or more for a purchase to arrive.
"We tried to make it easier for customers," Janney says.
Many people forced to stay at home decided to take on renovation projects– especially kitchen renovations. Some even decided to add outdoor kitchens. Vinton Appliance was ready with their kitchen plans.
Vinton Appliance does "tremendous" business throughout the valley and beyond, although Janney's running tally shows that customers from Vinton and Moneta top the sales chart. He says that they generally sell within a 100-mile radius, otherwise delivery and service become too costly for buyers.
Janney says he has kept a record of every purchase made in the past 20 years so that he remains familiar with what customers have purchased previously and to simplify service.
Customers are not given toll-free numbers to call if a problem should develop. They call Vinton Appliance, whose associates contact the service center provider. Janney says most people want to speak with a real person when there is an issue, not deal with automated recordings, texts, or emails. He says few other businesses provide their level of customer service, "nobody does that; that's why we are at the level of business we are at right now."
Vinton Appliance is located at 100 East Lee Avenue in the heart of downtown Vinton. The business has expanded so much that they also have an 8,000-sq.ft. warehouse in Vinton to house more appliances.
The store is open six days a day– Monday through Friday from 8 a.m. to 5:30, and on Saturdays from 8 a.m. to 4 p.m., closed on Sundays and holidays.
Call Vinton Appliance at 540-344-9144 for information or check out the website at https://www.vintonappliance.com/.