By Debbie Adams
The Town of Vinton is accepting proposals to construct and operate a hotel on six town-owned parcels located at the intersection of South Pollard Street, Cedar Avenue and 1st Street, all located within the town.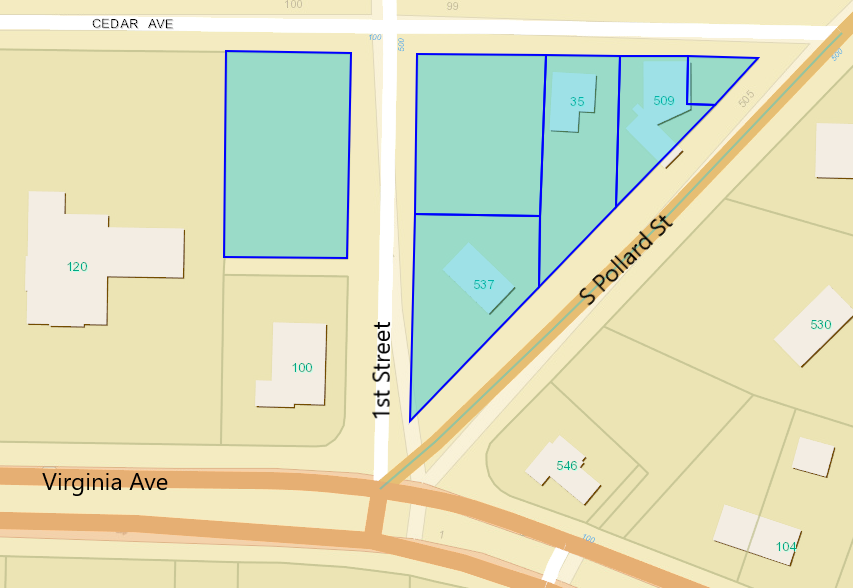 This gateway property is highly visible and is located on a major travel corridor with an average daily traffic count of over 26,000 vehicles and is well suited for a hotel project.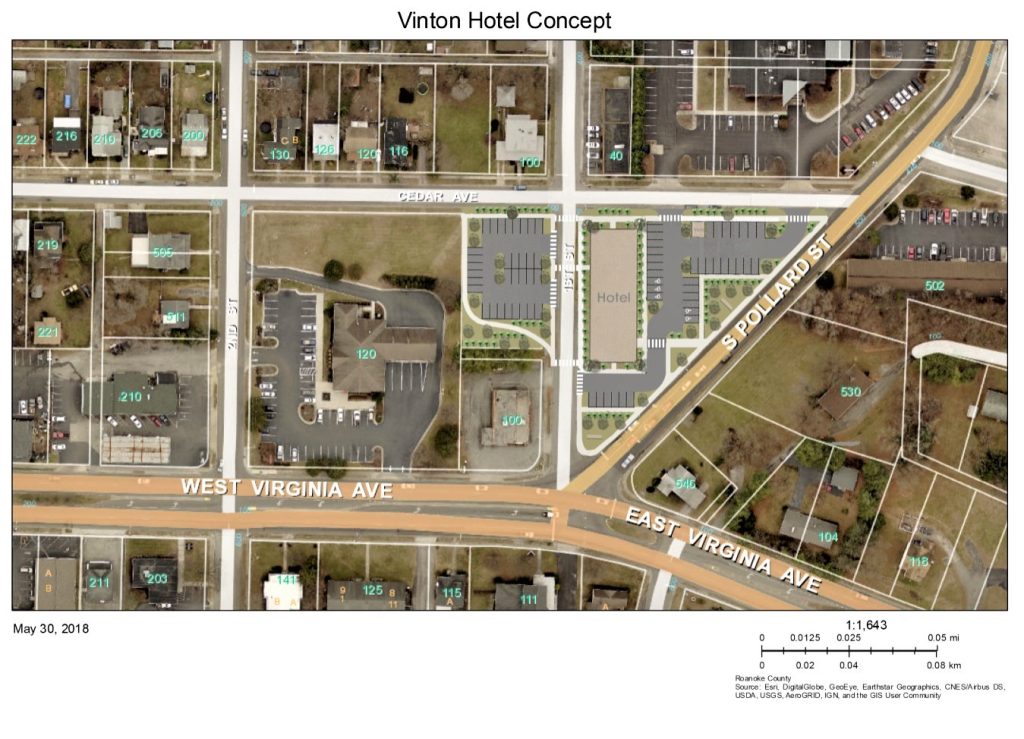 The property is now zoned GB (General Business), which permits hotel and associated development. The parcels are cleared and have passed environmental assessments.
The town completed acquisition of the six contiguous parcels in January 2020 and proceeded with demolition and clearing of the property in March 2020.
The property is walkable to downtown Vinton's Central Business District, the Municipal Building, Vinyard Station, the Billy Byrd Apartments, the Roland E. Cook Lofts, the Vinton Branch Library, the Glade Creek Greenway, the Vinton Farmers' Market, the Vinton War Memorial, and many other civic and cultural activities.
It is also in close proximity to recreational activities at Rosie's Gaming Emporium, the Lancerlot Sports and Ice Hockey Complex, Vinyard and Goode Parks, and the newly developed Explore Park.
The development project is centrally located to downtown Roanoke, Route 460/Orange Avenue, the Blue Ridge Parkway, and is on a primary travel route to Smith Mountain Lake.
Public private partnerships are available. The project may include closure of First Street upon request.
The town seeks to convey the property in "as-is" condition.
"Conversations to develop a hotel in Vinton were progressing in a very positive direction pre-pandemic, although the town had not yet received a formal proposal that would allow us to move forward– and then the bottom fell out with COVID-19 and the shutdown," said Town Manager Pete Peters.
"Obviously, the last 12 to 14 months have dramatically impacted the hospitality industry and conversations simply slowed during that time as we waited for signs of a recovery in travel in hopes the interest would return for our site," Peters said. "As Virginia and other states loosen up travel restrictions and vaccinations ease the minds of reluctant travelers to once again venture out, there are signs that occupancy may be starting to rebound in the valley.
"A promising travel outlook, coupled with redevelopment activity still flourishing in Vinton with the announcement of Gish Mill, the recent opening of Vinyard Station, the current expansion of Rosie's and the positive momentum of Roanoke County's development of Explore Park, makes us optimistic that the timing may be right to re-engage some stalled conversations and possibly encourage additional interest in our site," he explained.
"The town's goals remain the same as pre-pandemic and the decision to post a Request for Proposals– 'RFP'– is to once again gauge the interest in the idea and hopefully attract the best possible deal for the town, and secure a quality development partner for the project. The RFP is our official mechanism to solicit formal interest for publicly-owned property, and this is the same approach that we've taken previously for projects like Gish Mill and Vinyard Station, as well as the projects we partnered on with Roanoke County, such as Macado's, Roland E. Cook and Billy Byrd."
Vinton Town Council was briefed in the summer of 2020 by DPC Hospitality on the Limited Service Hotel Market Study it had completed. The study was paid for with an EPA Brownfields Assessment Grant the town received, which is overseen by the Draper Aden engineering and design firm.
At that time, DPC Hospitality concluded, "There will likely be market justification for developing a nationally branded limited-service hotel in Vinton with approximately 80 units. The proposed hotel would be categorized as midscalen according to Smith Travel Research (STR), which are typically high-quality hotels without on-site restaurants." DPC Hospitality believes 80 guestrooms is the optimal mix of risk and return on capital which is physically feasible.
The amenities DPC recommended would include spacious, modern king rooms and double queen rooms with separate areas for living and sleeping, working space with well-placed power outlets, complimentary breakfast, a business center with printer and mailing supplies, a fitness center with cardio and resistance equipment, and a 24/7 lobby sundry shop with snacks and beverages.
At the time of the briefing, Peters said, "The study is looking at our 'competitive set,' as to what a Vinton hotel would be competing against to book businesses. A Vinton hotel couldn't likely sustain just on Vinton business and will be competing for hotel traffic with other hotels in our market. We are only three to five miles from other hotels and when someone is traveling into the area for an event or as a destination, that distance isn't very far."
Offers will be accepted until a successful proposal is received.