By Sports editor Brian Hoffman
They had to wait 16 months to play, but it was worth it for the William Byrd football team after last Saturday's season opening win at Magna Vista. The Terriers scored in the final minute to take a thrilling 22-19 win over the host Warriors.
"Our coaching staff was very pleased with our conditioning, physical play and toughness against a very good opponent," said Byrd coach Brad Lutz. "With all the schedule changes and challenges, not having scrimmages really made it very difficult to prepare for the first game. We filmed most of our practices, so we could evaluate our progress since the scrimmages wouldn't give us a way to evaluate our players and each phase of the game."
Byrd was originally scheduled to play Spotswood in the opener, but when the Roanoke County School Board voted against playing teams outside the county Glenvar replaced the Trailblazers. When the school board reversed the Byrd-Glenvar game was off and the Terriers were able to get Magna Vista, a quality Class 3 program, to fill that first week slot on the schedule.
Rain during the week made the Magna Vista field somewhat sloppy Saturday, but the Byrd players didn't let that bother them.
"Their wet field made it tough on both teams," said Lutz. "Our coaches were very pleased that our players focused on their assignments and didn't allow the field conditions determine our team success."
The game was close throughout. The Warriors scored first on a 63 yard pass play but the Terriers answered with a 16 yard TD pass from Dylan Hatfield to Hunter Harris. Magna Vista then regained the lead when Tyler Johnson returned the ensuing kickoff 76 yards for a score and the Warriors had 13-7 lead at the half.
Byrd opened the second half with a four yard TD run by Hatfield to tie the game at 13-13, but the extra point attempt failed. However, the Terriers took a 15-13 lead on a safety when Magna Vista snapped the ball out of the end zone on a punt attempt.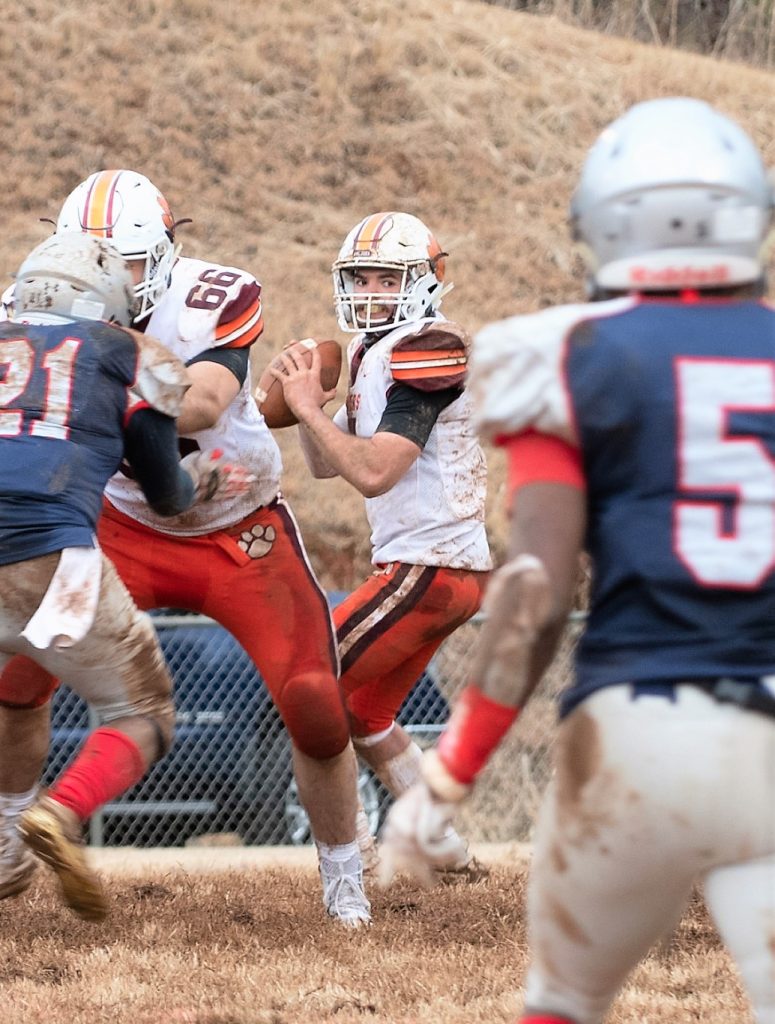 Johnson was at it again as Magna Vista regained the lead late in the third quarter, this time on a 79 yard TD pass Dryus Hairston. A two point conversion failed and the Warriors clung to a 19-15 lead down the stretch.
The Terriers got the game winner with just 35 seconds on the clock. Hatfield passed to Ethan Tinsley for a 16 yard TD and Cole Spencer kicked the extra point for the 22-19 final.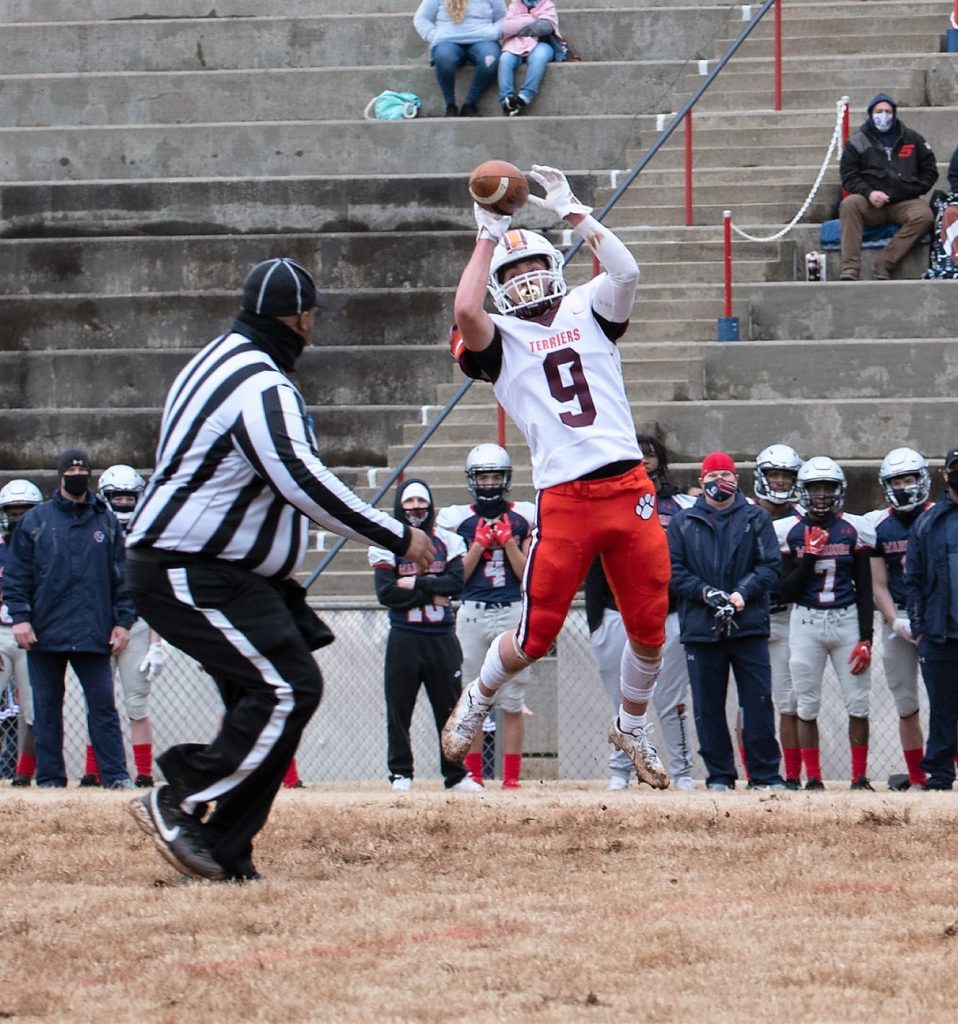 Hatfield completed 14 of 28 passes in the game for 188 yards, including seven to Tinsley for 141 yards. Ethan was one of two Terriers to commit to play college football last week. He'll be headed to Randolph Macon while lineman Bryson Lutz has committed to Emory & Henry.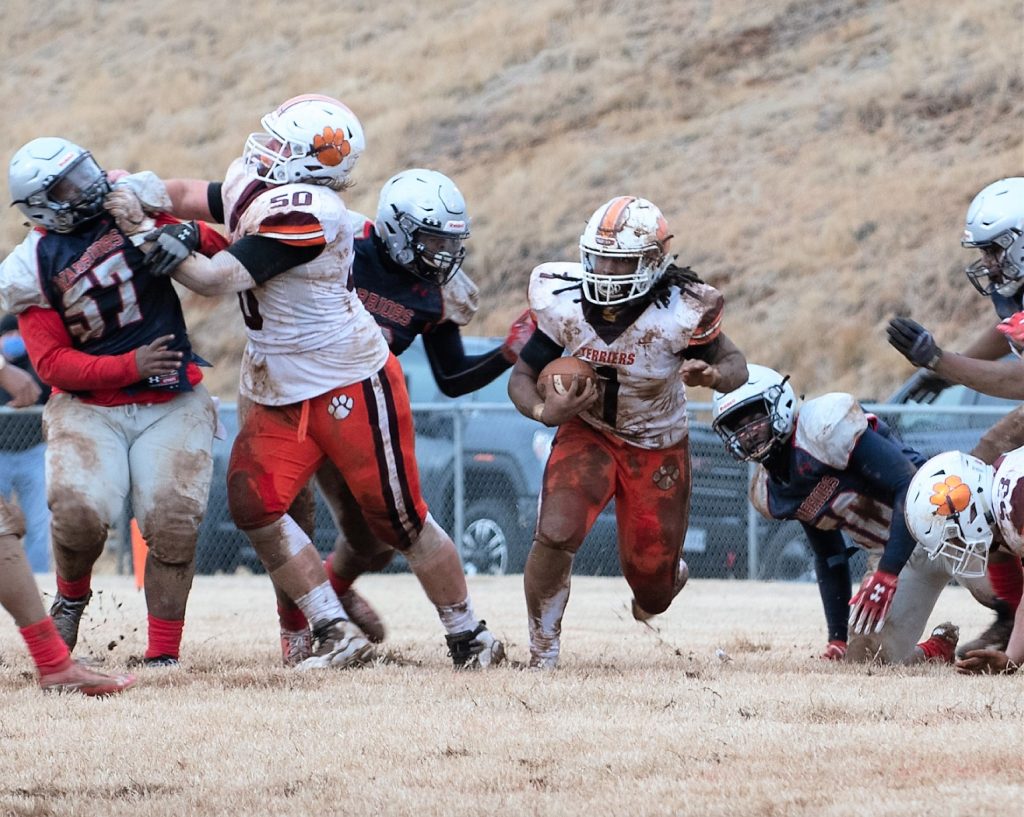 On defense, Nick Reedy had two interceptions in the game as Byrd forced three turnovers. Lutz forced a fumble for the other, which was recovered by Malachi Taylor. Hunter Richards blocked an extra point and his brother, Dustin, blocked a punt that was recovered by John Kiker.
Lutz was certainly pleased with the outcome, but like all coaches he saw plenty of room for improvement. Coaches like to say the team makes the most improvement between the first and second games.
"We still have a lot of work to do and made too many mistakes, especially on offense," he said. "Those mistakes can be fixed, and we look forward to this week's practices so we can improve."
This Friday the Terriers will host Class 6 Franklin County for their home opener. The Eagles beat Northside, 28-14, in their opener. Game time this Friday is 7 pm at Patterson Stadium.
"They're a 6A playoff contender," said Lutz of Franklin County. "They're big, strong and very physical. They have a very talented running back and their quarterback does a good job of keeping the defense honest. Their defense brings a lot of pressure and they're very physical up front."
Byrd's jayvee team will open this Thursday against Franklin County. The middle school team got off to a good start with wins over Cave Spring and Andrew Lewis last week.