The William Byrd football team got the 2023 season off to a great start with
a win over Liberty High last Friday. The Terriers scored 10 touchdowns and shut
out the visiting Minutemen at Patterson Stadium in Vinton, 70-0.
The 70 points was the most scored by a William Byrd football team since
the Terriers hung 70 on Bassett in 1999, winning that game 70-42 in Vinton. The
only time a Byrd team scored more than that in school history was way back in
1931 when the Terriers beat "Valley High" at Leggett Field in Vinton, 72-0. That
team was coached by Paul Ahalt, who coached in Vinton from 1930-39. Byrd
finished 8-1-1 that season.
Friday's game was over early, as Byrd took a 35-0 lead in the first quarter.
Brayden Andrews scored the first two touchdowns on 20 yard runs, followed by an
eight yard run by Israel Hairston, a three yard score by Lane Shoemaker and
Andrews' third TD of the quarter on a one yard run. Bricen Lancaster was perfect
on all five extra point tries and he would finish the night 10 for 10 on conversion
kicks.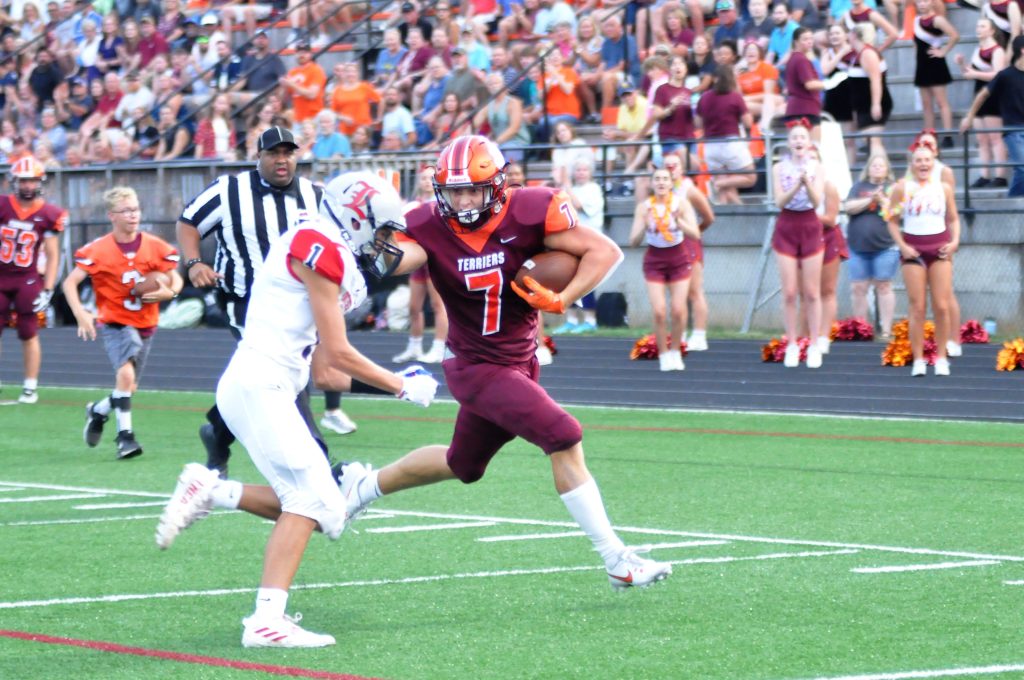 Byrd put two more scores on the board in the second quarter on a two yard
run by Shoemaker and a 59 yard scamper by Andrews. That made the score 49-0 at
the half, assuring a running clock after intermission.
Despite a clock that didn't stop Byrd was able to score three more times
against the Minutemen in the second half. Hairston found Jerrett Shepherd for a
seven yard TD pass and Jalen Toler ran one in from 10 yards out in the third
quarter. The Byrdmen made it an even 70 when Jamez Toler scored on a 20 yard
run in the final stanza to close out a historic night for the Terriers.
Andrews finished with 105 yards rushing on just six carries, averaging 17.5
yards per carry and scoring on 66 percent of his attempts. Hairston passed for 47
yards as the Terriers mostly kept the ball on the ground against the overmatched
Minutemen.
The shutout was Byrd's third in their last seven games, as the Terriers shut
out Roanoke County rivals Cave Spring and Northside last year. Jonathan Rosser
had two tackles, two fumble recoveries, a tackle for a loss and a sack on a big
night. Maurice Burnette had five tackles and a fumble recovery, Ian Vest had four
tackles and a forced fumble and John Kiker had three tackles.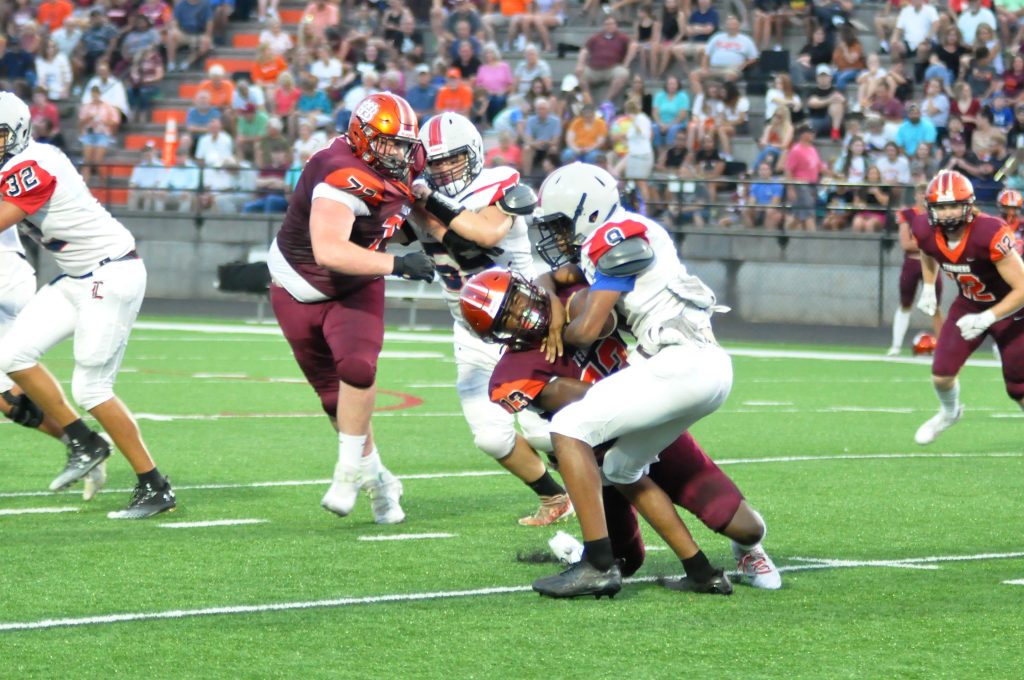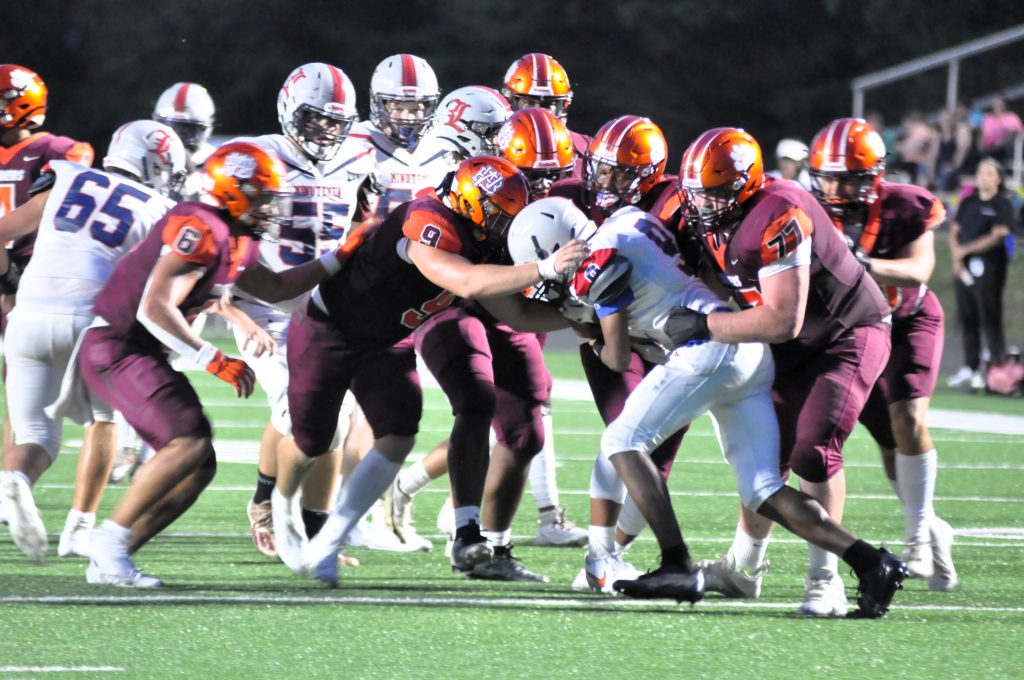 "It was a great defensive effort," said Byrd coach Brad Lutz.
The game was played before a loud and boisterous crowd at Patterson
Stadium, and that added to the atmosphere. Highfill Field can be an intimidating
place to play when the crowd gets into the game.
"We are very fortunate to have great fans," said Lutz. "I hope they
understand how much energy they bring to our team on Friday night. Also, our
Dog Pound brings a tremendous advantage to our game day environment. Playing
a home game at William Byrd High School is a great experience for everyone
involved."
The Terriers will be back home again this Friday to play host to Hidden
Valley. Byrd lost a heartbreaker to the Titans at Bogle Field last season, 39-36, and
the Terriers will have revenge on the minds. Hidden Valley opened the season with a 32-0 loss at William Fleming last week but Lutz isn't taking anything for granted.
"They are a very experienced football team with a lot seniors," he said.
"Almost all of their starters return off of a playoff team from last year. They have
size in the trenches and a lot of speed on the perimeter. Their quarterback has a
strong arm and can stretch the field in the passing game."
The Terriers should be riding high after the opening win, but football
coaches know the importance of keeping the momentum going.
"Our coaching staff has been very pleased with the confidence our team is
playing with," said Lutz. "They are showing the same confidence in practice and
that is equally important. We got off to a very fast start last week, but our entire
program knows it will get more difficult each week, so that confidence needs to
remain a big part of our identity."