The William Byrd tennis teams will be looking for love tonight when both the boys and girls play Cave Spring. The boys will be home, and the girls are at Cave Spring.
The boys opened with three losses, falling to Hidden Valley, 6-3, Bassett, 5-4, and Cave Spring, 8-1. The Terriers were at Bassett for rematch Wednesday, but results were too late for publication.
Dillon Colgan won his singles match against both Hidden Valley and Bassett. Ryan Carista won on a tie-breaker at number one singles against Bassett, and Keith Schult won his singles match against the Titans.
The girls opened with a 5-4 win over Hidden Valley. Makenna Jacobsen won 8-0 at number one singles and teamed with Ashley Begasse for an 8-0 win at first doubles. Begasse won 8-1 at second doubles Miley Moses had the clinching win with an 8-0 win at six. Moses and Brooke Justus, both freshman, won a tight 9-7 match at third doubles.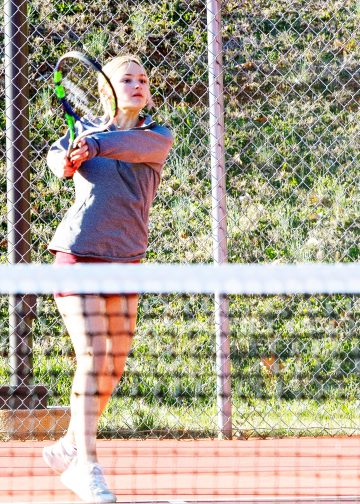 Two losses followed, as Byrd fell to Bassett 8-0, then dropped an 8-1 decision to Cave Spring.
"Tough losses," said coach Kayla Mitchell-McCroskey. "We were closely matched with Cave, but it came down to effort. Cave Spring wanted to win more than we did. It was a tough lesson for the girls to understand. As coaches, we can only tell them what they should be doing on the court, they are the ones who must do it."
The Terriers had two more matches before spring break, Wednesday at home with Bassett and today at Cave Spring.