By Sports editor Brian Hoffman
Thanksgiving means a lot of things to a lot of people. Among them are family, good food and, of course, a day to be thankful for the blessings of the past year. In 2020 that last one might be a stretch as we hit day 257 AG, or over eight months since Rudy Gobert tested positive for COVID and sports as we know them came to a halt.
For some, Thanksgiving means good football games. We always have three pro football games on Thanksgiving, with the Lions and Cowboys as annual participants in the afternoon. This year we have the struggling Texans at the Lions, then two 3-7 teams at 4:30 pm as the Washingtons play at Dallas. Well, that's 2020 for you.
If you want to watch a good game, the Ravens play the Steelers at 8:20 pm on Thanksgiving night. That will be a perfect time to loosen your belt or take off your bra and settle down for an AFC North battle between the Ravens, who most were picking to go to the Super Bowl this season, and the undefeated Steelers.
When I was growing up in Pennsylvania just about every high school in the state played on Thanksgiving Day. Many "Turkey Day" rivalries are well over 100 years old. In fact, with a little research I found the oldest to be Norwich Free Academy against New London High School in Connecticut, which goes back to 1875. Norwich holds a 77-63-11 edge in the series.
We had 10 high schools in our district and all 10 were matched up with Thanksgiving Day rivalries. In those days there were no statewide playoffs in Pennsylvania and Thanksgiving Day was the last game of the season. It was a good time to have a game as kids who had recently graduated were back home for Thanksgiving and the game was as much a "homecoming" as anything.
Thanksgiving used to be a big day for college matchups as well. This week, the only two college games on the schedule are Colorado State at Air Force and New Mexico at Utah State. There are 11 more games on Friday but that's not the same as an actual Thanksgiving Day game.
Here in the Roanoke Valley, many of the older football fans remember when Virginia Tech and VMI played at Victory Stadium every year on Thanksgiving Day. Tech and VMI met annually from 1913 until 1971 in what was then referred to as the "Military Classic of the South."
Victory Stadium was built in 1942, and if you're a history buff you'll recognize that we were fighting World War II at that time. The stadium was named for the goal of the Allies to win the war, and thank God we did or the Germans may have renamed it something else.
It was a grand old football stadium, made entirely of bricks with classic architecture and a big fountain behind one end zone. It had a seating capacity of over 24,000, roughly three times the capacity of Salem Stadium, the largest current facility in the Roanoke Valley.
The stadium was in decline as we entered the 21st century and it became a hot potato for local politicians. Instead of fixing it up it was torn down in the summer of 2006 and new, more modest, football stadiums were built on the campuses of city schools William Fleming and Patrick Henry.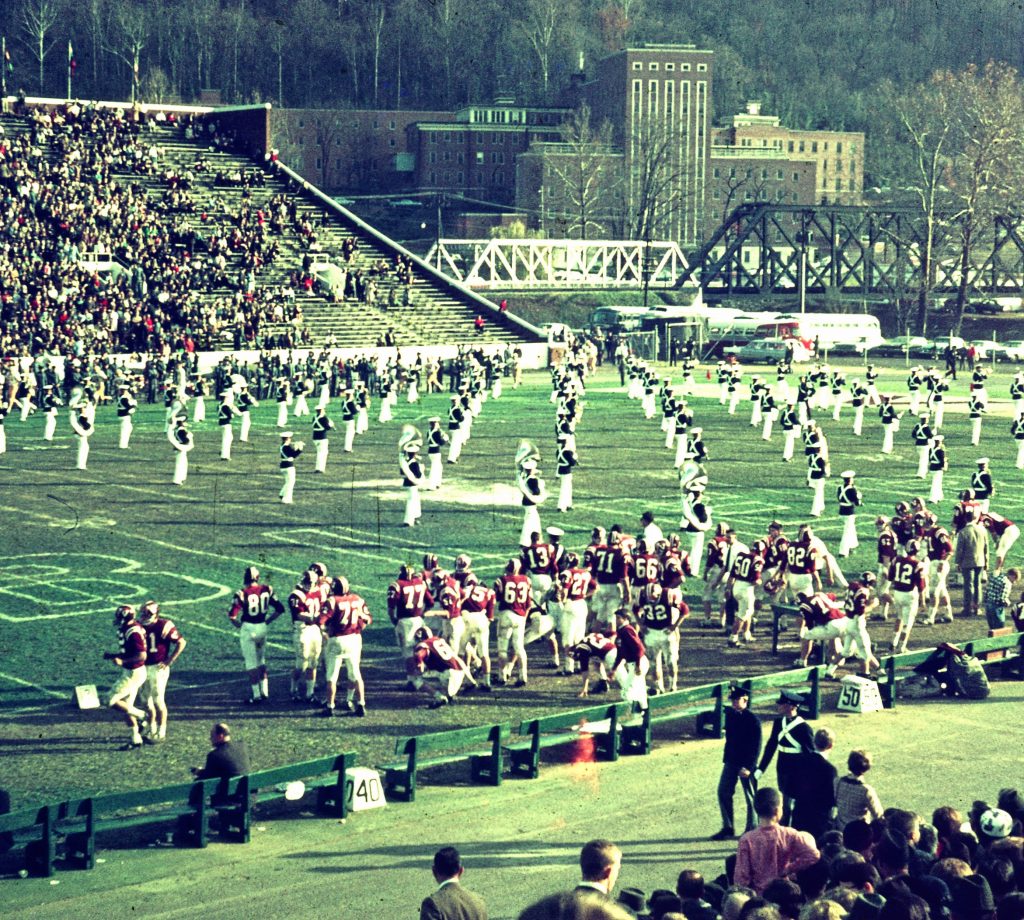 Victory Stadium is gone, but not forgotten for the many who played and watched high school games there. Among the most beloved memories are the annual Thanksgiving Day football games between VMI and Virginia Tech.
Burks Logan, a long-time dentist in the area who is now retired, attended many of those games. He was my dentist for many years and he's a big football fan. He used to stuff my mouth with cotton and then start asking me one football question after another.
Burks played for Andrew Lewis High School in the '50s under the late Hal Johnston. He also coached sandlot football and he and his buddies are at a high school game every Friday night in normal times. And, they never missed a Tech-VMI game at Victory Stadium.
"Everybody went," said Logan. "The place was pretty much full every year. I remember you had to park on the other side of the river and cross that bridge and there was a long line of people waiting. Everyone really enjoyed it."
For a long time it was actually a good rivalry. From the first year the game was played in Victory Stadium, in 1942, until the last year in 1971 Tech held a slim margin of 16-11-1.
"It was very competitive," said Logan. "VMI was darned good back then. I remember one year they had Jonas "Butch" Spiegel and he was also a track star in the 100 yard dash. I think he had the world record at one time. He went to VMI and they'd pitch the ball to him and he'd outrun everyone to the sideline and then turn it up and gain eight to 10 yards every time. We ended up going to dental school together at MCV(Medical College of Virginia)."
There were no reserved seats for the Tech-VMI games so fans came early to claim their spot. There was usually a military parade through Roanoke in the morning and it was a big deal.
Unfortunately, all good things must come to an end. Tech won eight of the last nine games and the last four at the stadium, 55-6, 52-0, 20-14 and 34-0. At that point it was becoming obvious the two schools were going in different directions on the national football scene. They've played 12 times since, seven times in Blacksburg, twice in the Tobacco Bowl in Richmond and three times in the Oyster Bowl in Norfolk. None of the games after leaving Roanoke was on Thanksgiving.
Tech is 9-3 in those last dozen games and the last time the Keydets beat the Hokies was in 1976 at Lane Stadium in one of the coldest days you could ever have for a football game. VMI won 6-0, and I've often said Tech fans who attended that game should never have their seats moved because they didn't give enough money to the program. I'm sure some of them gave fingers and toes on that bitter day.
"VMI won that game because of their discipline," said Logan, who remembers it well. "That cold didn't bother them as much after what they went through at school."
Logan misses the Thanksgiving Day "Military Classic of the South," and Victory Stadium. There were tears shed by many when the old stadium was razed.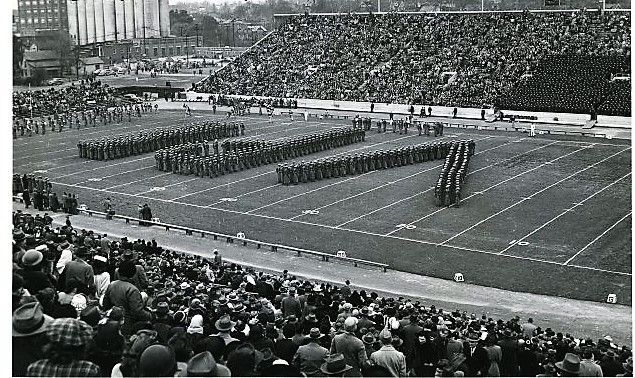 "I miss it," he said. "With a little work it could have still been functional, and they could have brought some good games in here."
Tech and Virginia have not played since 1984 but the Hokies have the Keydets on the schedule in September of 2026 for a one-year contract to be played at Lane Stadium in Blacksburg. Despite a break of 42 years it is still the second-longest series for Tech and the fourth-longest for VMI. Virginia and Virginia Tech is now the big rivalry in the state and, on most years, it's played the day after Thanksgiving. This year, as you know, is the exception for just about everything.
I still think of the old stadium when I drive down Reserve Avenue, across the river from River's Edge Park. I covered many high school games there, including some state championship games, as well as the early Sandlot Super Bowls and I even attended a few concerts there. When I drive down 581 south and look left I can still see the brick stadium in my mind, and it brings back memories of games past.
I came to the valley a couple years too late to attend the Tech-VMI Thanksgiving Day games, and there have been 49 Thanksgiving Days since the last one. I imagine it was a lot of fun and a really great tradition in its day.
Enjoy your Thanksgiving and be thankful for what you have. Personally, I'm thankful 2020 is almost over.