By Debbie Adams
William Byrd High School senior Erin Taylor has been chosen as the DAR Good Citizen of the Year for 2021 by the Roanoke Valley Chapter of the Daughters of the American Revolution (RVCDAR). The DAR plans to recognize her at their March meeting.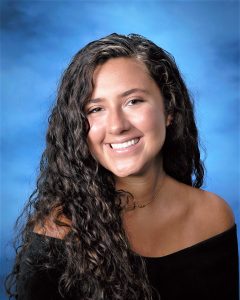 The DAR Good Citizen program is intended to encourage and reward the qualities of good citizenship. It is open to all senior class students. The award recognizes individuals who possess qualities of dependability, service, leadership, and patriotism to an outstanding degree in their homes, schools, and communities.
Each year the DAR Good Citizen is nominated by the faculty and then the senior class votes on the top three students. Only one student is chosen for this prestigious honor.
"Erin is a model student and person," said William Byrd Principal Tammy Newcomb. "She leads by example."
Once a student is chosen as the DAR Good Citizen, they are then invited to participate in the scholarship portion of the program and write a timed essay (no longer than 550 words) on a topic involving "Our American Heritage and Our Responsibility for Preserving It."
Students are given an hour to write their essay answering a question they receive sight unseen. Those who win at the District level may advance to state competition, as is the case with Taylor.
Taylor is the daughter of Kari and David Taylor of Vinton. During her high school years at WBHS, she has been involved with many school and extracurricular activities. She co-founded the Red Cross Club and has also been a member of the Prevention Club in grades 9-12 and an officer in the Student Council Association as a senior.
She has served as a mentor for Team Terrier working with elementary school students for the past two years. She has been a member of the Student Service Association, the Fellowship of Christian Athletes, the Leo Club, the Math Pound, the Latin Club, DECA (as a state competitor as a freshman), the Chick-fil-A Leadership Academy, the Homecoming Court (as a junior), and Habitat for Humanity.
She was on the Volleyball team (JV captain and varsity in grades 9 and 10), has participated in Cross Country (grades 11 and 12) and on the Academic Team (Captain; grades 10-12).
Taylor is a Beta Club member, a valedictorian, and was a Junior Marshall.
In the DAR Good Citizen scholarship application process, Taylor was asked to describe how her efforts to serve the community have been effective or made a difference.
"Throughout my high school career, I have dedicated many hours to serving my community," said Taylor. "The summer before my junior year, I worked with my local Red Cross Chapter to establish a club at my school. Over the past two years, I have served as Vice President, President, and have coordinated events that benefited my community both locally and nation-wide. Our most notable event was the annual blood drive, where both students and faculty came together to make a huge difference. We had an impressive turn out and many of my fellow classmates received letters telling them that their blood had helped save someone and listed the state where it had been shipped so that they could see the direct impact their donation made."
"Outside of school, I volunteered at Carilion Clinic in the Emergency Department. I served patients by providing them with directions to navigate the hospital, escorted them to their room when ready to be evaluated, and provided warm blankets and drinks to those waiting."
"Though I was tasked with what seemed like less than significant jobs in comparison to all of the professionals around me, I learned that something as simple as a heated blanket and a smile could make all the difference in the day of someone who is clearly at a low point. I loved the patient interaction and being able to bring comfort to those around me."
Taylor was also asked to express her future plans, education and career goals, and aspirations in life.
"After graduating high school, I plan to attend a four-year university," Taylor said. "I would like to major in a health-related field like nutrition or kinesiology and complete the pre-requisites required for medical school."
"Upon the completion of undergraduate school, I will either enter a wellness-based career like dietetics or continue my education with the hopes of becoming a physician. While I would love to travel for school, I ideally will return to Roanoke for work as all my immediate family lives here and it's the only place I see myself ever calling home."
Her extracurricular activities in addition to volunteering at the Carilion Clinic Emergency Department, include time as an Appalachia Service Project volunteer—a Christian ministry specializing in home repair in disaster-stricken areas, plus various youth mission activities with her church in grades 9-12.
Taylor has played travel volleyball with NRV and Roanoke United, and played in the church volleyball leagues in grades 9 and 10.
She worked for Once Upon a Child as a junior and as a pet-sitter throughout high school.
Taylor was also asked to "describe briefly why you feel the four qualities of a DAR Good Citizen: Dependability, Service, Leadership and Patriotism, are important and how you have tried to exhibit those qualities in your life and in your relationships with others."
"The four qualities of a DAR Good Citizen are all qualities that I value, and each plays a unique roll in the person I am," said Taylor. "Dependability is the most important characteristic a person can display to be a good friend. For me, that looks like always being available when a classmate needs advice or just someone to listen. Being a figure that my peers find trustworthy and are comfortable reaching out to for everything from help on an assignment to emotional support is my way of demonstrating dependability within my school."
"Selfless acts of service are humbling and key to growth. Being a Christian, I view service to others as a form of worship and way to represent God. This led me to go on a mission trip with a church in my area and rebuild houses and porches of those affected by a flood in Rainelle, West Virginia. There, I learned the importance of dedicating my time to help others and how making a difference for someone else can also affect me in a positive way."
"The ability to lead is much more than just being a 'boss.' Leadership is about living in a way that causes others to look up to you and being a positive influence. I am a leader in Prevention Club, which focuses on encouraging students to turn away from drugs and alcohol and to practice safe driving. This has become a major issue in my generation, and it is important to me that I serve as an example to my classmates and am able to educate my peers on the consequences of substance abuse and reckless driving."
"In a time where our nation is facing division, patriotism is more important than ever as we need to come together in support of the country and not just a party. The Red Cross Club that I founded, hosted a drive where all students could donate toiletries and other supplies for our veterans. Club members then came together to package the goods and take them to our chapter to be shipped. This year, we are planning on creating cards to be mailed to veterans for the holiday season. Bringing my classmates together to support our veterans is my way of showing patriotism in my relationships with others."
Erin's essay on "Our American Heritage and Our Responsibility for Preserving It: How do the combined efforts of so many good citizens keep our nation moving forward?" which has advanced to state competition.:
America is widely known as the land of opportunity; a place where people go to chase their dreams. Often represented by the Statue of Liberty, America is a country founded on the basis of freedom. It is our job as United States citizens to recognize what our great home stands for and to take necessary steps to preserve its heritage. Citizens who come together through voting, run for elected offices, and choose to respect others, keep our nation moving forward and, in a direction true to its beliefs.
At this point in our country's history, there is a clear divide that goes against America's founding principles of unity. For America to reunite, changes in our justice system and overall society have been called for nationwide. A good citizen would see the recent election as an opportunity to use their power and vote for the candidate they feel will lead America in a way that upholds its original values. This election had one of the largest turnouts in voter history, which shows citizens longing to protect democracy. Just one simple civic duty can make all the change in the path our country takes, as the leadership of our country lies in the hands of the many good citizens who chose to vote.
Another way good citizens of America keep our country moving forward is by running for elected official positions. Citizens who take the chance to step up and speak out instead of sitting back and complaining keep our country moving in a positive direction. For example, my friend's mom decided to run for Town Council after seeing a need. My friend and I were able to go door to door with her, campaigning and getting signatures for her to run. Citizens like Council member Laurie Mullins, who choose to be a voice for their community, are making a difference and keep our nation moving forward by taking on leadership roles, even if it is at a local level.
The United States is facing inner turmoil, both politically and socially, causing us to lose the "united" factor that shone true as we came together to depart from Great Britain. Leading this division is the fact that people are so quick to attack others for their views and have created a "cancel culture" rooted in demolishing a person's reputation or career for having a different opinion. We are lucky enough to live in a country where the First Amendment grants us freedom of speech, yet these acts of public defamation create a fear around expressing beliefs and, at the same time, abuse the freedom itself. Good citizens are those who agree to disagree and respect the opinions presented by others. Their efforts to represent the American values of class and respect allow America to move in a positive direction.
American citizens who use the combined actions of voting, running for office, or simply respecting others to lessen the divide are what keep our nation moving forward. They take direct responsibility in protecting the core morals of America and in preserving our country. Their actions, though seemingly small, keep America running from behind the scenes and help outweigh the negative effects of others.