This week's Spotlight is on Vinton's Assistant Town Manager/Town Treasurer Cody Sexton. He has been employed by the Town of Vinton since May 3, 2021.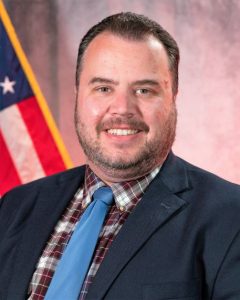 "Given all that he has accomplished and assisted with to move the Town forward, it's pretty hard to believe that Cody has only been on the job since May of 2021," said Vinton Town Manager Pete Peters. "Cody currently oversees the Public Works and Finance Departments, although his work is present all across the organization and beyond.  Perhaps the two most significant items that have benefited from Cody's presence were his direct involvement in the Utility System Transfer to the Western Virginia Water Authority and his efforts to serve as Interim Finance Director and Town Treasurer while we searched for a replacement in a very competitive job market."
"There were so many aspects of the Utility System transfer, that in some cases it felt as if that is all we worked on for nearly a year. However, Cody was unfazed through it all. It didn't matter if it was operational, financial or personnel-related, he attacked each aspect of the transition with the same determination to get us to the finish line. It's not every day that you go through such a significant change within your organization; he was the key reason we were able to pull it off in less than a year and in a way that I believe has been seamless to the customer."
"And if that weren't enough, after [Vinton Treasurer/Finance Director] Anne Cantrell announced her departure in January of 2022 to take another position in the Town of Bedford, Cody graciously stepped in to accept the role of Interim Finance Director/Town Treasurer." Peters said. "In those capacities, not only did he manage to deliver a balanced operational budget for Council Adoption, he, also, helped to establish one of the most robust capital improvement budget's in the Town's history, helped to recruit a new Finance Director, Andrew Keen, and has been helping him to get acclimated to his new position since he joined the team in June."
"With all this being said, Cody is just an all-around great person to be around; and we are lucky to have him on our team. He has a subtle, yet hilarious, sense of humor, absolutely loves working in local government, and carefully balances being extremely intelligent with being a practical people person at the same time."
Prior to coming to the Town of Vinton, Sexton served for seven years as the Assistant to the County Administrator in Botetourt County and before that was an analyst for Stafford County in Northern Virginia.
Sexton holds a Master of Public Administration degree and a Graduate Certificate in Local Government Management from Virginia Tech. He also has a Bachelor of Arts degree from Roanoke College.
The Town of Vinton and the Vinton Messenger have teamed up to put the spotlight on Town of Vinton employees during the month of their birthdays. The Town is proud to have these individuals on staff and wants to make the community aware of who is "behind the scenes" making the town look great and operate so successfully.