The Town of Vinton and the Vinton Messenger have united to "Spotlight the Town of Vinton Staff" during their respective birthday months. The Town is proud to have these employees on staff and wants the community to see who is behind the scenes making the Town look great and operate efficiently.
Shaye Hicks is the part-time Administrative Assistant for Vinton's Community Programs and Facilities Department. She is the newest addition to their department, joining the town on September 20, 2021.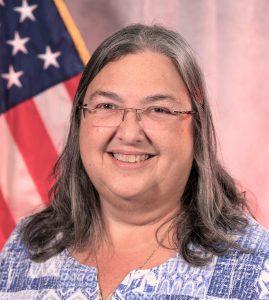 Her duties include taking care of the financials, making the call backs on inquiries, and assisting Director of Community Programs Chasity Barbour with the Vinton War Memorial, Special Programs, High Ground Veteran's Monument, and Charles R. Hill Community Center budgets.
Coincidentally, she was married at the Vinton War Memorial on October 17, 1992, and had her wedding reception there. She and her husband have lived in Vinton for over 30 years. In 2018, she retired from a local medical center where she had worked for 30 years.
Her hobbies include card-making and scrapbooking. She enjoys spending time with her many nieces and nephews. She also likes walking the Vinton War Memorial parking lot with her friends on a regular basis. That led to her job with the town. She would wave at the friendly Community Programs staff in passing, not knowing she would become part of their team.
Mayor Brad Grose says, "The Community Programs Department is a very important part of the staff/team in the Town of Vinton. The members of the department are often the main contact that people have with our Town. The Community Programs staff does a wonderful job in representing our Town in a very positive manner. The department is always busy, but they take time to provide personal service for our special programs as well as private personal events. We are very fortunate to have highly qualified, dedicated individuals in the Community Programs Department that take pride in representing the Town of Vinton."