By Debbie Adams
Each year the Vinton Area Chamber of Commerce hosts its annual Senior Expo at the Vinton War Memorial in March– unless there is a pandemic gumming up the works. This year's event was held as originally scheduled, with no COVID delays, on March 22. The ballroom was bursting at the seams with seniors– and some younger folks– taking the opportunity to finally get out of the house and socialize. There were no empty spaces in the parking lot.
The Senior Expo traditionally draws hundreds of seniors, caregivers, businesses serving the interests of the aging, and baby boomers who are becoming seniors. It is always bustling with activity; however, the atmosphere at this year's Expo was hyper-charged with excitement as some 50 members of the "Steppin' In Time" line dancing group took over part of the ballroom to celebrate their instructor, Shelly McCallum, and thank her for the joy she has brought to the community in 12 years of teaching at the Charles R. Hill Community Center. This would be her last day and it was bittersweet.
The Expo usually features entertainment– music and dance performances and fitness demonstrations by seniors, for the seniors– but this year's tribute and farewell to McCallum lasted for over 90 minutes, all filled with exuberant music and dancing, along with lots of photos, hugs, and some tears. Members of Steppin' in Time performed 17 different dances; the highlight was "Hello Dolly," one of McCallum's favorites.
McCallum has generously volunteered her time to teach the dance classes for over a decade. She initially approached the town and asked to form the group, beginning with one class and a handful of participants, mostly retired seniors. The number of classes and dancers has multiplied over the years.
She and Lori Spickard, who will be taking over as instructor, have always said the classes are "like family."
The Tai Chi class, which also meets for classes at the Community Center, did a presentation prior to the line dancers– much more subdued in nature as their focus is relaxation.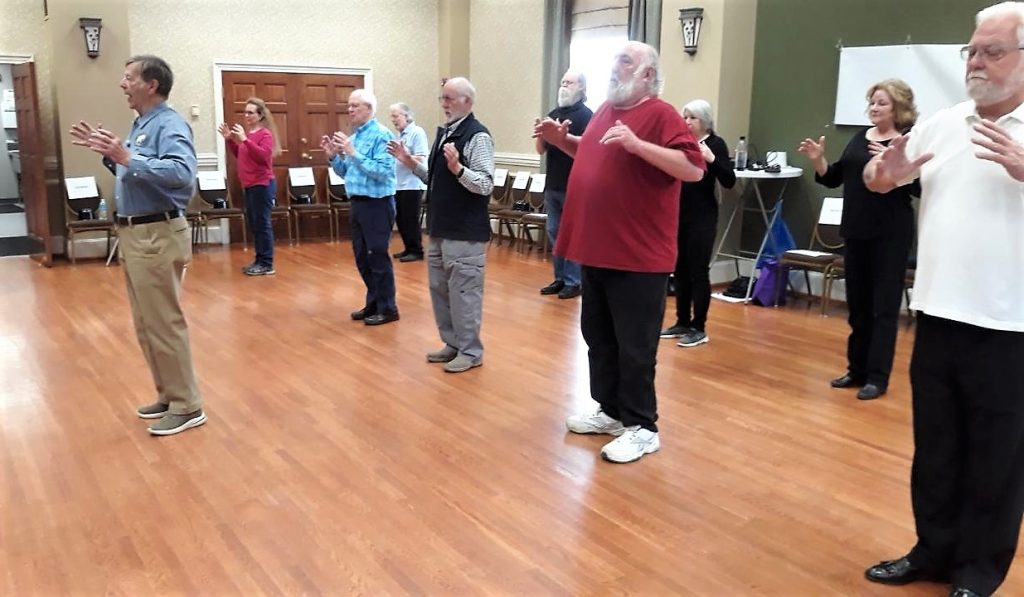 In addition to the entertainment, the Expo featured exhibits on retirement, assisted living, nursing care, health care, home care, hospice, health products, aging in place, medical equipment, insurance, banking, estate planning, reverse mortgages, hearing and eyecare, and health screenings, involving over 50 vendors. Food Truck on the Go offered concessions.
There were the ever-popular door prizes, goodie bags, vendor giveaways, and screenings. Chamber Executive Director Angie Chewning and Executive Assistant Kathryn Sowers often describe the Senior Expo as an opportunity for "trick or treat for adults," with gifts of pens, key chains, loads of candy, and more from the vendors, and free bags to collect the "loot" in.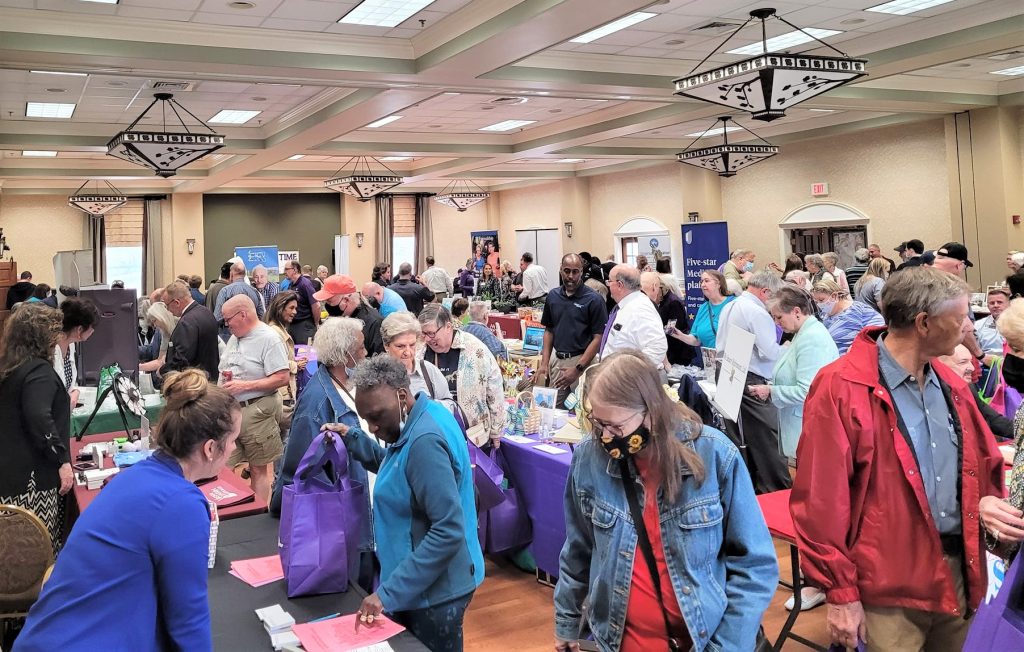 The presenting sponsor for the 2022 Senior Expo was Member One. Other sponsors included Fox Radio 910, Bank of Botetourt, Magnets USA, Carilion Clinic, Winter's Storage, Senior News magazine, HomeTrust Bank, Blue Ridge Beverage, Cox, the Town of Vinton, The Vinton Messenger, Roanoke County, and the Vinton Area Chamber of Commerce.
Participating vendors included Berkshire Health & Rehab, AFC Urgent Care, Amedisys Hospice, the Adult Care Center of Roanoke Valley, Carilion Clinic Home Care & Hospice, Virginia Navigator, Virginia Veterans Care Center, Advances for Daily Living, Coastal Insurance, CORA PT, Gentle Shepherd Hospice, Aetna Better Health of VA, InnovAge PACE, Anthem Healthkeepers, Member One, Mountain View Cemetery, Roanoke County Triad, Brain Injury Services of Southwest VA, Ellis Senior Care, LLC, Richfield Living-Roanoke Campus, Amerilife, Croft Insurance Services, Kissito Healthcare, Mountain City Realty & Auction, Humana, Mom In Motion/At Home Your Way, HealthPlus, Bank of Botetourt, KC Solutions LTP, CaptionCall, Commonwealth Home Health Care, Hermitage Roanoke, Senior News Magazine, Helpful Solutions Home Care Services, Radiance Wellbeing, LeafGuard, HomeTrust Bank, United Healthcare, Good Samaritan Advance Illness Care, Jefferson Surgical Clinic, Winter Storage, Friendship Retirement Community, Salem Terrace at Harrogate, Vinton Breakfast Lions Club, Senior Medicare Fraud Patrol, Affinity Care of Virginia, Free Foundation, Trinity Landscaping LLC, JM Ford & Associates, Simon Kinsinnger-Clear Financial Vision, and Connect America.
Chewning and Chamber President Jason Boothe thanked the community for "continuing to come out and support the event," which has grown to be one of the largest senior expos in the Roanoke Valley.
The Chamber has many special events scheduled for the coming months. Check out thewebsite at www.vintonchamber.com and Facebook page, which is updated daily.