By Debbie Adams
Roanoke County Public Schools usually honor its retirees with a banquet each spring, inviting their families, their principals, and members of the School Board to mark the milestone in their lives. That hasn't been possible so far this year, but just like this year's graduations, the celebration of retirees has gone online.
RCPS has posted a video tribute to its 72 retirees with 1,513 combined years of service to the district.
Several of those retirees are from Vinton-area schools.
Susan Baggerly is retiring from William Byrd High School where she has served as the Special Education Coordinator. She has worked at WBHS for seven years and for Roanoke County for 18 years, including at Cave Spring High School and Hidden Valley High School. She has also taught in the Virginia Beach and Norfolk Public School systems, and at Children's Hospital of The King's Daughters as a teacher and consultant–for a total of 33 years in education.
Baggerly has been married for 35 years and has two daughters and three grandchildren. Her retirement plans include traveling and spending time with her family.
"It has been very exciting working with students," said Baggerly. "At the high school level, you have the opportunity to watch young people grow into young adults and experience the ups and downs of their learning experiences.
"Working in a children's hospital is one of the most rewarding experiences of my career," Baggerly said. "When educating a sick child, you gain a whole new perspective on life and learn to be appreciative of each and every day. Education may not be the easiest of jobs, but it has to be one of the most fulfilling careers.
"I would like to thank Roanoke County Public Schools for giving me the opportunity to be a part of their school community," Baggerly said.  "A special thanks to the staff of WBHS for all of the support they have given me in the past seven years. Go Terriers!"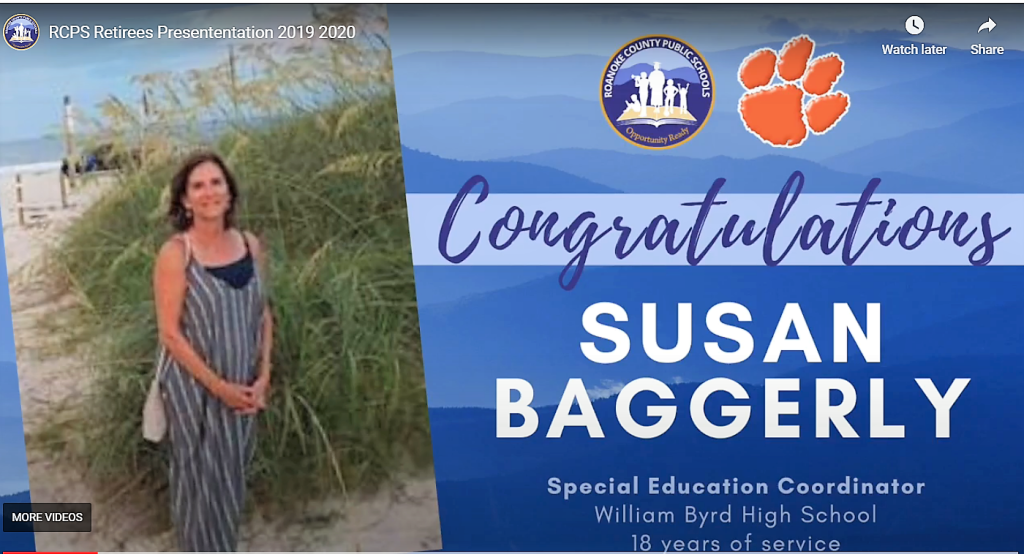 Gene Riggs is retiring after 28 years of teaching Special Education at William Byrd. He also coached baseball and cross country. He is originally from Henry County. He taught at Bassett High School for two years but then "married a Botetourt girl" and moved here and began teaching during the 1992-93 school year. His wife, Tammy Martin Riggs, is the principal at Colonial Elementary in Botetourt County. They have two grown children, ages 26 and 23.
His plans for retirement are to substitute at Byrd and maybe get a part-time job. He will also be enjoying his family with his first grandchild due this fall and his son engaged to be married next spring.
Riggs says that when he first started teaching Special Education, some classes were inclusive and some were self-contained, but the times changed. He has spent the past 22 years co-teaching US History with Cristy Spencer. "She is like my school wife and I am her school husband." He was even in her wedding.
Riggs has enjoyed all his years at Byrd "because of its family atmosphere among staff, coaches, and administration." He has worked for all three principals at the new William Byrd High School—Bob Patterson, Dr. Richard Turner, and Tammy Newcomb.
He says he will miss working with a "great group of people," and loves the kids and the community.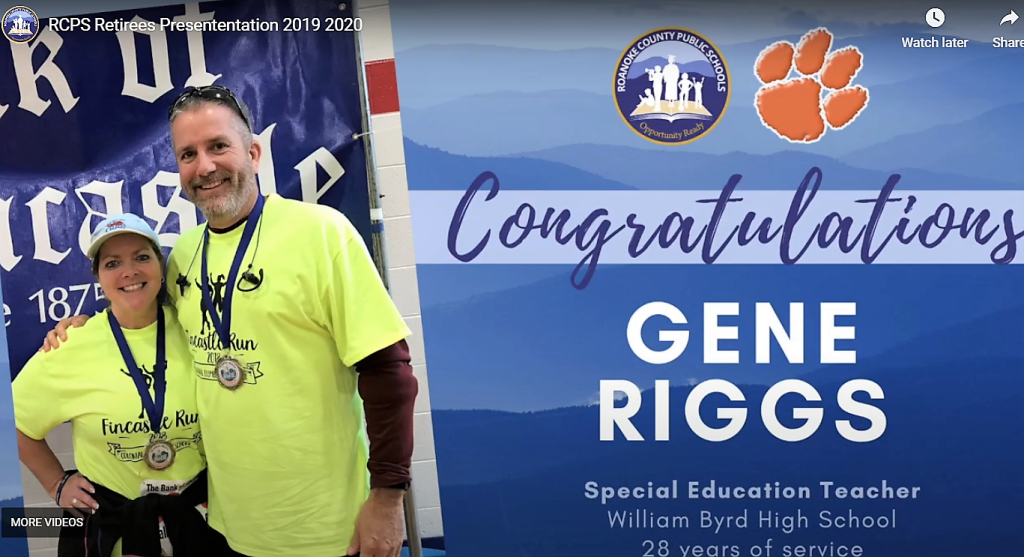 Other faculty and staff members retiring from Vinton-area schools include:
Tim Chocklett, Technology Education teacher at William Byrd Middle School with 35 years of service.
Margaret Ferguson, Title I teacher at W.E. Cundiff with 32 years of service.
Michael Firebaugh, Transportation Department bus aide, with six years of service.
Lisa Jervis, art teacher at W.E. Cundiff with 18 years of service.
Jodi Long, Instructional Coach at WBMS with 12 years of service.
Dottie Mayer, librarian at William Byrd High school with six years of service.
Debra McCraw, nutrition associate at WBMS with 14 years of service
James Muse, building operator at William Byrd High School.
Dale Payne, bus aide with the Transportation Department with 19 years of service
Sandy Shelton, bookkeeper at WBMS with 13 years of service.
Peggy Wright, nutrition associate at Mount Pleasant Elementary, with 16 years of service