William Byrd High School junior Rebecca Qiu will be advancing to the International Science and Engineering Fair in May after winning the Grand Award at the Western Virginia Regional Science Fair in March.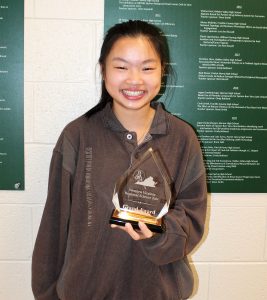 Qiu is also a student at the Roanoke Valley Governor's School (RVGS).
She won first place in the Roanoke County High School Cellular and Molecular Biology/Computational Biology Category held at Northside High School in February thus qualifying for the Regional Fair. She is also eligible for the Virginia State Science and Engineering Fair.
According to Mark Levy, Director of RVGS, "Rebecca has qualified for the state science fair every year she has been in high school thus far. That is an exceptionally rare achievement."
Her project is entitled: "A Precision Medicine Approach: In silico Analysis of a Novel Anti-Tumor Peptide as a Future Targeted Therapy."
"My project looked at a peptide drug recently developed called Selectide-18, which functions by inhibiting the activation of an important cell regulatory pathway called PI3K," Qiu explained. "This pathway, when 'turned on' too much can lead to the development of tumors and their resistance to therapy. This drug shows extreme promise; however, the only downside of the drug is that it is slightly too large to be viable for clinical use (in humans). "
"So, my project modeled all the continuous sequences of the drug from 6 to 18 amino acids and looked at their docking affinities (or the strength of their binding) and distance from regulatory active sites to try and see if there were any possible shorter models of the drug that functioned the same, or even better, than the original drug," she continued. "In doing my research, there was a particular nine amino acid model that stood out as it exhibited better docking distance and comparable binding affinity. Because of this, it is predicted that this model will exhibit the same inhibiting functions of the original, longer drug but also have a decreased potential for side effects."
The International Fair is held in Atlanta in early May. Qiu plans to attend in person.