By Debbie Adams
Numerous citizens turned out on March 31 for a community meeting on the Town of Vinton Route 24 Bike/Pedestrian Plan. The meeting was held at the Vinton War Memorial and featured a presentation by Vinton Assistant Director of Planning and Zoning Nathan McClung, along with consultants Vlad Gavrilovic and Todd Gordon from EPR, PC.
EPR is a "Virginia-based multidisciplinary firm focused on the integration of transportation, land use, and community design," and made up of engineers, planners, and designers.
The Town of Vinton received grant funding from the Office of Intermodal Planning and Investment's (OIPI) Growth & Accessibility Planning (GAP) Technical Assistance Program to secure consultant assistance to create the Multimodal Access and Improvement Study for the heart of Vinton – the area between Route 24, East Washington Avenue, and South Pollard Street. The EPR firm was selected to serve as consultants for the project, which has now been underway for about a year.
Last fall, the public was invited to participate in a unique, interactive online survey to make sure the town was focusing on the areas of most interest to the public.
Citizens were able to pinpoint on a Vinton map the bike and walking destinations they would like to see added and safety concerns they presently have about the roadways and greenways. A map on display at the March 31 meeting indicated specific recommendations gathered from those public surveys.
The public meeting covered recommended improvements to enhance biking and pedestrian accommodations along the "loop" of Washington Avenue, Bypass Road, Hardy Road, East Virginia Avenue, South Pollard Street, and the neighborhood streets within that area.
It also addressed future greenway connections through the historic Jefferson Park neighborhood and included a creative toolkit of improvements to utilize on specifically identified streets, areas, and important pedestrian/bicycle travel areas.
"Overall, we had a great turnout for the public meeting on Thursday and it was encouraging to see how many individuals care about the present and future transportation needs for all road users in the Town of Vinton," McClung said. "The participants at the meeting included people who had lived in the town for many decades, commuters who only utilize Vinton's corridors to get to their place of work or business in other localities, and new residents who've just moved to the surrounding neighborhoods around the project area.
"With this Bike/Pedestrian Plan, we will be able to engage all of these different stakeholder groups in the future on a case-by-case basis depending on the location of the improvement and the nature of the surrounding area," he added. "This plan will provide Town Council, staff, and our residents with a 'toolkit' of different improvement types to utilize, and a large selection of projects to take on when the time comes. The next step will be to prioritize these specific project areas going forward and to use the current momentum from these recent conversations to continue future planning efforts."
The consultants and McClung emphasized throughout the PowerPoint presentation that the study introduced "concepts – not proposals." Suggestions generated at the community meeting will be incorporated into the final Route 24 Bike/Pedestrian Plan, which will be presented to Town Council.
Gavrilovic commended those in attendance for contributing to "civic democracy" by making their voices heard.
The current grant funds the development of a full plan that will be used in the future to apply for additional grant funding to finance the improvements; however, it does not include funding for the actual improvements.
The plan is designed to build on the Roanoke Valley-Alleghany Regional Commission's (RVARC) "Major Corridors – Bicycle & Pedestrian Accommodations" study and will create a list of very specific improvements to help make biking and walking in this area safer and more comfortable for all users.
Once the PowerPoint presentation was complete, citizens were invited to take a look at the individual concepts on display boards throughout the room, to engage with the consultants, and town staff, and to leave comments on charts and Post-Its, sharing their thoughts and suggestions.
In addition to McClung, Gavrilovic, and Gordon, Director of Planning and Zoning Anita McMillan, Associate Planner Fayula Gordon, Assistant Town Manager Cody Sexton, Mayor Brad Grose, Vice Mayor Sabrina McCarty, and Councilman Mike Stovall were on hand to engage with citizens and receive their input.
The crowd on March 31 included some long-time Vintonites, some young residents passionately in favor of bike routes and greenways, and young parents interested in "Slow Streets" and additional sidewalks for the safety of their children.
Many of those attending were drawn to the meeting to offer their opinions – both pro and con – on a potential reconfiguring of Washington Avenue, changing the major thoroughfare from four traffic lanes to two traffic lanes, a center turn lane, and two bike lanes. This plan could be accomplished mainly through "paint," not costly construction.
Other concepts in the project which citizens were invited to comment on included adding sidewalks, high visibility crosswalks, traffic calming measures, wayfinding, large in-street stencils, signalized intersection enhancements, and crosswalk enhancements.
Many of the Vinton residents attending had specific questions and concerns about their own particular streets and nearby intersections. Many wanted to talk about links to the various greenways in and around town.
The pedestrian-friendly "Slow Streets" concept garnered a lot of attention. Slow Streets limit traffic on certain residential streets, allowing them to be used as a shared space for people traveling by foot and bicycle. Improvements might include closing sidewalk gaps, marking crosswalks to identify Slow Streets, installing traffic calming features, and adding signage.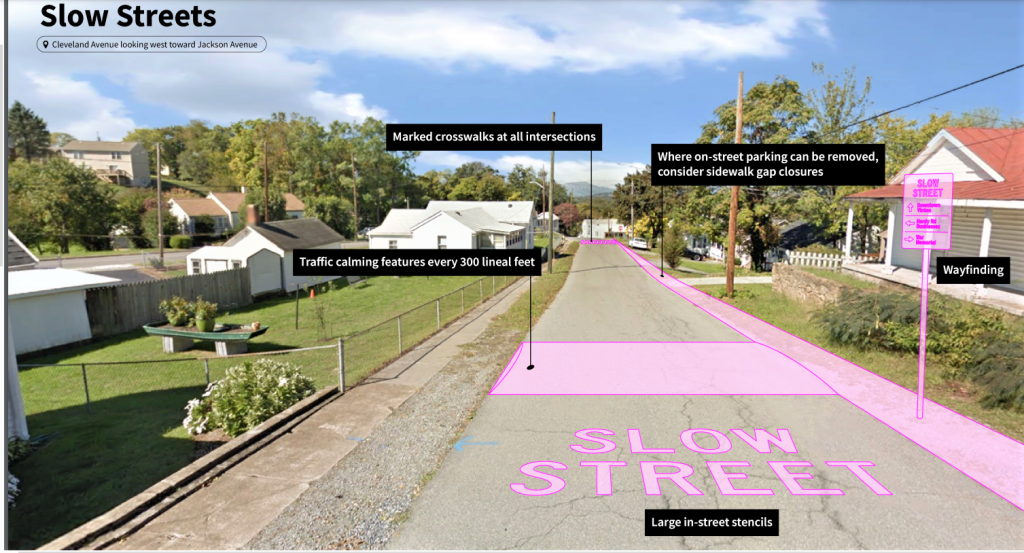 An enormous table map of project concepts caught the attention of many.
A sampling of the citizen comments included:
"Great steps forward for improving roadway safety! Consider adding "protected bike lanes. Vinton has the opportunity to be a leader in the area of pedestrian and bike safety. Caution: "paint does not equal protection."
An East County resident was more interested in additional sidewalks and feels Vinton is ready for bicyclists.
Another pointed out that "everyone is a pedestrian at some point."
What about traffic growth over time—will we have enough roadways?
Another expressed concern about traffic congestion and motorists using "cut-throughs" to avoid that congestion.
Jeannette Avenue off of Washington Avenue was an area of concern for more than one resident. One felt it should become a "Slow Street." It was also suggested that Jackson Avenue become a Slow Street but not Cleveland Avenue.
Another anticipates traffic back-ups on Jeannette if Washington becomes three-lane.
Concerns were expressed about possible bottlenecks on Washington if the town chooses to go from four to three lanes of traffic; another thinks left turns are dangerous now with four lanes of traffic and that might be ameliorated by changing to three lanes with a designated center turn lane.
There was input on speeding currently on Washington Avenue and on Preston Avenue.
One suggested that parking problems on East Lee might be handled by allowing parking on just one side of the street. Someone else noted the parking issues at Roland E. Cook currently involve the entire block.
One bus employee commented that Washington Avenue is already clogged with school buses morning and afternoon and that the change to two lanes might make conditions worse, especially since there is a school bus parking lot just outside the town limits.
The format of the community meeting drew praise from those who attended for the "concise, well-framed, informative presentation, which included options, not "done deals," and for the opportunity to interact with the consultants and town staff who have conceived the plan but are open to revisions.