By Debbie Adams
Sunday, June 12, was Pastor B. Failes' last day as pastor of Thrasher Memorial United Methodist Church. He will be retiring after 38 years in the ministry, the last 11 at Thrasher in Vinton.
"When I first came to Thrasher, I said I would stay ten years and retire," said Failes. "I decided last year to stay one more year because of the pandemic. But now the time has come. I will be retiring at Annual Conference this year."
Instead of a reception with cake and balloons, Failes asked to mark the milestone with a mission project "to make a difference in the world." He invited the congregation to gather for just one service that day (usually there are three) and package meals to feed 10,000 people through the "Rise Against Hunger" program.
Failes had planned his final worship service, start to finish, to include his favorite scriptures and hymns. It was emotional. There was laughter; there were tears. There was joy for Pastor B. and his wife, Jan, as they start a new chapter in their lives. There was anticipation as Thrasher prepares to welcome a new pastor—John Hemmings and his family.
Pastor B. opened with 2 Timothy 4:6-8, which he noted many pastors choose as their text on their retirement day.
"6 As for me, I am already being poured out as a libation, and the time of my departure has come. 7 I have fought the good fight; I have finished the race; I have kept the faith. 8 From now on there is reserved for me the crown of righteousness, which the Lord, the righteous judge, will give me on that day, and not only to me but also to all who have longed for his appearing."
The songs included the mellow "What a Wonderful World," the boisterous "When the Saints Go Marching In," the poignant "This is My Song," plus "Standing on the Promises."
Failes is well-known as a storyteller; he has used his stories to explain how his ministry, life, and understanding of God have been shaped.
His message on June 12 centered around the topic of "One Key." When Failes came to Thrasher, he was given two large key rings filled with unmarked keys to unknown doors. Over time, he discovered the "One Key" that opened almost every door of importance at Thrasher. He talked about the joy of doors being opened by members of the church, inviting him to participate in their lives individually in times of both joy and sorrow.
"Thank you for supporting me all these years and helping to make a difference in this church, community, and world," Failes said. "It has been an honor and privilege to serve as your pastor."
He recently spoke of the three different worship services at Thrasher and the unique qualities of each.
"8:00 a.m. service in the chapel has been a blessing to me. This service reminds me of my home church. Consistently, around 35-40 folks have shown up every week. The 9:00 a.m. service has been full of energy. Humble Praise, our praise band, has been excellent. With lots of changes in personnel over the years, they continue to lead inspired worship. Explosion Worship and now ThrasherKIDS have been inspirational for a generation of children. The 11:00 a.m. service with the choir, orchestra, and bells has been uplifting and fulfilling. If I had to pick a favorite, I would be lost. It would be like picking a favorite of my three grandchildren. Each is unique and very special."
He talked about the history of Thrasher, founded by Paul and Sallie Thrasher and situated on the same spot in Vinton since 1815, "serving as a beacon to the presence of God in this community."
Failes said that the one standard he tried to keep throughout his ministry was to "preach the gospel of Jesus Christ."
As for the "One Key" the congregation had been waiting for him to identify, Failes said it is simply to "love one another, above all things" the final message from Jesus to his disciples.
He asked the church to always remember that "God loves you unconditionally; there is nothing that can separate you from God's love, nothing you can do to change that," and that "B. Failes loves you, too."
Failes is originally from Bath County, where his father worked at the Homestead in Hot Springs. Many of his best stories over the years, have come from his childhood there.
Failes says being shot in a hunting accident when he was ten years old changed the course of his life. He ended up at Roanoke Memorial Hospital, where a nurse told him that "God saved you for a reason."
"That moment was my call to the ministry," said Failes.
He graduated from Bath County High School and attended Dabney Lancaster Community College.
As a college student, Failes joined a group called "Up with People" which traveled the world with an international goodwill mission of "building bridges of understanding among cultures."
That's where he met his wife Jan, a native of Canada, who was one of the 120 members of the cast that year. They danced and sang their way through eight countries and 29 states, staying with 84 different host families in accommodations that ranged from mansions to hovels with dirt floors. They performed in a variety of venues in gyms, stadiums, barns, and auditoriums.
Failes recalls tap dancing on the 45-yard line at Super Bowl XIV in 1979 at the Rose Bowl in Pasadena, California.
The Failes completed their undergraduate degrees at the University of Winnipeg in central Canada. He then graduated from Candler School of Theology at Emory University.
They have a son, Britt, daughter-in-law Courtney, and three grandchildren—Kimmy, Jayden, and Jude.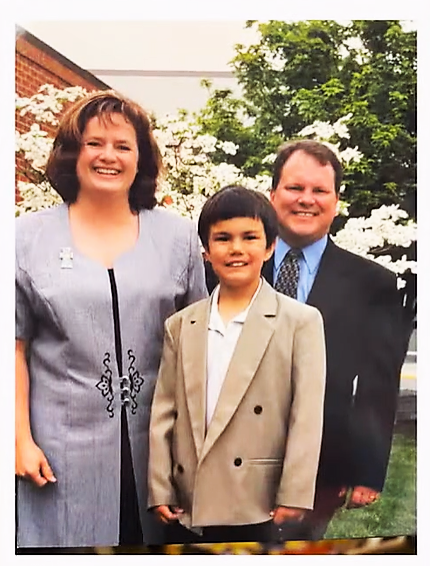 Pastor B. has served churches throughout the state of Virginia, given the Methodist custom of being appointed for one-year terms and changing churches fairly regularly; Thrasher was his sixth and largest church.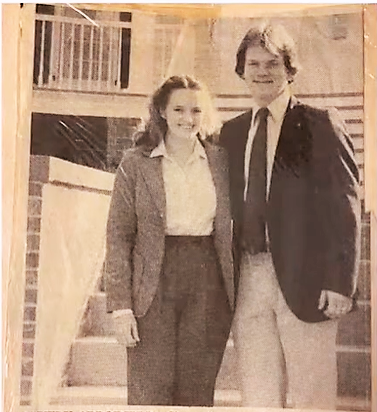 He has been involved in mission trips to Europe, Africa, Mexico, Alaska, Asia, and the Caribbean over the years.
In May, Pastor B. said in one of his weekly emails, "During this last month, I will cry, I will also laugh, I will remember, I will hope, I will pray. But through it all, I know that God will continue to bless this church and its ministry. I know that this church will always be strong in its faith. I understand that the solid foundation that I inherited will continue to be the groundwork for all future endeavors. With God as the foundation, the future looks excellent for Thrasher!"
Members of the congregation raised the $3350 needed to provide the packaged meals to honor Pastor B.
A huge crowd of all ages gathered in the fellowship hall after the June 12 worship service to don hairnets and gloves, and form assembly lines to package rice, soy, veggie and vitamin packets into meal bags which were weighed for uniformity and then packed in boxes for shipping. Every time 1,000 meals were completed, a large gong was rung in celebration. It took about an hour and a half to reach the goal of 10,000 meals.
The Rise Against Hunger representative, Sheila Russ, explained that the organization packages a rice meal to feed a family of six everything it needs for a day. Most of the meals are given to children in schools around the world. In 2021, over 17 million meals were distributed in 29 countries.
Failes said he could not think of a better send-off for his retirement than to help feed people worldwide.
Best wishes, Pastor B. and thank you for your years of dedicated service to Thrasher and the community!