Mountain State Oral & Facial Surgery (MSOFS) is now offering same-day dental implants at its
nine regional offices in West Virginia, Virginia and Kentucky, including its Vinton location.
The 3-D printing "Same Day Smile" technology is the first of its kind in the region. MSOFS
expert staff are available for appointments five days a week for the patients' convenience.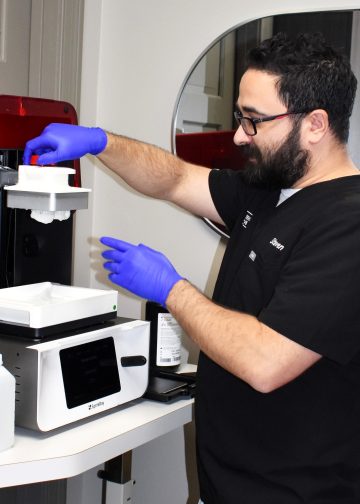 Dr. Jack Krajekian, Board Certified Oral and Facial Surgeon at MSOFS, said "Dental implants
replace your missing teeth and restore the functionality of your mouth and teeth. Unlike standard
dental implants that take several appointments to restore your smile, we place dental implants in
a single visit," he said. "This innovation is a huge step forward in technology and provides the
convenience and affordability our patients deserve."
This "same day dental implants" approach can offer affordability and efficiency due to several
factors:
Single-Day Procedure: Similar to other same day implant techniques, the entire procedure
is completed in three appointments.  A traditional implant denture can require up to 10
appointments between general dentist and surgeon. This eliminates the need for multiple
appointments and reduces overall treatment costs associated with extended procedures.
Simplified Workflow: The use of 3D printing technology streamlines the process of
creating dentures. Digital impressions of the patient's mouth are taken and used to design
a denture digitally. This eliminates the need for manual labor in crafting the denture,
which can reduce costs.
Material Efficiency: 3D printing allows for precise material usage, minimizing waste.
Traditional denture fabrication methods may involve more material waste, driving up
costs.
Reduced Labor Costs: The digital design and 3D printing process can reduce the labor-
intensive tasks associated with creating traditional dentures. Skilled technicians are still
involved, but the digital workflow can lead to time and cost savings.
Customization: 3D printing technology enables high levels of customization. Dentures
can be designed to fit the patient's unique anatomy, and adjustments can be made
digitally before printing. This reduces the need for manual adjustments and remakes,
which can be costly.
Predictable Outcomes: Computer-guided implant placement using 3D imaging and
planning helps ensure precise implant positioning, reducing the risk of complications.
Predictable outcomes can lead to fewer follow-up visits and additional treatments, which
can save costs.
Immediate Restoration: Just like other same day procedures, patients receive a temporary
or provisional denture immediately after implant placement. This eliminates the need for
a separate healing period and the costs associated with temporary restorations.
Patient Convenience: Patients can leave the dental office with a functional denture on the
same day, avoiding additional visits and costs associated with temporary solutions or
healing periods.
Local patients among the first to experience the new same-day dental service offered their
perspectives. One commented, "I received full implants – top and bottom. The folks at Mountain
State walked me through the whole procedure and told me what to expect. They did the 3-D
scans, printed and inserted my teeth all in the same day. What surprised me was how quick and
easy the whole thing was. The best part of the experience was the hospitality of all of the
Mountain State staff. I am very pleased with the service, and I would recommend it to my friends
and family. It has simply changed my life significantly."
Another said, "I cannot believe it. They feel like real teeth. Actually, better than my real teeth!
The fact that it only took a day, and they feel this good is amazing to me." Both patients cited the
multiple benefits of the same-day dental implants: convenience, affordability, certified and
licensed staff, and restored confidence with a new smile.
Mountain State opened its Vinton office in April 2022 at 895 East Washington Avenue in the
former practice of Dr. George Kevorkian upon his retirement.
For more information about "Same Day Smile" services at MSOFS visit
https://mtstateoms.com/same-day-smile.