William Byrd football coach Brad Lutz has been selected as the Week 2 Coach of the Week by
the Washington Commanders Charitable Foundation. Recognition of this award will be showcased on
the @CommandersCR social media platforms.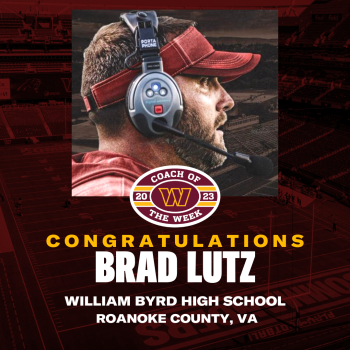 "We want to thank you for your positive leadership and dedication to your student athletes and
the Roanoke County Public Schools community," said Mariah Sakellaris of the Charitable Foundation in
a letter to Lutz. "We recognize your passion, dedication, and motivation for your players to be
successful in high school and beyond."
William Byrd High School will receive a $1,000 grant in honor of Lutz' selection. Brad will be
the guest of the Commanders on the weekend of January 6 when Washington hosts the Dallas Cowboys
for a Coach of the Week celebration.