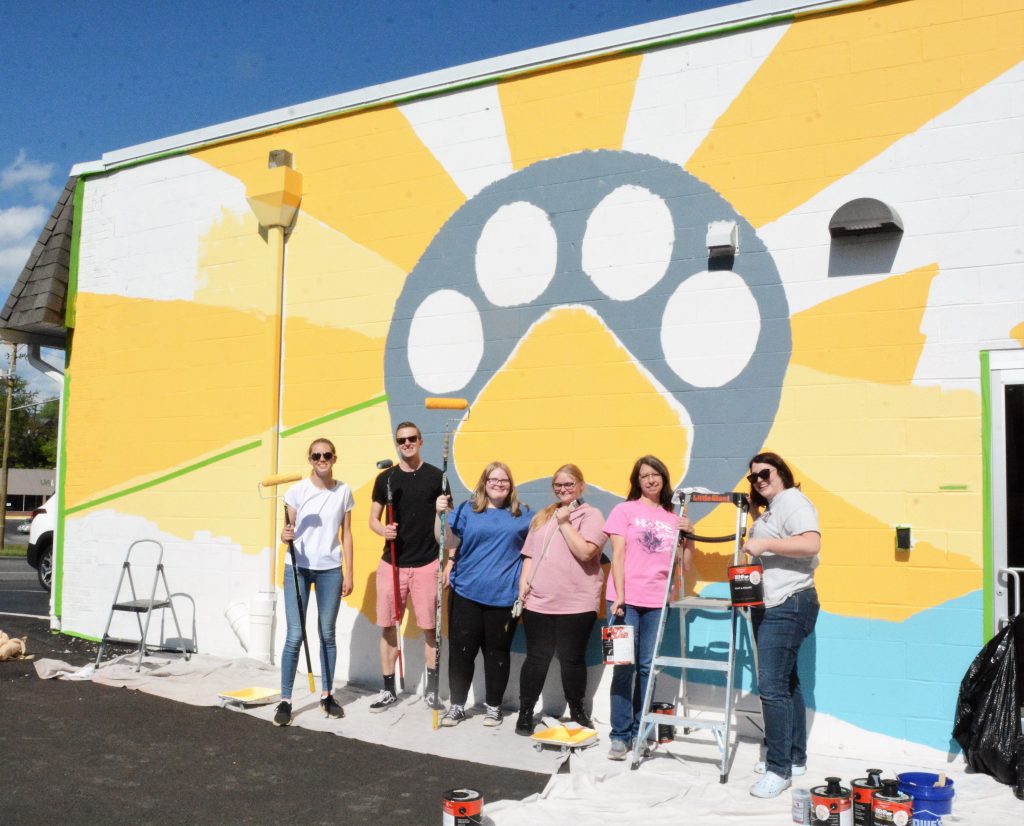 By Debbie Adams
On March 1, the Vinton Veterinary Specialty Services Center held a ribbon-cutting and dedication ceremony at thei new state-of-the-art facility on East Washington Avenue in Vinton.
Ground had been broken symbolically in October 2022 for the new center which represented an expansion of next-door Vinton Veterinary Hospital. The specialty center is located in what was the Sweet Dreams Mattress Store, now completely renovated.
Chief Medical Director Dr. Courtney Wiegard, DVM, says, "Once we knew the Specialty Services Center project was a go, and there was a huge blank white wall, we knew we had to make it gorgeous."
That led them to award-winning artist Jon Murrill.
"I posted on Facebook asking for recommendations for muralists, and Jon Murrill's name was mentioned repeatedly," Wiegard says. "I reached out to him, and he immediately came to see the wall. He was thrilled with the idea of bringing gorgeous mural art to Vinton, and we loved that he is an alumni of William Byrd and a Vinton resident."
Murrill has a history of community-driven projects. His large-scale artwork can be seen throughout the Roanoke Valley, from Salem to Roanoke, and now in Vinton. His murals can be found under the 9th and 13th Street bridges in Southeast Roanoke, work funded by the National Endowment of the Arts and Roanoke City. He has been selected for another project which will get underway this summer at River's Edge.
Dr. Wiegard says, "We collaborated on the idea, and we are just thrilled with the final concept. Being able to have William Byrd art students help is the icing on the cake. Truly a community effort!"
She also says the project has received welcome financial support.
"We have received generous donations from the Oursler family (beloved Vinton clients), Crystal Armes of Off Leash K9, and Zoetis Animal Health" in funding the project.
When Murrill was a student at WBHS, current art teacher Denise Sartell was one of his instructors. He is working with her and the two other art teachers at WBHS, Allyson Goin and Alicia Spangler, and their students, all volunteering their time on weekends to assist with the wall mural.
The project began with Vinton Vet first pressure washing the wall and having white primer applied. Murrill then roughly sketched his design, which features the great outdoors and local wildlife, on the primer layer.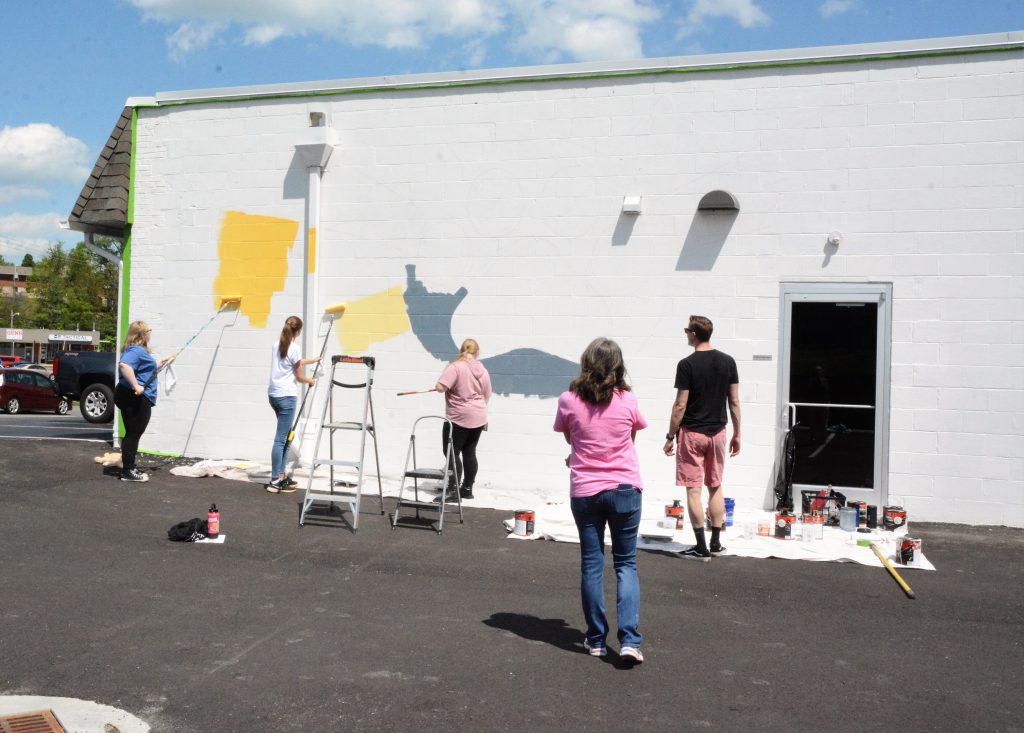 He says the role of the William Byrd students will be "laying in all of the base layers with brushes and rollers prior to me shading it and detailing the mural using spray paint."
The group was rained out on their first scheduled day of painting, but on April 23, several William Byrd students and two of their art teachers, along with Murrill, spent the afternoon applying base coats of some very vibrant colors (including "Marsh Magnolia" and "Solar Smash") to the walls.
The art students who volunteered their time on the first day included Cadence Fralin, Mikayla Blair, and Hannah Johnson, along with teachers Sartell and Spangler.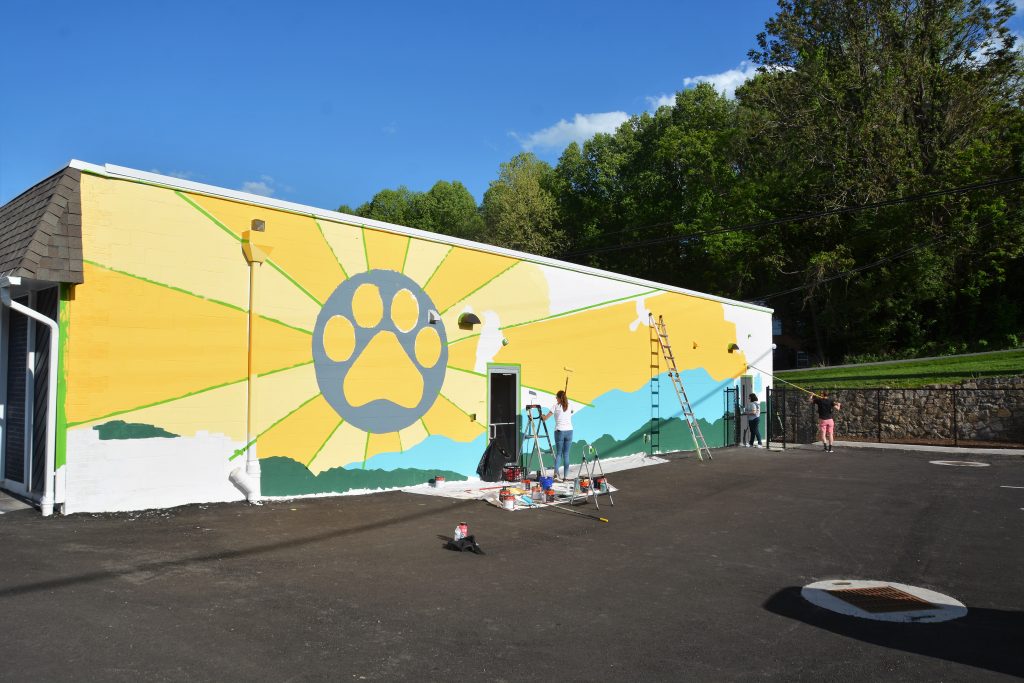 Other art students, the teachers, and Murrill will continue the painting during the remaining weekends in April, with the goal of finishing by the end of May.
Once the base coats are applied (probably in two coats), Murrill will be using special Montana brand artist spray paints (with special nozzles and caps), said to have incredible UV resistance and color longevity, to add and shade the wildlife, trees, and other elements of the mural.
Then finally the entire wall will be sealed with a clear coat of anti-graffiti paint.
It turns out that you can't just take a notion to paint the exterior wall of a business in Vinton, or in most localities. There are rules.
Murrill has been working with the Town of Vinton Planning and Zoning Department and Assistant Director Nathan McClung to navigate the local signage rules for wall murals. One rule is that you cannot actually advertise the business in the mural. Murrill says the Town of Vinton has been very supportive and easy to work with on the wall mural project.
"The revised Zoning Ordinance that went effective in 2022 provided for more robust definitions and distinctions between art (e.g. murals, etc.) and signage," McClung says. "This allows for freedom of speech and expression to be protected while also ensuring that all our businesses, non-profits, and other use types are on a level playing field in terms of advertising according to the sign codes."
Murrill was recently featured in the Roanoker Magazine in the annual "40 Under 40" issue featuring "up and coming young professionals."
According to the magazine, "He has been awarded multiple times for his artwork at national juried shows over the last five years and has displayed his work at the Taubman Museum of Art, Virginia Tech's Perspective Gallery, Roanoke College's Olin Gallery and many more."
After graduating from William Byrd in the Class of 2005, Murrill earned his BA in Art from Roanoke College (2009) and his MFA in Painting and Drawing from Radford University. He started his career in teaching art at Craig County High School. He married his high school sweetheart; they have two young sons.
He is currently an art teacher at Patrick Henry High School in Roanoke (since 2015) and volunteers as assistant coach for the PH boys varsity soccer team (he was team captain in high school). He has served as an adjunct professor in Studio and Art History at Virginia Western Community College.
The magazine also noted that Murrill endeavors to "bring out the best in his students." That certainly was evident when working on the wall mural on April 23. He was enthusiastically supportive of the students' work and constantly encouraging them throughout the afternoon.
The wall mural in Vinton has been enthusiastically supported by the community, with many positive comments from passersby this week and on social media and those excited and anxious to see the finished product– and hoping for more outdoor art throughout the town.
To see more of Murrill's work, visit https://roanokearts.org/southeast/).