By Debbie Adams
Registered voters in Roanoke County began early in-person voting on September 18 at the Craig Avenue Center at 900 Chestnut Street in Vinton—now the permanent home of the Roanoke County Elections office.
Individuals may vote between the hours of 8 a.m. and 4 p.m. Monday through Friday until October 30 and from 8:00 a.m. to 4:00 p.m. on Saturday, October 24 and Saturday, October 31, 2020.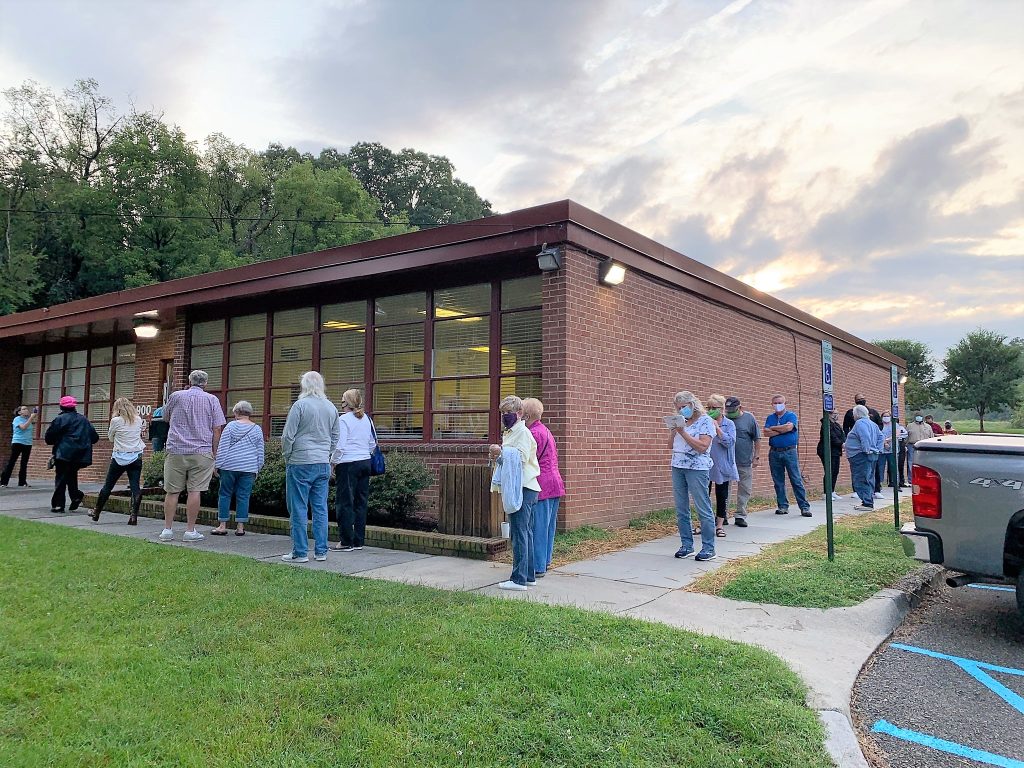 The Craig Center offers voters improved ADA accessibility, ample space to accommodate more than one voter at a time while observing social distancing protocols, and plenty of parking to provide curbside voter services for those with disabilities.
Voters should wear masks and socially distance. Voters enter by the front entrance and exit through the rear of the building after voting.
Voters may also vote in person at their regular precincts on Election Day or vote absentee by mail. Submit your request to Vote Absentee online at vote.elections.virginia.gov, via email to elections@roanokecountyva.gov, or by regular mail to P.O. Box 20884, Roanoke, VA 24018, or delivery to the Elections Dept. at 900 Chestnut St. Vinton, VA 24179.  You may also call the Office of Elections at 540-772-7500 or email elections@roanokecountyva.gov to request an application.
The Office of Elections will begin mailing ballots on Friday, September 18, 2020.  The deadline to submit your request is 5:00 p.m. on Friday, October 23, 2020.
Voters must return their marked ballots via US Postal Service, a commercial mail carrier, or deliver in-person to the Elections Dept. at 900 Chestnut St. in Vinton. Only the voter who requested the ballot may return it in person.
If you request an absentee ballot by mail and decide to vote early in person or in-person on Election Day instead, you should bring your ballot with you; otherwise, you will need to vote provisionally.
Ballots voted by mail must be postmarked on, or before November 3, 2020, and received no later than 12 noon on November 5, 2020.
Effective July 1, the Virginia General Assembly passed a law that makes no-excuse absentee voting an option for all voters. Voters are no longer required to provide one of a limited number of excuses in order to cast their ballots before Election Day.
Any registered voter who wants to vote before Election Day may do so by participating in no-excuse absentee voting by mail ("absentee by mail") or no-excuse absentee voting in person ("early in person") at their local Elections Department.
Virginia also approved changes to forms of identification that voters may use when appearing to vote in person.
Acceptable forms of voter ID now include:
Your Virginia Voter Registration Card
Valid Virginia Driver's License (expiration date irrelevant)
Valid U.S. Passport, or any other ID issued by the Commonwealth, its political subdivisions, or the U.S.
Valid student ID card issued by any private school located in the Commonwealth
Valid student ID card issued by any institution of higher education in the U.S.
Valid employee ID card with a photo of the voter
Copy of a current utility bill, bank statement, government check, paycheck, or other government document containing the same name and residential address listed on the voter's registration
Should you have any questions, please reach out to the Roanoke County of Voter Registration and Elections by calling 540-772-7500 or emailing elections@roanokecountyva.gov.