By Debbie Adams
The week of Sept. 7 was busy for 6-year-old entrepreneur Judah Clements – he officially started his own business, JPC, LLC, otherwise known as Judah Bug Lemonade, and opened his own bank account.
Here's Judah's version of how this all came about: "For as long as I can remember, I have enjoyed being silly and creative. I love coming up with new ideas and building things with my dad. Cardboard airplanes, wrestling rings, and cool skateboards for my Lego guys are just a few of our accomplishments. It is fun to create and we love spending time working on projects.
"A couple of years ago (in 2019) we pulled over after being flagged down by a group of neighborhood kids. They were selling lemonade and me and my dad love lemonade. It was so cool to see what they were doing. They were all working together and having a blast.
"The next spring I watched as middle school students played soccer across the street from our home and thought how cool it would be to make a lemonade stand so the fans would have something to drink while they cheered for the games. My dad promised that this spring (2020) we would create a lemonade stand – and then the pandemic happened. But I don't give up that easily! So, we started JudahBug.com – an online lemonade stand that also supports Angels of Assisi."
So far this summer, since his modest grand opening at his home on July 18, the first grader at Vinton's Mineral Springs Christian School has raised over $1,000 for Angels of Assisi and reached his goal of receiving 200 "likes" on his Facebook page. Not only have there been online sales, but an appearance at a local farmers' market and a day at Angels of Assisi in Roanoke.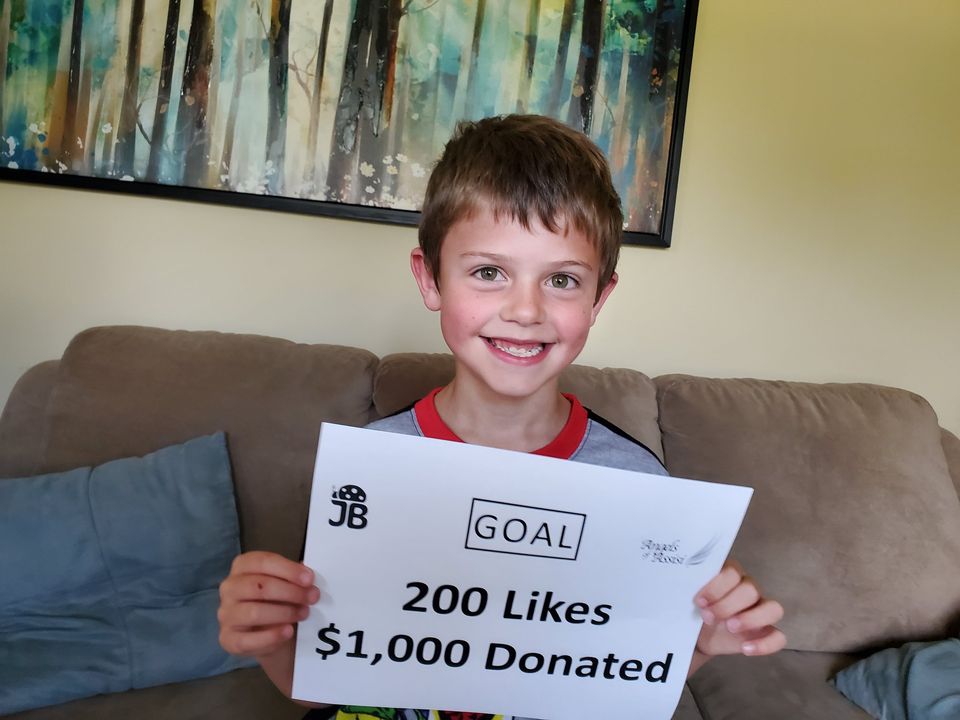 Judah and his father, Philip, stopped by the Vinton Municipal Building on Sept. 10 to drop off some Judah Bug Lemonade for Mayor Brad Grose and several members of the Police Department to sample. Judah and his father shared his story and the fact that he will be setting up a lemonade stand at the Vinton Fall Festival on Octo. 3 in downtown Vinton.
Grose congratulated Judah on his new business, "You saw a need and came up with your own innovative idea."
The business development process included ordering samples of lemonade mix from vendors to make a choice on which brand to use in Judah Bug Lemonade. The family had to create a website and Facebook page and design their branding. Judah negotiated with the lemonade distributors they chose to enable him to purchase fewer packets than their standard bulk quantity. The Clements have been helped along the way by the O'Connor Group of designers and marketers and H&C Quality Coffee Co..
The Judah Bug story was shared by the Roanoke Times and then exploded nationally in the media–eager for positive news in these challenging times–"just a cute story in a world of less than cute stories," said his dad.
Judah also appeared on the NBC Nightly News, Kids Edition, with Lester Holt, and in other print and online media, including MSN Money, the US News and World Report, and The Washington Post.
Be sure to keep an eye out for the Judah Bug Lemonade stand in downtown Vinton at Fall Festival.
Judah Bug bottled lemonade costs $2 for a 12-ounce glass bottle, or a four-pack for $8. Judah also sells packets of lemonade mix for $2—just add 32 ounces of water. The Clements plan to sell lemonade online with delivery to a limited area soon.
Judah has plans to add some other items to his inventory, including a t-shirt combining the Judah Bug Lemonade logo with an Angels of Assisi theme. His dad says they plan to partner with the organization long term.
Judah gets his entrepreneurial spirit naturally from his parents. His dad is the CEO of "The Foundry," a company which works with people, including kids and students, to "develop an entrepreneurial mindset." The Foundry is "devoted to unlocking human potential. Our mission is to help people discover and develop their strengths and talents to impact the world in a profound and unique way." Their son seems to have taken that mission as his own.
For more information on Judah Bug Lemonade or to order, visit Judah's website at JudahBug.com or his Facebook page at Judah Bug.