By Debbie Adams
William Byrd High School seniors Olivia Hurd and Justin Patrick were crowned as 2022 Homecoming Queen and King during a half-time ceremony at the football game on October 14.
Hurd is the daughter of Chris and Taressa Hurd. She is captain of the indoor track, outdoor track, and lacrosse teams at Byrd and a member of the SCA and Beta Club.
Patrick is the son of Ginny Lynn and Keith Patrick. He is a member of the SCA and Terrier TV and has attended the Burton Center for Arts and Technology for four years.
Members of the Homecoming Court are nominated by their classmates (freshmen nominate freshmen, etc.) with the entire student body and staff voting online to select the Homecoming King and Queen from the senior candidates. Nominees introduced themselves to the student body via video on Terrier TV before the voting begins.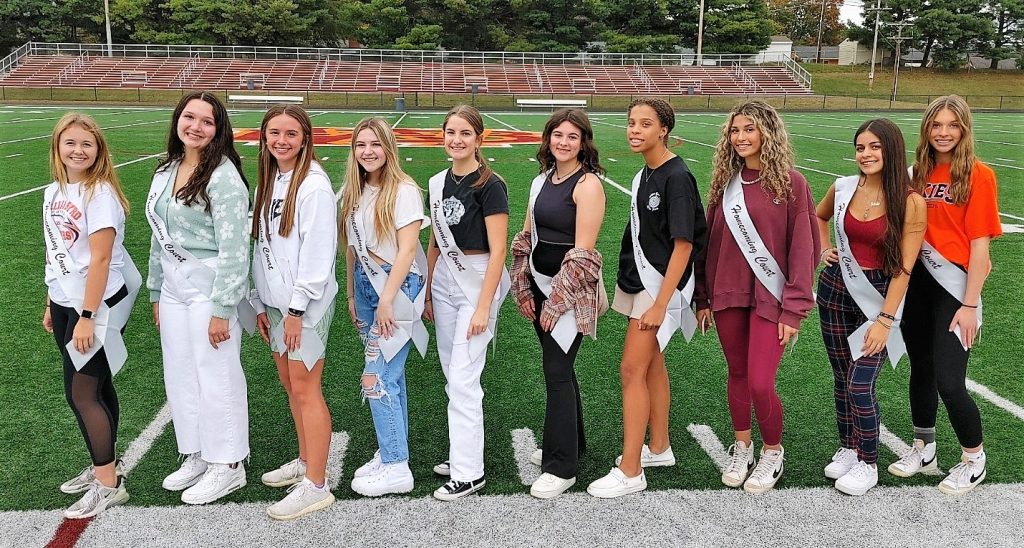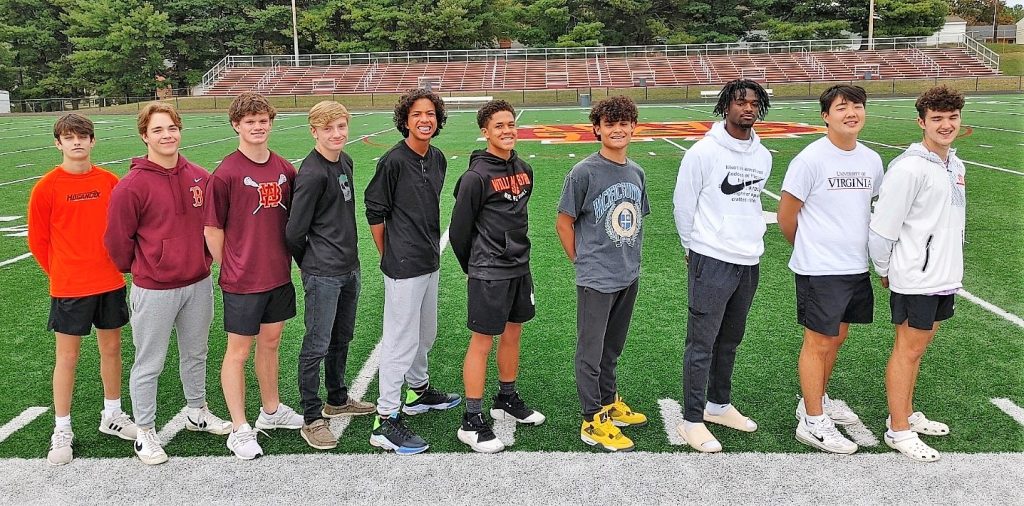 Seniors on the Homecoming Court and candidates for Homecoming King and Queen, in addition to Justin Patrick and Olivia Hurd, were Taylor Davis (daughter of David and Ginger Davis), Bre Hodges (daughter of Angie and Tim Hodges), Rachel White (daughter of Chris and April White), Jaiden Childress (son of Dawn Childress), Shane Heldenbrand (son of Stephanie Blankenship and Andy Heldenbrand), and Dylan Hughes (son of Barbara and Tim Hughes).
Juniors on the Homecoming Court this year include Emmerson Abshire (daughter of Greg and Becca Abshire), Karli Stephenson (daughter of Chris Stephenson and Michelle Mullins), Makayla Price (daughter of Martin Price), Wyatte Bailey (son of Jeremy and Angela Bailey), Joshua Stores (son of Allison Poindexter and George Stores), Israel Hairston (son of Keerie Hairston and Chris Hairston), and Landyn French (son of Thomas and Shari French).
Sophomore members of the Homecoming Court for 2022 included Jada Johnson (daughter of Tony Johnson and Coleen Johnson), Isabella Posadas (daughter of Peter and Luisa Posadas), Ethan Powell (son of Jeff and Kellie Powell) and Dawson Brinkley (son of Todd Brinkley and Stacie Brinkley).
Members of this year's Homecoming Court representing the Freshmen Class include Addison Clark (daughter of Allen and Sharon Clark) and Tyson Brady (son of Barry and Stephanie Brady).
Homecoming Court members were escorted to center field by a parent, grandmother, godmother, or brother this year for the crowning of the king and queen by WBHS Principal Tammy Newcomb, assisted by last year's Homecoming Queen Madison Tuck, flower girl Riley Decoster, and crown bearer Logan Bredenkamp. (Riley is the 3-year-old daughter of Katie and Andrew Decoster. Logan is6 years old and the son of Katie and Ben Bredenkamp.)
The names of the king and queen were kept secret until the final moment.
Homecoming festivities this year also included four days of Spirit Week at William Byrd, including Little Miss/Mr. Monday, Tailgate Tuesday, West Coast Wednesday, and Class Colors Thursday, along with White Out Friday on the night of the game since schools were closed on October 14 for a teacher workday.
There was a powder puff football game midweek and a pep rally at the end of the school day on October 13, where the Junior Class was awarded the Spirit Stick for their enthusiastic participation throughout the week's events.
Other highlights of Homecoming on October 14 included a performance of this season's band competition program, "Ready or Not," prior to the game by the Marching Terriers band. Cadets from the National Naval Defense Cadet Corps presented the colors during the National Anthem and Pledge of Allegiance. Cadets included: Cadet Trevor Robinson (William Byrd), Cadet William Sloane (Cave Spring), Cadet Dominick Hayslett (William Byrd), Cadet Zackery Charles (Northside).
The grand finale came on Saturday, October 15, with the Homecoming Dance in the school gym.