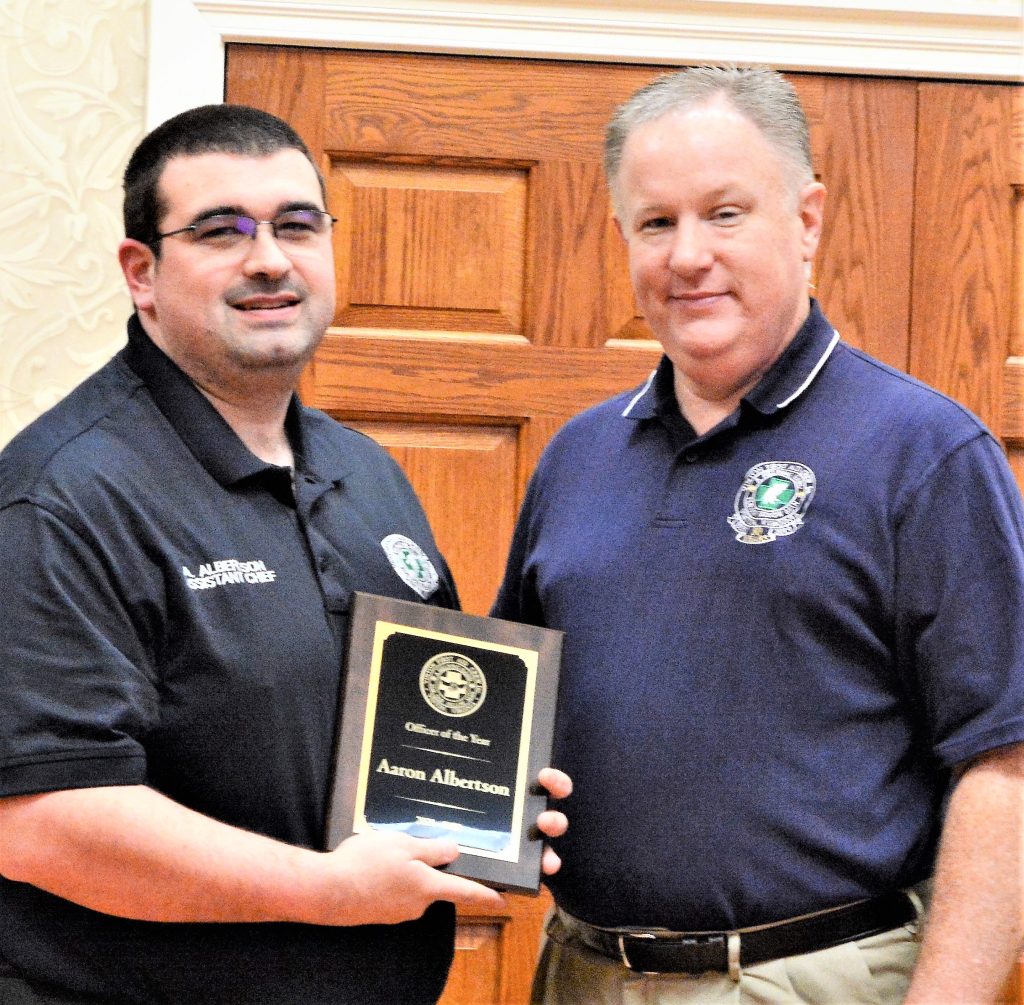 The Town of Vinton and the Vinton Messenger are saluting members of the Vinton First Aid Crew (VFAC).
"We are truly blessed to have the Vinton First Aid Crew in our town," says Vinton Mayor Brad Grose. "The Crew has a long history of service to the residents of Vinton and the surrounding area. Many of our citizens have amazing stories about the wonderful service provided to them by the devoted members of the Crew."
This week's featured volunteer is VFAC Assistant Chief of Operations Aaron Albertson, an Advanced EMT. He was named "Officer of the Year" for 2021-2022 by the entire membership of the crew.
Albertson joined the Vinton First Aid Crew in March 2006. This is his 17th year with the organization.
He was born in Florida and moved here with his parents from Syracuse, New York in 1995, but the Roanoke/Vinton area has been his hometown for 28 years.
"I was introduced to the Vinton First Aid Crew by a peer in high school in my junior year at WBHS (Class 2006) and joined as a junior crew member," Albertson explained. "I honestly didn't think much of it when she first told me about the organization and what they do; however, she was very reassuring on what a great organization it is, and how much she really enjoyed it."
"My first run night I was a nervous wreck and wasn't sure getting into the medical field was anything I was ever prepared for. Back then there were two members who reassured me to come on down and made me feel very welcomed and friendly.  I did end up going down to the station that night, and was introduced to a new system and way of helping out my fellow man."
"I found it to be very addicting and never wanted to miss a call.  I haven't been able to leave since! All in all, I would say it's knowing that I can help someone in their greatest time of need, or the problem solving and adrenalin rush that keeps me coming back to answer the call at the Vinton First Aid Crew."
"During the week, I am an Associate Manager of Computer Networking for PowerSchool," Albertson said. "I manage a small team of network engineers throughout the US and a few in India.  During the weekends I work at the Roanoke Regional Airport as a Gate Agent for United, where I assist passengers with booking/rebooking flights, checking bags,  boarding and deplaning planes."
Albertson and his "very loving and supportive wife," Crystal, have a 19-month-old daughter, Grace. Albertson is the son of Lura-Lee and Richard Albertson. His mother has served on the VFAC Board, along with two of his brothers, Joshua Albertson and Stephen Wood. He also has another brother, Adam Albertson.
Albertson describes himself as an "avid PC gamer and aviation enthusiast, very much into simulation games and enjoy downtime playing board games with friends and family."
As many others have emphasized as a reason for joining the Vinton First Aid Crew, "the VFAC family atmosphere is really bar none, and is hard to compare to other organizations I've been a part of.  VFAC really is a second family to me, and many others."
"Joining our organization is a great way to learn and meet new people from all walks of life.  Being a part of VFAC also has prepared me for more of life's challenges, while also giving me experience in the medical field, and allowing me to grow my skills as an individual, while also giving me the opportunity to give back to my local community and the community I grew up in."
"We have some of the most talented individuals, and great training opportunities to offer all members and crew members.  While on shift you can enjoy the benefits of free wi-fi and technology to use while on our downtime to work on homework and or other items."
"Formalized training is typically supported and sponsored by either the crew or the state to help new members through the training process," Albertson added. "The life-long friendships and comradery is one of the key focal points of being a part of this great organization.   If anyone is interested in getting into the medical field, or just helping out their local community this is a great way to do so, and still be able to enjoy their home/family life."
"A common trait among individual members of the crew is their desire to serve their fellowman," Mayor Grose said. "The Vinton First Aid Crew offers an opportunity to serve, and it also provides valuable medical training that can truly be lifesaving. There is a strong sense of camaraderie and family in the Crew that is rarely duplicated in organizations of its size."
"The citizens of Vinton can rest assured that they will always receive professional and caring service from the dedicated members of our Vinton First Aid Crew."
Thank you for your service, Aaron Albertson!