by Debbie Adams
Vinton First Aid Crew volunteer Greg Meinel, age 51, passed away on Feb. 17, 2023. He served with the crew for over 31 years, recruited by the organization just out of high school at William Byrd where he was a member of the Class of 1990. He was awarded a Lifetime membership in the VFAC for his years of service.
According to Brandan Arthur, current Captain of Membership for the VFAC, Meinel served in multiple positions and on multiple committees during his time with the crew, including as First Lieutenant of Training and Captain of Membership. His last shift was on Feb. 12.
According to his family, Meinel had a long career in health care, first introduced to the field by running rescue with the VFAC.  "Running calls was a passion he had his entire life."
His first "official" job in the medical field was as a medical assistant in the Community Hospital Emergency Room. He worked nights there and he loved it.
He decided to take his career a step further and obtained his Associates Degree in Health Sciences from Virginia Western Community College, then attended the Jefferson College of Health Sciences to complete a Paramedic to Registered Nurse upgrade. His family says he was "so proud when he obtained his Registered Nursing License."
Meinel spent most of his career as an ICU nurse at Carilion Roanoke Memorial Hospital, where he "loved his job and helped countless patients and their families and would often receive letters of thanks for the care he provided."
He also served as an instructor for Carilion, teaching Staff Advanced Cardiovascular Life Support and Pediatric Advanced Life Support, even traveling to other Carilion hospitals to teach.
Meinel decided in recent years to step away from his position at Carilion and try out travel nursing. He accepted assignments in Northern Virginia, Farmville, and Lynchburg hospitals.
He was also a proud member of the Masons, rising to the rank of 3rd Master.
Meinel is survived by two sons, Joseph Conner Meinel and Ian Zachary Wood, and grandson Frankie Brookes Meinel.
Members of the Vinton First Aid Crew gathered at the station on Feb. 20 for an informal memorial service for Meinel—to remember him, his friendship, and his contributions and to also offer support to one another in the unexpected loss of a colleague and friend.
Vinton First Aid Crew Sgt. Nicole Vincent says, "Greg was a good guy, and a better healthcare provider. He impacted many lives in his years at Carilion and through his time volunteering with us. His contribution to our community is greatly appreciated and did not go unnoticed. We have a family mentality at the station, and with Greg's passing we lost a part of our family. He will be sorely missed by us all."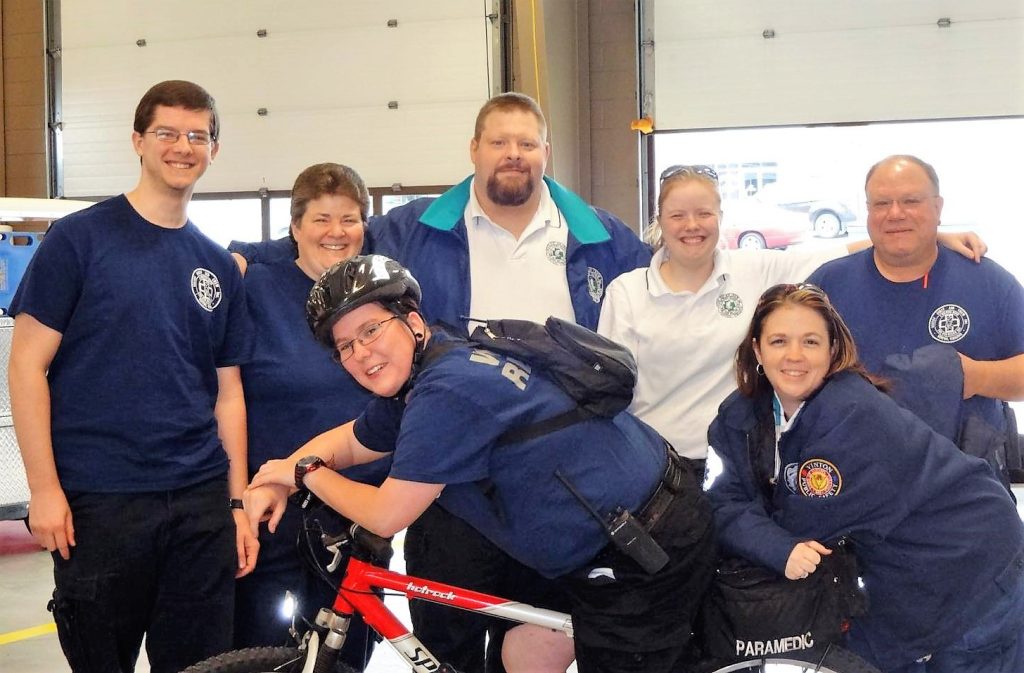 EMT-B Callie Price, who has been with the crew for about five years and ran calls with him, took training classes from Meinel. She noted that "Greg was the kind of guy who wanted you to succeed. He would take as much time as necessary to make sure you understood topics and concepts, to walk through needed procedures with you. You could tell he really cared for your continued learning and success."
Brandan Arthur says Meinel was best known for training new crew members and those at the Carilion Life Support Center.
"He taught a lot of people," Arthur said. "He was very intelligent and played a lot of roles for a lot of people. He served and loved and supported this department."
Chaplain Tom Philpott has known Greg for the 30 years he was with the department.
"He came in as an EMT, advanced to Paramedic, went back to school while still running calls to get his RN degree, worked at Carilion and then in recent years became a travel nurse," Philpott said.
He remembers Meinel as a "jokester, very competent, who liked to talk and share stories. He loved to tinker and would take home from the station what appeared to be junk and return with it repaired a few weeks later."
Philpott says Meinel loved anything with wheels and may have gotten his talent for tinkering from his father, Frankie, who was a gifted machinist, welder, inventor, and owner of Turner Machine Shop in Vinton for many years.
"Greg had a passion for helping people," Philpott said. "He was one of the earliest paramedics in this area; he served as a training officer for many years for the crew and also facilitated Continuing Education weekends, bringing in health professionals from around the area to teach specific skills. If a doctor or nurse had a conflict and couldn't attend, Greg would step in and teach the class."
Vinton First Aid Crew Treasurer Mitch Vaughan echoes Philpott's sentiments and says Meinel "cared about people, especially the patients he worked with, and followed up to see how they progressed."
Vaughan admired Meinel's initiative, saying once Greg took it upon himself, at his own expense, to pressure wash the entire exterior of the first aid crew building over three days to spruce up for the Dogwood Festival.
First Aid Crew President and Assistant Treasurer Jason Peters will remember Greg "as a great friend, and fellow crew member. I've had the privilege of working with Greg during my 30 years on the crew. He was not only a wonderful patient provider, but a part of our family. He will be greatly missed."