By Debbie Adams
It would be difficult to find a more enthusiastic and vocal supporter of hemp and its health benefits than Debbie Custer, owner of the Hemp Mill in Vinton.
Custer grows hemp plants both at the Hemp Mill and at her home in Botetourt County. She was the first woman to be licensed to grow hemp in the Commonwealth of Virginia—issued license Number 4—when hemp became legal again in 2018.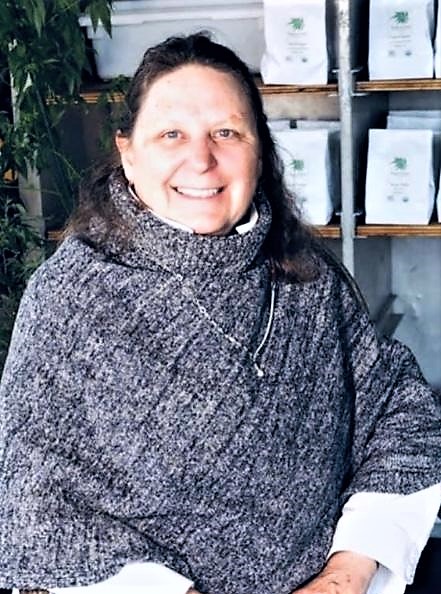 She sells hemp products including sprays, cremes, and lotions, cleansers, hemp seed oil, hemp hearts, coffee, honey and honey sticks, bath towels, washcloths, hats, scarves, bracelets made from hemp, hemp protein, organic hemp fabric face masks, lollipops, jam, soap, "hanitizer," and PetCalm for pets with anxiety.
The Hemp Mill moved to Pollard Street in Vinton in October 2018, combining operations from Blacksburg, a storage building, and Custer's home in Botetourt County, into one location.
Custer, a Vinton native and William Byrd High graduate, is also the CEO and founder of Coeus Research, which is focused on plant-based product manufacturing, design, development, and branding. Her special interest is developing hemp products and assisting entrepreneurs in the hemp industry in launching their businesses.
Custer graduated from Virginia Tech with an undergraduate degree in sociology and a Master of Business Administration degree in Marketing and a "desire to save the world."
She has worked in the food and beverage industry for about 40 years with extensive experience in wine, craft beer, water, and natural beverages. In the past 20 years, she has been focused on plant-based nutritional and nutraceutical products, including hemp and hemp-derived products. One of her main interests is in providing inflammation relief to people and animals.
Several years ago, Custer developed her first product, PetCalm, to ease the pain of arthritis for a family pet. Her interest was awakened when, on a trip to Greece, she learned one of her pets at home had developed debilitating arthritis. The prognosis was not good; the vet recommended euthanasia. A Greek herbalist gave her a small bottle of a "miracle oil" (hemp oil extraction) which she added to her dog's food when she returned home. Within a couple of days, the dog was much improved and enjoyed good health for three more years.
The product is now trademarked, and its success inspired her to learn more about hemp and its possible uses for humans. Custer has patents pending for other products (sprays and cremes) that may help reduce inflammation in the human body.
While the Hemp Mill is a retail establishment, it has also become so much more than a place to purchase hemp products. It has evolved into a community and networking center in Vinton. Women gather there on Fridays for coffee talks; a group of men come in on Thursdays to socialize and drink hemp-infused coffee. Veterans stop by.
Many share their stories of the impact that hemp products have had on their lives.
Kelly Willis can often be found at the Hemp Mill passionately testifying as to how Custer and hemp products literally changed her life.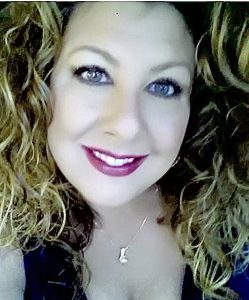 Willis was the victim of a traumatic automobile accident back in 2004, caused by a woman with a long history of drunk driving and substance abuse.
After taking her son to school, Willis was returning home, driving only about 35-40 miles per hour near Fallon Park, and collided with the woman who had pulled out into traffic and stopped dead in the street. Willis's car spun, hit the curb and a pole, and was demolished. The accident, which was unavoidable, left Willis with severe injuries, many surgeries, rheumatoid arthritis, fibromyalgia, and years of pain.
She became one of the countless numbers of those dealing with pain management through opioid use, prescribed Percocet, oxycontin, and more. Willis says she had great doctors, but they advised her there was no ultimate cure.
She discovered that chronic pain tends to become a vicious cycle that negatively impacts most areas of life. When you aren't able to move about, you become more anxious and depressed. There are social consequences from lack of contact with others. Many experience weight gain, increased cholesterol levels, or foggy minds. "You can't commit to anything because you don't know how much pain you will be in on a particular day," she says. The pain medications eventually take their toll on your organs. "It's a domino effect."
"I had zero quality of life," Willis said.
Willis and Custer became acquainted through Willis's husband Blaine, who worked for the same company. Blaine would keep Custer updated on Kelly's condition and lack of progress. At the time, Kelly was sleeping 18-20 hours a day due to the pain medications which "never really took the pain completely away, they just masked it" or knocked her out.
She was unable to drive, to continue her work as a realtor, or to maintain her social relationships. An evangelical Christian, understandably at times she asked God why this had happened.
After a couple of years, Custer reached out to her about a new product she was developing, and Willis ended up as her guinea pig–reluctantly at first.
She agreed to meet Custer on what was a particularly bad day, pain-wise. She was in tears, depressed, and faced with "this is now my life–one of constant debilitating pain."
Custer asked Willis to try Peaks Hemp (the strongest product the Hemp Mill now sells), to spray it inside her cheek, where it seems to be most effective, and she would quit nagging her.
Willis says that when she did, in five to 10 minutes, surprisingly the pain lessened. Custer explained to her how the product worked. She got back in touch after a couple of weeks to see how things were going and discovered Kelly hadn't been using the spray. Willis said she really had no explanation for why not, other than maybe the stigma of a product perceived by some to be related to marijuana, or the hesitation of trying an unproven, non-prescription remedy.
Over the years there has been much confusion between hemp and marijuana as both are members of the cannabis family. Unlike marijuana, hemp has no psychoactive effects. The ingredient THC is the determining factor. Hemp has 0.37 percent THC; marijuana has over 3 percent and is the one that gets you "high."
According to Willis, Custer asked, "Are you crazy? Please use this."
Willis did. She explains that the hemp products haven't "healed" her. She still suffers pain; she still has days that she "feels a little foggy," but she is much, much better than before she began using the products. They have been a gateway out of an exhausting life of pain for her. Her stress is less; she gets much-needed REM sleep at night.
Currently, she continues to use the Peaks Hemp spray and topical cremes for pain relief and inflammation as needed. There are many things she still can't do, but Willis says one contribution she can make is spreading the word about the benefits of hemp, especially to those walking journeys similar to hers. It has, in fact, become a new ministry for her.
Willis says the products don't work for everyone, but they have for her. "What do you have to lose?" she asks doubters. The products are natural with no side effects and non-addictive.
"Debbie is always changing lives for the better," Willis says. "I am one of her stories. There is hope.
"My faith and walk with the Lord have only been strengthened as a result of this journey, even though it's been so very hard," Willis said. "Truly He alone has given me hope. I believe He orchestrated my relationship with Debbie for this very purpose, and I am so thankful for that."