By Debbie Adams
The Gauntlet Business Program and Competition held its seventh annual Awards Ceremony and Graduation on May 27, distributing over $300,000 in cash and in-kind prizes to new small business entrepreneurs and some expanding existing businesses. The ceremony was held at the Vinton War Memorial. The winners advanced to the final competition after 10 weeks of business development classes.
The Gauntlet was founded by Annette Patterson and The Advancement Foundation. Participants from across the region participate. Over 650 Gauntlet participants have completed the program in since 2015, assisted by 250 mentors.
"The Gauntlet is the best of the American dream," said Patterson.
Nearly 150 entrepreneurs, representing 104 businesses participated in the business program this year, with 56 businesses competing for cash and in-kind prizes.
Patterson and TAF Board Chair Becky Freemal presided over the awards ceremony. Guest speakers included Brent Hershey of State Farm Insurance, the lead sponsor for the Gauntlet.
Gauntlet alumni Andy Bishop of Twin Creeks Brewing, Richard Mansell of IVO, and Carrie Poff of Brown Hound Tree Services shared their experiences with the Gauntlet program and their successes which they attribute to the program.
WSLS-TV anchor Rachel Lucas, a Gauntlet alumni, hosted Facebook Live coverage of the event.
The Gauntlet first place winner for 2021 is Candace Monaghan of Beaver Dam Farm Sunflowers in Buchanan with winnings of $23,925 in cash and prizes ($8,500 in cash). The festival at the farm began in 2016 with 20 acres of sunflowers and, capitalizing on their unique beauty, now hosts everything from craft/food vendors, to sunset dinners, and goat yoga. The annual Sunflower Festival has grown to tens of thousands of visitors over its two-weekend period.
Second place went to Cynthia Forbes of Fyvie Farms, who won $20,540 in cash and prizes ($7,750 in cash). Fyvie Farms is a 135-acre event venue in Alleghany County near Covington, featuring weddings, meetings, parties, outdoor concerts, car shows, and craft fairs. Future outdoor activities will include access to the Jackson River, biking, glamping, a nine-hole disc/golf course, ATV trails, and paintball.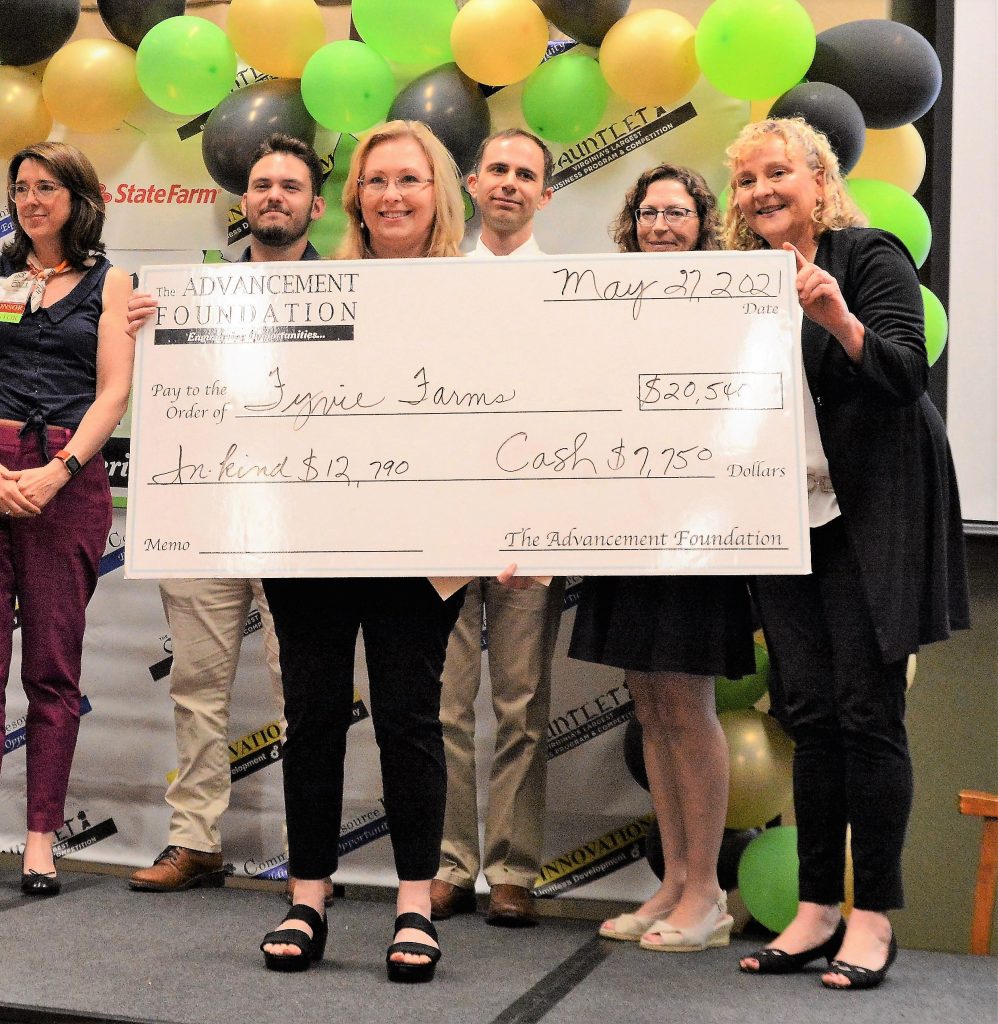 Allyson Davoll of Inspired to Enhance in Roanoke won third place and $18,185 in cash and prizes ($5,750 in cash). This is a new beauty and grooming salon featuring services for all hair textures and styles, as promoted by Davoll's passion for diversity and inclusion.
Other Platinum level winners included:
Tamara Dennis, of Priss E. Nerd, creating unique, themed jewelry and accessories to bring out everyone's inner nerd, winnings $17, 050 in cash and prizes
John Tucker, On Course Ratings Systems, LLC, allows you to run safely on your own in nearby parks and compete virtually for your rank with others around the country, $18,850
Daryanne Neilson, Bluebell Bakers homebased-bakery moving into commercial space in Buena Vista, $17, 575
Virginia Barkett, The Pie Shoppe, sells chicken, vegetarian, breakfast, and dessert pies, $12,550
David And Cecilia Fencer, Great Tables by Reclaimed Innovations, family-operated business in Shenandoah Valley reclaims, recycles, and repurposes old barn wood by making handcrafted tables and other furniture, $12,000
Callie Altman, North Mountain Candle, handcrafted high quality fragrance products, $11,785
Kimberly Whiter, Elder Care Solutions, consultation and coordination to assist with bridging the gap to long-term care, $11,850
Ryouga Kasper, Kasper UAV, commercial drone service offering roofing inspections, mapping, cinematography throughout Virginia, $11,910
Whitney Pugh, Agenacare Housecalls, medical care at convenience of client, $10,905
Kim Nicholson, Signature Stager, specializing in-home staging preparation, $11,185
Laurie Andrews, LAT Personal Training, synergistic approach between exercising the mind, body, and spirit through integrative practices, safe and effective exercise for all walks of life, $8,780
On the Gold level:
Chris and Marie Shiraki, White Tree Inn, turn of century (1896) Victorian home being restored, boarding house and Airbnb in Buena Vista, $11,680
Dorothy Mitchell, Mountain Edge Adult Day Care, structures activities to keep aging adults and mentally disabled adults engaged and living life to its fullest, $13,600
Rolando Holmes and Alaina Ledyard, The Foundry, a company devoted to unlocking human potential, help people discover and develop their strengths and talents to impact the world profoundly, $4,580
Mickey Cowden, Cowden Family Farms vineyard and small-scale premium winery in Grayson County, $4,725
Teresa Lyons, Roanoke Teach, a start-up non-profit agency addressing readiness for underserved school-aged children in Roanoke Valley through application of the science of learning, $3,880
Dana Long, Let's Party Creatively, innovative and custom-designed events which include team building and fundraising, workshops, public parties, and private parties for special occasions, $3,050
Bonnie Chavez, Building Beloved Communities, a consulting business for small business owners, non-profits, and individuals seeking business consulting and executive coaching, $3,110
Brooke Buehring, Welcome Basket, delivers housewarming gifts to people who purchase homes in Roanoke, Salem, Vinton, Botetourt, Franklin County, Smith Mountain Lake and the NRV, $3,205
Tina and Paul Brockman, the Grandin Pharmacy independent community pharmacy in Grandin Village, $2,900
Wendy Witt, ElectricoArt, a full-service restaurant, wine and beer garden with live music, $2,750
Chis and Lynette Romero, Romero Albums, handmade wedding albums, $2,600
At the Silver Level:
Michael Clark, Cornell Business Services, managing employee relations, team building, and taking challenging operations in need of improvement and implementing changes to provide quality and customer service, $1,955
Robin Poteet, Poteet Studios, creates whimsical home goods with meaningful connection to animal welfare, $1,810
Anthony Giorgetti, Power Up Online Promotions, makes business POP by telling their stories to people looking for them, $1,455
Jaclyn Nunziato, Huddle Up Moms, non-profit dedicated to empowering women through support, connection, education, $2,225
Paul Welsch, The Vinton Nest Co-working, provides remote working space for professionals, affordable option for start-ups, $2,255
Carol Joy Smales, Persunality, LLC, network of companies integrating different strengths to create content, tools, and products for entertainment, healthcare, and education industries, $1,755
Angie Hernandez, Gardner's Frozen Treats, ice cream retail, $2,235
Tim Miller and Lisa Moyer, Muddy Squirrel, adventure sports through Virginia's Blue Ridge, $1,700
Jon and Rebekah Foster, Foster's Home Improvement, family-owned company performs all aspects of home improvement from simple paint jobs to kitchen and bath remodeling, $1,830
Melinda Hall, Wellness Matters, science-backed, heart-centered program that helps reduce stress and/or PTSD, helps tap into power of brain for wellness, $1,800
Laurie Munoz, Drink Chaos, purchased Miami Ice Snowcones in Cave Spring area, $2,255
Judah Clements, Judah Bug Lemonade, making the world a better place through lemonade, $1,760
Anthony Mitchell, A&D Blessed Varieties LLC, d/b/a Sassy Beauty, retail beauty supplier and clothing store, catering to minority community in Southwest Virginia, $3,920
Josephine Arbaugh, Woven Artisan Gallery, creating digital channel to showcase Ecuador's rich culture abroad while promoting emerging artisanal brands, $1,825
Bonnie Cranmer, B. Green Show, supports growth of cannabis industry, member of Hemp Mill, $1,655
Daniel Brooks, Motivate the Game, therapeutic sports training program mixing mental health techniques and self-awareness with sports specific skills and drills, $1,800
Brent Styler, Coiner Country Store in Buena Vista, $2,570
Johanna Shiraki, Scattered Sunshine Therapeutic Massage, structural and Ido massage for stress reduction, pain relief, increased mobility and general well-being, $2,670
Bronze Level awards included:
Garrett English and Jessica Downs, Peer Journey's, creating a peer communal living program for supportive housing in a single-family home, facilitated by regular peer support from professionally certified Peer Recovery Specialists in 1-on-1 sessions and groups, $1,550
Patrice Freeland, Wonderful Land of Oils, prepares individual wellness plan, essential oil application treatments, full line of essential oils, $1,575
Julie Beckner, Meadow Spring Hideaway, four luxury yurts and amenities with view of Blue Ridge Mountains, access Appalachian Trail or fish in spring-fed pond, $1,500
Amanda Bocchi and Alex Wood, Appalachian Vibes, a show challenging expectations and highlighting diversity of music in Appalachian region, $1,400
Andreas Panagore, Ecoscape landscaping and sustainable installations to run more self-sufficient homestead in modern setting, $1,550
Breyton Fraction, Stratamas Group, helps organizations create thriving corporate cultures, $1,605
Mary Rosser-Furr, Fetal Anticonvulsant Syndrome USA, non-profit support organization to bring national attention to FACS by education, awareness, and campaign advocacy, $1,490
Katrina Robinson, BHWD Wellness, spreads awareness about importance of self-care for mind, body, soul, a more holistic lifestyle, $1,595
Mary Jo Boone, The Well, natural health and wellness retail store in Bedford, adding a variety of natural health modalities, $1,450
Shay Brown, Nubian Messy Bun Momma, variety of sweet treats, custom-made candy, $1,435
Beth Davidson, Why Not Workshop, non-profit serving at-risk students by providing primary and supplemental educational services in non-traditional setting, $1,550
Latoya Johnson, LJ's Delicious Delightz, cupcakes, cookies, brownies, cakes, pies, puddings, $1,420
Shannon Dominguez, Director of Business Development for The Advancement Foundation that facilitates the Gauntlet program, was recognized, along with staff members Kelly Turner, Judy Wood, Missy Paxton, and Kiki Scott.
A Gauntlet Business Showcase, featuring this year's Gauntlet entrepreneurs, was held at the Vinton War Memorial prior to the awards ceremony.