By Debbie Adams
Ethel Lavender Dickerson of Vinton celebrated her 94th birthday on January 3 with family and friends. That's the same day she was awarded an honorary high school diploma from Jefferson High School, some 75 years after the June 6 graduation date for the Class of 1947.
"A high school graduate at 94!" said Dr. Chris Monroe, Associate Senior Pastor for Worship at Vinton Baptist Church. "It is 75 years since her graduating class walked. She was two credits from graduating but had to go to work to support the family. She married, had a family, and just never made it back to pick up the credits."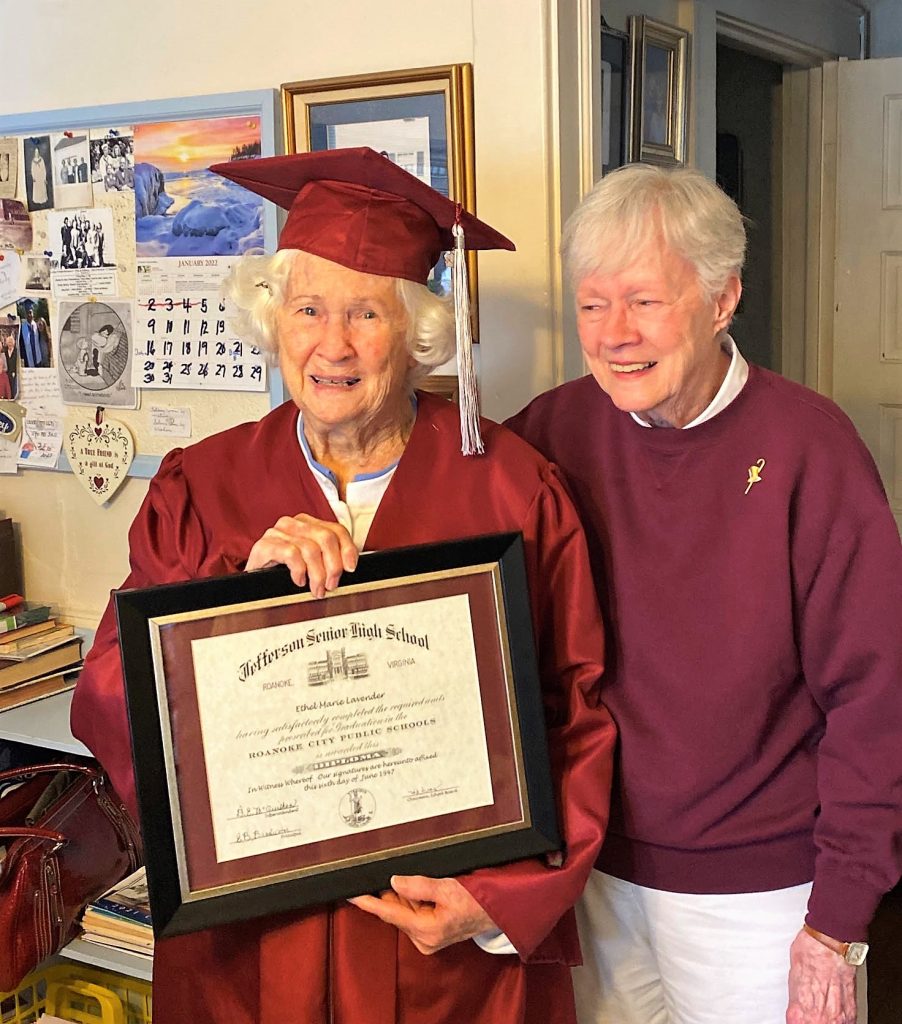 She had been attending Jefferson half days in her senior year, leaving school at noon each day to walk to a job in downtown Roanoke. She worked in retail, including at Barr Brothers Jewelers. Once the workday ended around 5 or 5:30, she would catch the bus home to Southeast Roanoke.
Dickerson was born in Martinsville in 1928 and lived there until she was 7 years old, when her family moved to southeast Roanoke to live with her grandmother. Her father worked for Norfolk and Western.
She was the fifth of nine children born to Herbert and Mary Dossie Lavender. Longevity is not a given in her family's history, but four of her siblings are still living.
Dickerson met her husband, J. W. Dickerson, Jr., at a friend's house—in the kitchen–soon after he returned from World War II. She was washing dishes; he picked up the drying cloth to help.
Her husband served in the Pacific Theatre in the naval air forces during the war. He and his Patrol Bombing Squadron were awarded the Navy Unit Commendation Award for heroism in action against Japanese shipping and installations, and the Distinguished Flying Cross.
The Dickersons were married in 1948 at First Baptist Church in Roanoke and went on to raise two children (Trey and Sharon), who gave them four grandchildren and seven great grandchildren.
Early on in their marriage they lived in southwest Roanoke and in Botetourt County (where they attended Bonsack Baptist), but they came to Vinton in the early 60's and stayed. J.W. worked for Norfolk and Western in Roanoke for 39 years before he retired. They were married for 53 years before he passed away in 2000. Ethel has now lived in the same home in Vinton for 60 years.
At 94, Dickerson is in remarkably good health. She says she adopted a vegetarian lifestyle five or six years ago. Her diet now is mainly fruits and vegetables with few sweets. She experiences a slight hearing loss but has excellent vision (the doctor suggested some inexpensive non-prescription reading glasses) and still drives–pretty fearlessly–according to her youngest sister Bea Fleshman. Interstates don't intimidate her. She takes herself to the grocery store, church (pre-COVID), medical appointments, and more.
She gets plenty of rest–up in the mornings around 8 a.m., turning in by 8:30 p.m., with no naps in between.
She stays busy all day with her numerous interests–foremost is keeping her two-story home spotless. Her husband was quite handy and made many improvements over time.
She is an avid reader, checking out stacks of books from the Vinton Baptist library and completing word search puzzles to keep her mind agile. She counts steps as she walks laps around her patio table for exercise. She doesn't watch much TV—other than the local news and some old movies. She cuts her own hair!
Dickerson is as upbeat a person as you could ever meet. She says she relies mightily on her faith. When she was a child in Roanoke, she took it upon herself to go to the Salvation Army for church services, then Sunday School at First Baptist, where she was baptized at age 16.
She says she has always believed in making the best of any situation, being grateful for what you have, doing the best you can each day, and asking God for help.
Dickerson especially enjoys painting greeting cards for those who are ill, bereaved, or might just need an uplifting message. The greeting cards she creates share some of her mottoes in life—"If life gives you lemons, make lemonade," and "When you get to your wit's end, you'll find God lives there," in addition to "When you reach the end of your rope, tie a knot and hang on."
She has always loved to draw and paint—she "just got interested and kept doing it." When she was in school, art electives were mostly non-existent, so she is mainly self-taught. She says she her interest in painting has been rekindled in the past 10-15 years especially. She gives away many of her paintings—there are some displayed on the walls at Vinton Baptist, at the Vinton History Museum, in other Vinton locations, and on the walls of her friends' homes. Many of her beautiful paintings and cards feature flowers.
Her love for flowers led to work for local florists doing flower arrangements—fresh and silk. She has helped plan weddings for many brides.
At Vinton Baptist, Dickerson was a fixture in the choir, singing soprano for many years—that's how she came to become great friends with Karen Hudgins, who also was a member, and Monroe, who has served as Minister of Music since 1993.
Church Secretary Patsy Talbert says Dickerson has been a great influence at Vinton Baptist where she taught Sunday School for all ages for many, many years, along with Vacation Bible School.  She is an ordained deacon at the church. She also took on the role of Moderator for the Roanoke Valley Baptist Association, visiting at least 72 Baptist churches in the Roanoke Valley over the years. "God led me into churches I didn't know I would ever go to."
She also, did—and still does–love to dance–to "cut a rug," including Big House dances in southeast Roanoke when she was a teenager.
Her 94th birthday party was organized by Hudgins with help from family and friends. The occasion was celebrated at her home with Hudgins, sister Bea, Talbert and Monroe from Vinton Baptist, and Hudgins' sister, Barbara. There was birthday cake, along with goodies and gifts. Monroe's wife, Mary Beth, sent along the traditional Coach wrist change purse all the girl graduates from Vinton Baptist are given.
The party goers convinced Dickerson to don a graduation cap and gown in Jefferson High School colors—complete with a 2022 tassel. When she questioned why, they explained she was wearing the special garb to receive an honorary diploma arranged by Hudgins and the school system. The diploma is identical to the diplomas issued on June 6, 1947–with the signatures of then-Superintendent D.E. McQuilkin and Principal E. B. Broadwater.
Dickerson said it was quite an emotional occasion for her, and one of pride as well.
Hudgins says one day they were chatting about high school and Dickerson leaving before graduation. That prompted Hudgins to do some research on what it would take to get a diploma, short of returning to school. She discovered that several years ago, Roanoke City Schools had awarded honorary diplomas to World War II servicemen who had left high school before graduation. That led to Dickerson's diploma.
Dickerson is a sweet and lovely example of a life well and fully lived. She wakes up each day ready to face the world with a positive attitude and the "get a round toit" philosophy—no procrastinating, never put off until tomorrow what you can do today.
Congratulations, Mrs. Dickerson, and wishing you many more happy birthdays to come!