The Town of Vinton and the Vinton Police Department will be celebrating Veterans Day on
November 11 with a Ruck March through the town, organized by Queen City Rucking 22
(QCR22). A rally will begin at the Vinton War Memorial at 8 a.m., followed by the five-mile
Ruck March at 9 a.m.
Proceeds will go to Boulder Crest Foundation (BCF). Boulder Crest is the home of Posttraumatic
Growth (PTG). They offer life-changing programs free of charge to members of the military,
veterans, and first responder communities and their families.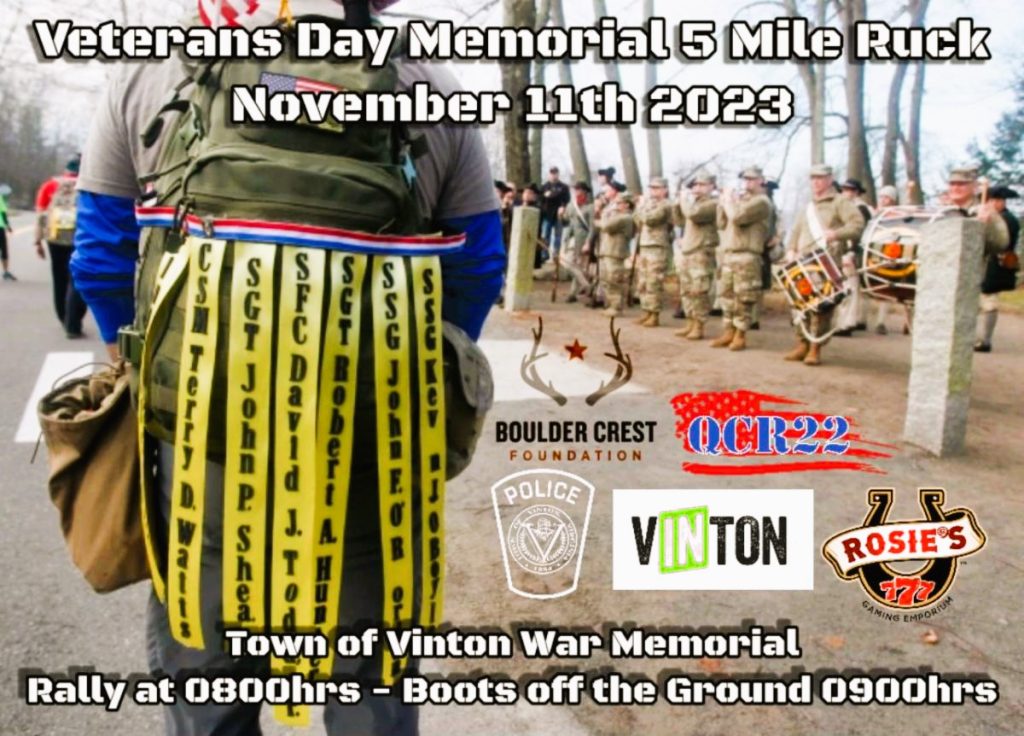 Rucking is a form of exercise with roots in military training. It's walking a set distance while
carrying a weight in a backpack. Rucking comes from the word "ruck sack," which is a durable
backpack meant for carrying equipment.
This will be the first annual Ruck March in Vinton—a fun fitness Team-building event.
In a regular Ruck March, there are weight standards: if you are under 150 pounds, you carry a
10-lb. weight; if you are over 150 lbs., you carry 20 lbs. Each participant will have a 10-lb. or 20
lb. Ruck Plate (or equivalent in non-consumable weight) in their rucksack at the start point.
Since this is the first Ruck March in Vinton, the weight standard is not mandatory if you haven't
rucked before. Organizers would like you to carry a ruck with your water and light snacks just to
get a feel of what rucking is like.
Carrying weight in your ruck/backpack during the mission represents the weight many service
members carry in the battle against combat stress.
No method of transportation is authorized for this event other than rucking. You are asked to
obey all traffic laws while participating.
QCR22 is a 501(c)(3) Charity Ruck-March (Hiking) mission event, with a purpose by and for
active Hero's and Patriots. It is a coordinated fundraising event for a Veteran and/or 1st
Responder 501(c)(3) charity organization.
Rosie's Gaming Emporium is a sponsor for the event and a proud supporter of our veteran and
first responder community.
The Ruck March welcomes, encourages and challenges all Vets, First Responders, family,
friends, local supporters, endurance athletes…in fact, everyone to join us on Veterans Day to
show our personal Super Hero's they matter, we love them, we care about them and we support
them.
Register at https://runsignup.com/Race/VA/Vinton/VintonRuck.