William Byrd senior Xavier Preston finished his high school wrestling career in style last weekend, leading the Big Orange to a sixth place finish in the state while winning the 175 pound Class 3 championship. Byrd had three wrestlers in the final as neighboring Staunton River won the team title.
Preston's story had a happy ending at the Salem Civic Center last Saturday night. Last year, wrestling in the 160 pound class, Xavier was 29-0 when he lost to a three time state champion in the final. He set his goal on that elusive state championship this year, but an injury cost him over half the season before he returned to chase his dream for one last time.
Xavier earned a number one seed in the state when he captured the Region 3D championship, improving his record to 13-1. At the state tournament he won his first three matches with first period pins, defeating Micah Bugey of York in 39 seconds, Alexander Jordan of Wilson Memorial in 1:10 and Dillion Fitzpatrick of Lafayette in 1:13. That set up a final between Preston and AJ Marshall of Culpepper, who came into the final with a 34-2 record.
The final was all Xavier, as he defeated Marshall with a 15-3 major decision. He celebrated with coaches Thomas Kessler and Michael Bryant on the mat, as much out of relief as anything as his dream finally came true.
"This was Xavier's third trip to the state finals and the third time was the charm," said Kessler. "He was dominant in all phases of the match.  I couldn't have been more proud of his performance during the whole tournament and more proud of a kid.  Xavier has put in so much work on top of what we ask of our athletes during his four year career at Byrd.  I have been around athletics my whole life and I can honestly say that Xavier's work ethic and dedication to getting better is top notch.  A lot of people can tell you they want to be the best, but when it's time to train or workout they don't pour in the same energy. Xavier always was ready to work hard and become a better wrestler."
Preston finished off his season with a 17-1 record and he was 46-2 over the past two seasons and 53-3 in the last three with an abbreviated 2021 season due to COVID. Two of his three losses were in the state final.
"Winning the state title for William Byrd is an amazing feeling," said Preston. "I have so many friends and teachers there who believe in me and encourage me to bet the best I can be, so winning that title is my way of saying thank you for all the support and always believing in me. These past four years at Byrd have been unforgettable and I can't thank my coaches, teammates, teachers and classmates enough for how much of an impact they have made on my life."
Byrd had two others in the state final. Freshman Darin Witcher pinned his way to the final before losing to Tristan Carter of Colonial Heights in the championship match at 106. Darin finished the season at 35-9.
"I know that Darin is motivated to get back there next year and win it," said Kessler.  "He has a lot of wrestling still left in him."
Dominic Pascoe, a senior, pinned his first two opponents and then edged Josh Manning of Staunton River in an exciting semifinal. He lost to Brady Hand of Christiansburg in the 120 pound final and finished his season at 39-8, placing in the state for the third time.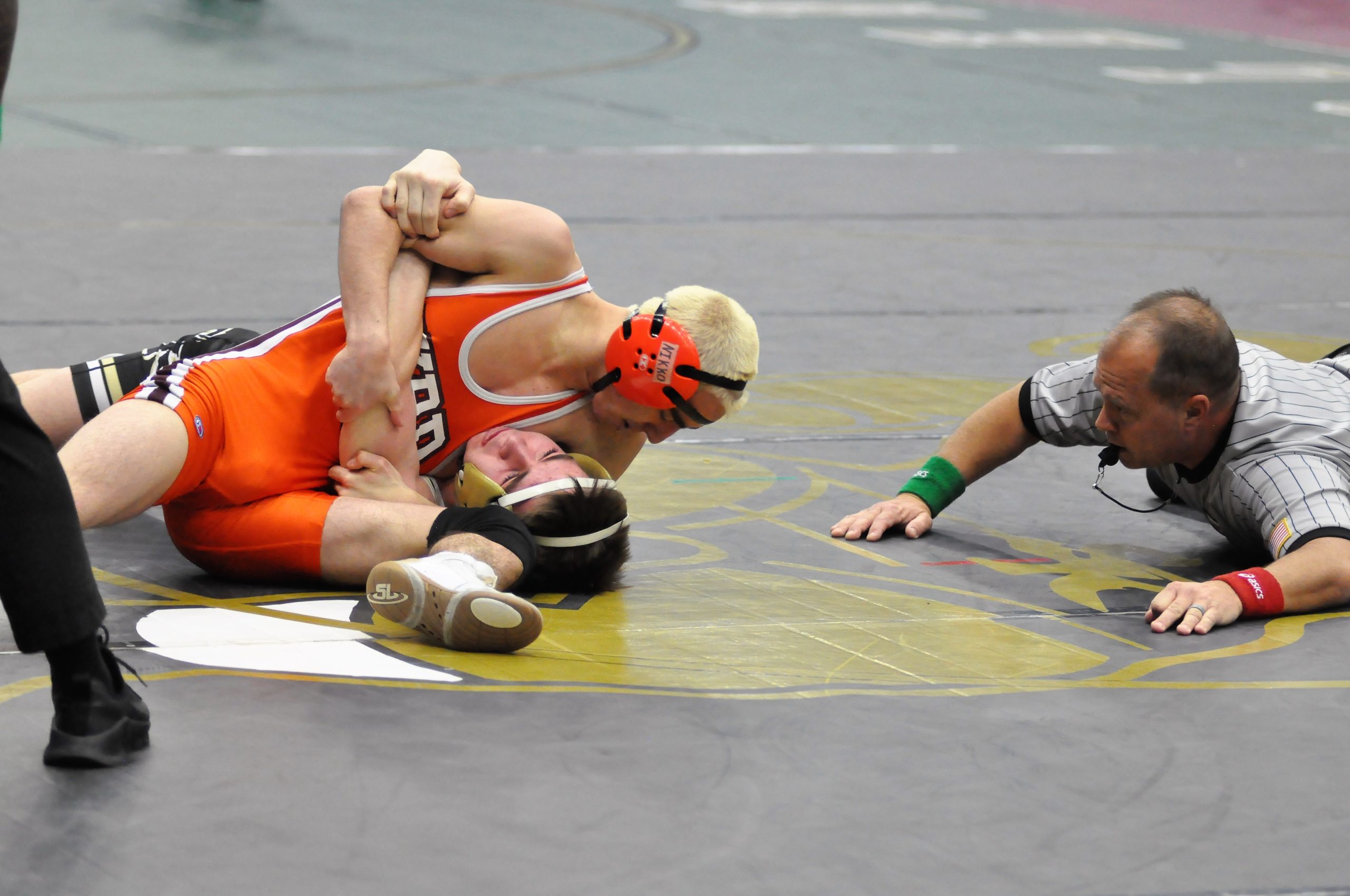 "Dominic really dedicated himself to getting better this off season and it showed on the mat," said Kessler. "He joins a small club of wrestlers who have placed three times at William Byrd."
At 285 senior Dustin Richards pinned his first two opponents before losing to Malique Tunstall of Caroline High in the semifinals. Tunstall went on to win the state 285 pound title and Dustin wrestled back to finish sixth, earning a spot on the podium. He finished the season at 26-4.
"Not many people know all of the obstacles Dustin has had to overcome since his freshman year just to get back on the mat," said Kessler. "His sophomore year he missed because of COVID, junior year he missed due to a wrist injury which required surgery, and he almost missed this year due to a leg infection he picked up from getting cleated in football season.  On Thursday morning I got a text from his mother that he was ill with flu like symptoms and it was going to be tough for him to make it.  He battled through and showed up to the state tournament Friday and made it into the semifinals pretty beat down from illness.  I couldn't have been more proud of his gutsy performance."
Three other Terriers wrestled in the state tournament. Gage Cockran won one match at 126 and finished 36-16, Bricen Lancaster won twice at 150 and finished 33-19 and Landon Barber lost his first two at 165, finishing the year at 33-22.
"Gage and Bricen were both one match away from placing," said Kessler. "They both wrestled the best they had all year against former opponents in the region.
"Landon, a first year wrestler, ended his career in the Salem Civic Center on Friday.  Not often do you see a first year guy succeeding at a middle weight, but making the state tournament was a huge accomplishment."
Byrd's sixth place finish was two spots higher than last year, when they were eighth. With 92 points the Big Orange was just a half point behind fifth place Brentsville with 92 ½ and just four points behind Liberty Christian's 96. If one match had gone the other way Byrd could have easily been fourth in the state.
"This team bought into finding out our weaknesses and trying to fix them every week," said Kessler. "That can be mentally hard sometimes, but this group grew up mentally and physically during the year. The results showed on the mat and I couldn't have asked for a better group of kids."