By Sports Editor Brian Hoffman
The game everyone has been looking forward to since October 13 will become reality Friday
night when Lord Botetourt comes to Vinton to play William Byrd in football. This time, a trip to the
Region 3D championship game is on the line.
The third seeded Cavaliers will take on the second seeded Terriers at 7 pm Friday night at
Patterson Stadium in Vinton. It will be a rematch of the October 13 game in Vinton, when Byrd shut out
LB, 16-0, to beat the Cavaliers for the first time in seven meetings. That was a signature win for Byrd
coach Brad Lutz' program.
"It was a great win for not only our team, but it was a big win for our community," said Lutz after
the win. "There is a lot of hard work that goes into winning football games. Our players are seeing the hard
work pay off, and that is giving us a spark moving forward."
Byrd went on to win their last three games and win the Blue Ridge District regular season
championship. Botetourt also won their last three and finished second in the district with the one BRD
loss, and when the final Region 3D rankings came out at the end of the regular season it was Magna
Vista one, Byrd two and LB three, lining up the Terriers and Cavs for a rematch in the eight-team
tournament semifinals.
Both teams held serve last week, as Byrd defeated Pulaski County, 45-21, and Botetourt took
care of visiting Bassett, 42-10. This week's Botetourt-Byrd rematch should be a good one, although
Botetourt's standout quarterback Jakari Nicely is very questionable to play this week. Jakari watched
last week's win on crutches from the LB sideline.
In Vinton, Byrd jumped on the visiting Cougars early. Walter Barrows returned the opening
kickoff 89 yards for a touchdown to set the tone, then senior quarterback Israel Hairston scored on runs
of eight and 58 yards to put the host Terriers up 21-0 after one quarter.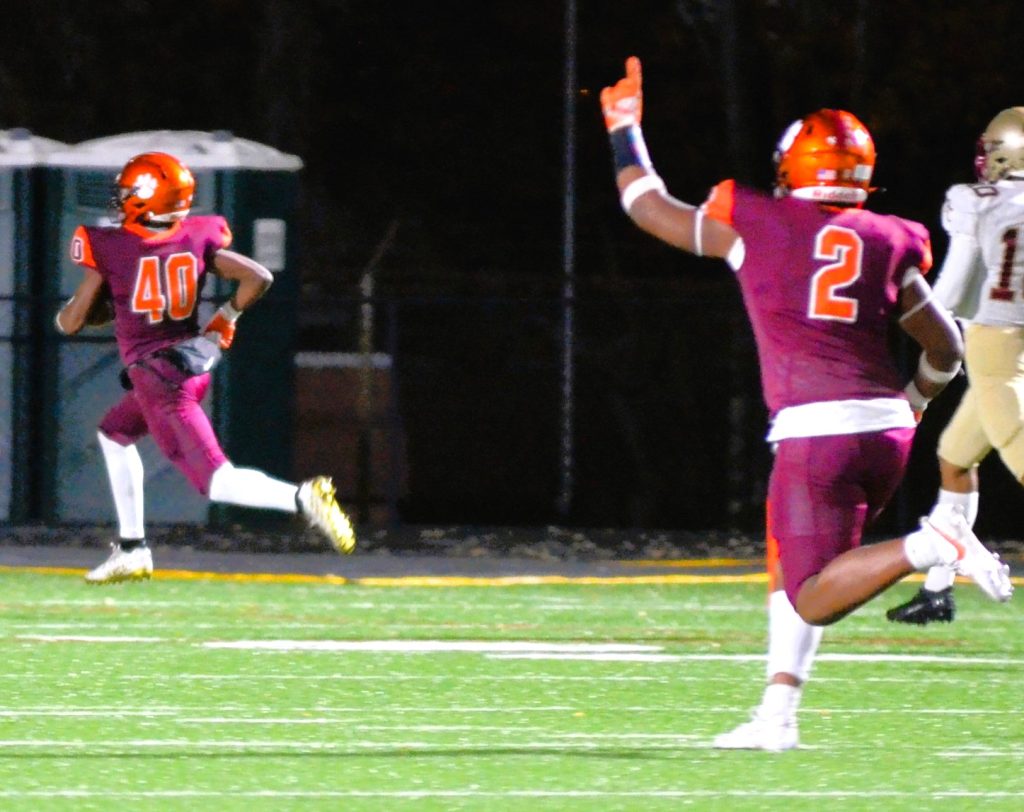 "Pulaski's run game is as good as anyone we play against, and we spent a lot of practice time
preparing for it," said Lutz. "They are capable of controlling the clock and the tempo of the game. It was
very important to score first, and our players did a great job of creating two scores in the first five
minutes of the game. A fast start was critical in our success Friday."
Pulaski cut the lead to 21-7 in the second quarter but Byrd answered when Hairston hit Brayden
Andrews with an 11 yard TD pass and the Terriers led 28-7 at the half.
The Terriers drew first blood in the second half when Hairston hit Elliott Gaines with a 64 yard
TD pass. Then Bricen Lancaster, who was perfect on six extra point kicks on the night, nailed a 29 yard
field goal and the rout was on as Byrd led 38-7 with a quarter to go. The Cougars put two scores on the
board in the final period but Byrd was never threatened, as Andrews added another score on a 44 yard
run for the 45-21 final.
"Our staff was proud of the offense for remaining balanced, and we had a lot of players involved
in the offensive production," said Lutz. "Defensively, we were able to force them to throw the football,
and we forced two turnovers. On special teams, we produced four touchbacks on kick-offs, 100 percent
on PATs and ran the opening kick-off back for the first score of the game. Our coaches were really
proud of our players and how hard they played."
There were a lot of good stats to go around. Hairston was nine for 12 passing for 154 yards and
two touchdowns and Israel ran six times for 164 yards and two TDs. Andrews had 87 yards on 11 carries
and both a rushing and receiving TD.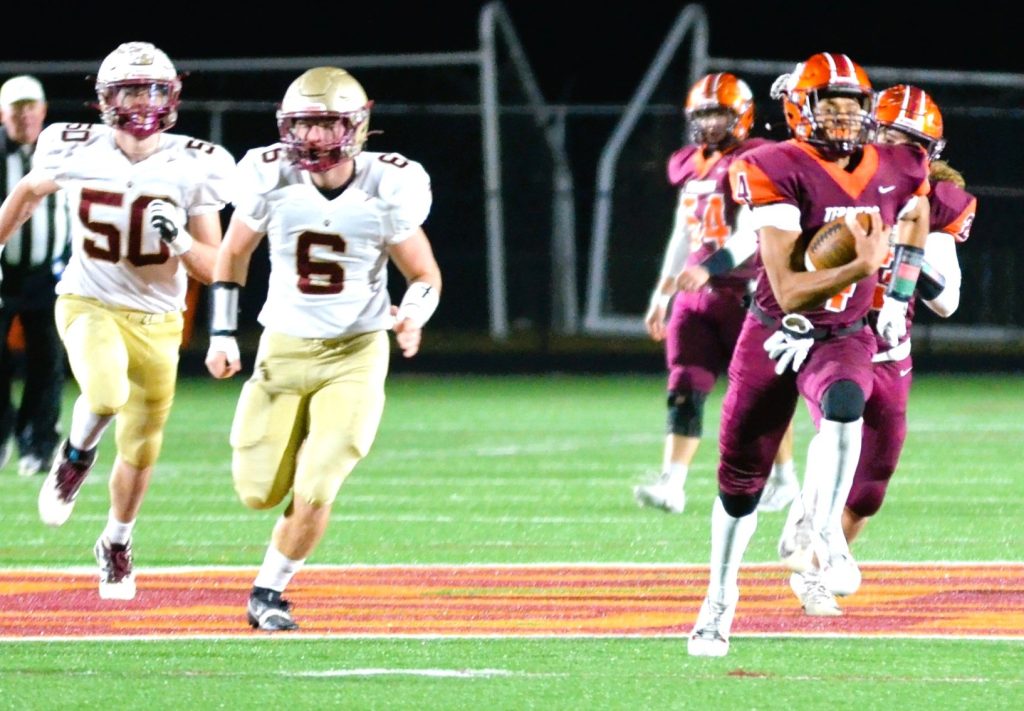 Hairston spread the ball around to seven different receivers. Cooper Minnix and Barrows had
two receptions each and with one catch were Jerrett Shepherd, Dominic Dulak, Elliott Gaines, Dexter
Gaines and Andrews.
On defense Ian Vest and Shepherd had six solo tackles each. John Kiker had five solos, six
assists and an interception while Doniven Davis had four solos, four assists and three quarterback
pressures. Braeden Young had three solos and three assists and he also had an interception.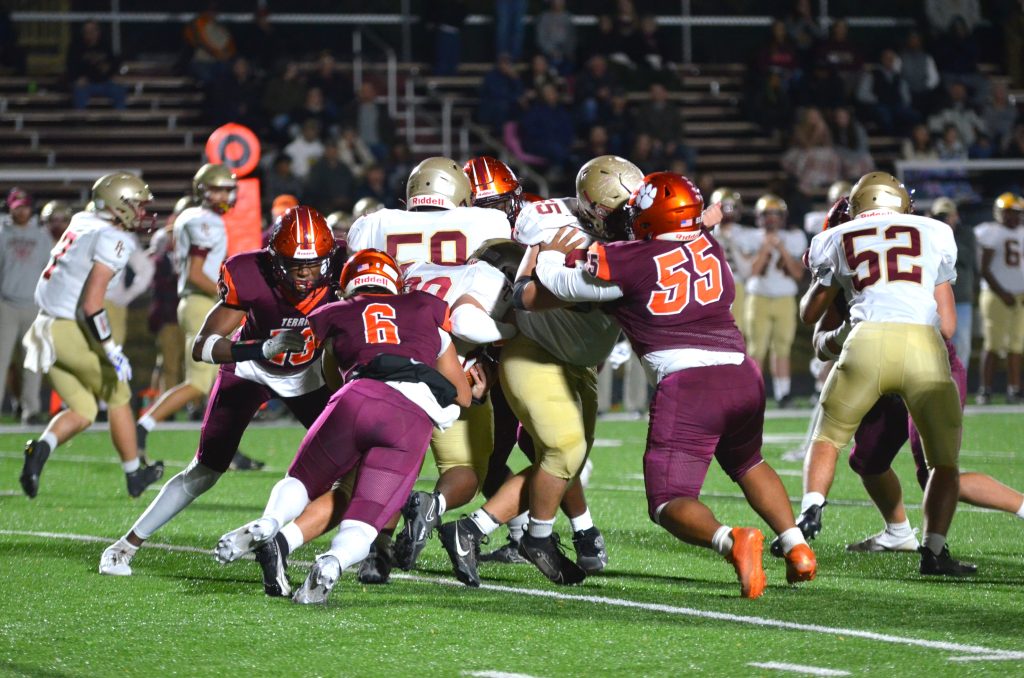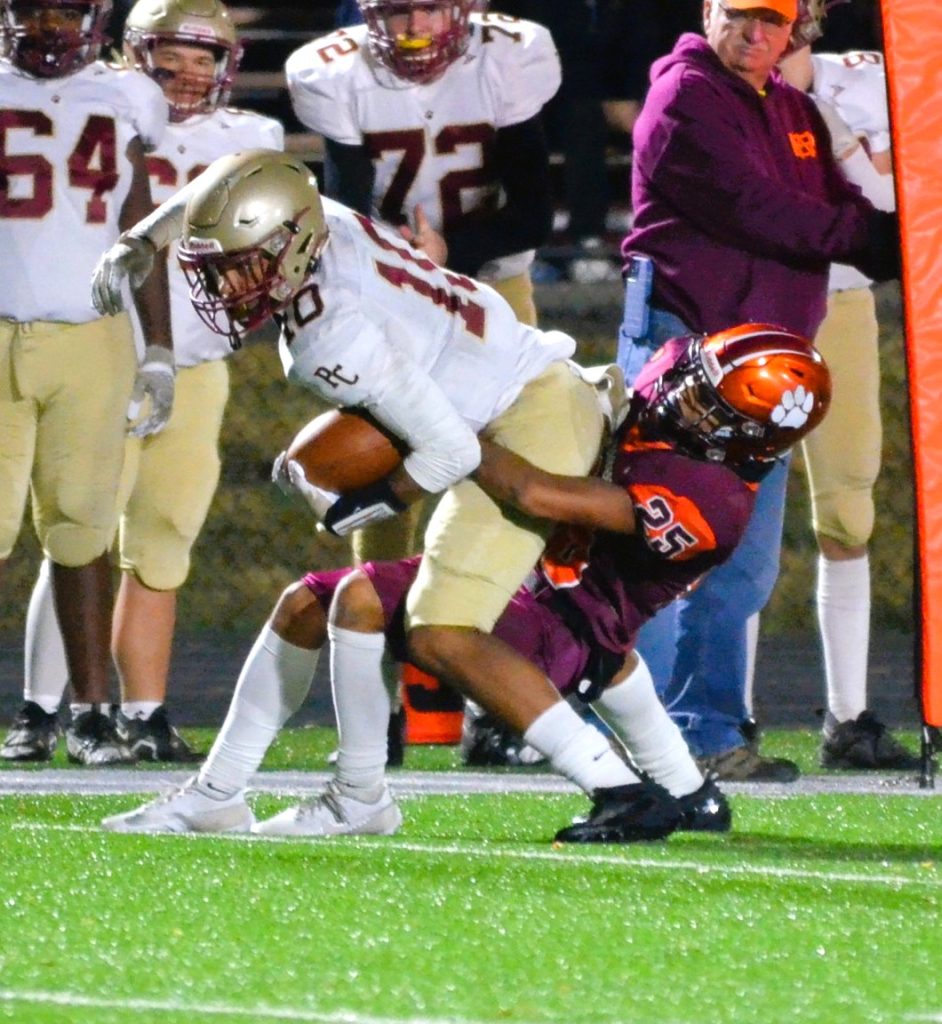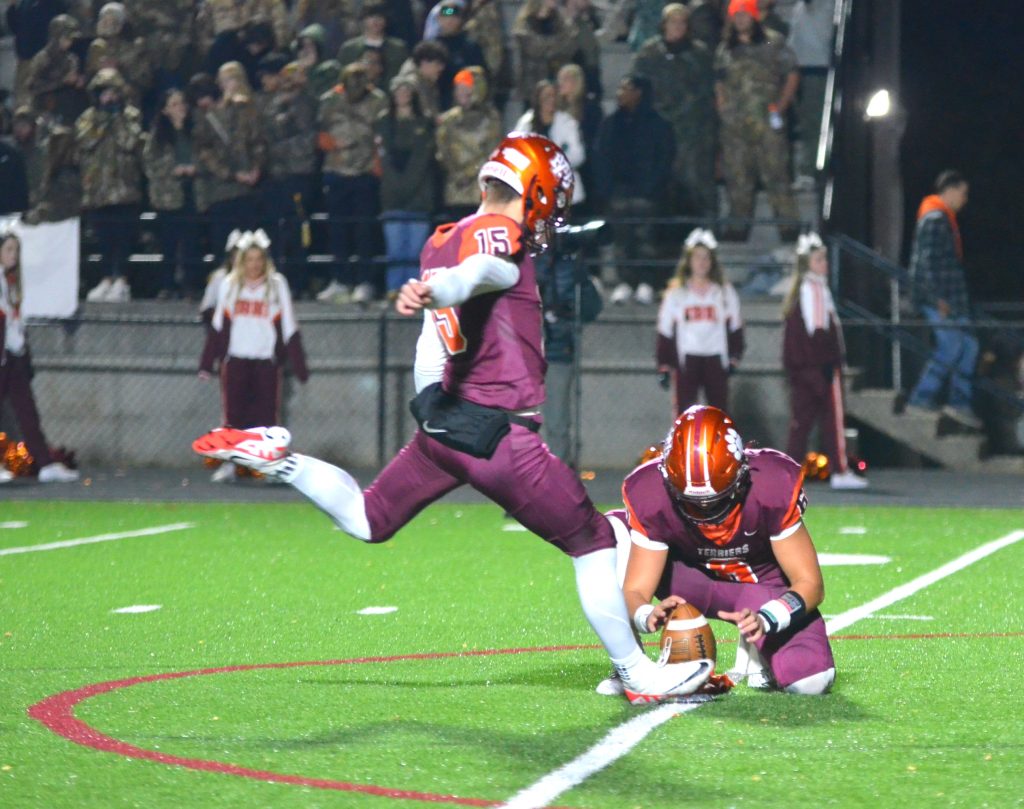 The defense will be a key again this week when Byrd hosts Lord Botetourt. The Cavaliers have
scored over 40 points seven times this season, including 83 in a win over Blacksburg. While they likely
won't have Nicely at quarterback tailback Tristan Overbay rushed for 200 yards last week and Botetourt
has a huge offensive line. Byrd knows what to expect, but Lutz noted it is more what his team will do
than what the opposition offers.
"Our routine has not changed the entire year," he said. "We've played some really good football
teams this season, and we have found success focusing on the details of our team getting better. Our
players and coaches have focused more on what we do, and this has allowed us to improve each week."
In Friday's other region semifinal fourth seeded Christiansburg will travel to top-seeded Magna
Vista with the winner meeting for the Region 3D championship. If Christiansburg beats Magna Vista Friday
then the LB-Byrd winner would be home for that game the weekend after Thanksgiving. The Terriers would
like that, as their only loss of the season was in Christiansburg the first week of September and the Byrdmen
would like a rematch in Vinton. First, however, will be Friday's home game with Lord Botetourt.
"Our fans and the Dog Pound have created a great home game environment all season," said
Lutz. "We are thankful for their support each week and look forward to another packed stadium this
week."