By Sports editor Brian Hoffman
The William Byrd football team clinched a tie for the Blue Ridge District championship with a win
over Staunton River last week, and they can claim the district trophy all for themselves this Friday with a
win at Northside.
Byrd defeated neighboring Staunton River, 34-6, at Patterson Stadium last Friday to run their record
to 8-1 on the season. Byrd is undefeated in district games with Lord Botetourt in second place at 3-1. A win
this Friday would give the Terriers sole possession of the BRD trophy and their best regular season record
since 2017, when they finished 9-1 with a loss to district champion Staunton River. Byrd's last district
championship was 2016 when they were 9-1 with a non-district loss to Salem.
"Five years ago, we started a rebuilding process within the football program," said Byrd coach Brad
Lutz, who replaced long-time Byrd coach Jeff Highfill in 2019. "When we arrived there were 17 players left
in the football program and there was no jayvee team. Our players and coaches have worked really hard to
build up the program. The last two years have been especially difficult, because we were forced to play so
many young players. During that time, our program has grown and the players have provided a strong
foundation for the success we are experiencing now. Friday night, we have a unique opportunity and our
players are excited about that."
Byrd will be at Northside for the regular season finale. The Vikings have struggled with a 2-7 record
but the Terriers won't be taking them lightly, especially with a district championship on the line.
"Injuries have forced them to play a lot of young players the second half of the season," said Lutz.
"They are very talented, and they are very explosive at the skilled positions. They have some size up front,
and play hard. Like ours, their schedule is full of playoff teams, so they are battle tested and have played in
big games."
Last week's home game with Staunton River was "Senior Night" and the Terriers were determined
to make it a good night for 17 seniors on the roster. Most of those boys were sophomores on the winless
2021 team so this was the culmination of a big turnaround in their high school careers.
Israel Hairston, Byrd's senior quarterback, got the Terriers off to a flying start with a 96 yard
touchdown run in the first quarter. The Terriers then opened a big lead with three second quarter scores, as
Brayden Andrews scored on a one-yard run, Walter Barrows broke loose for a 59 yard score and Hairston
had a 44 yard "pick six" for a back-breaking touchdown and a 27-0 halftime lead.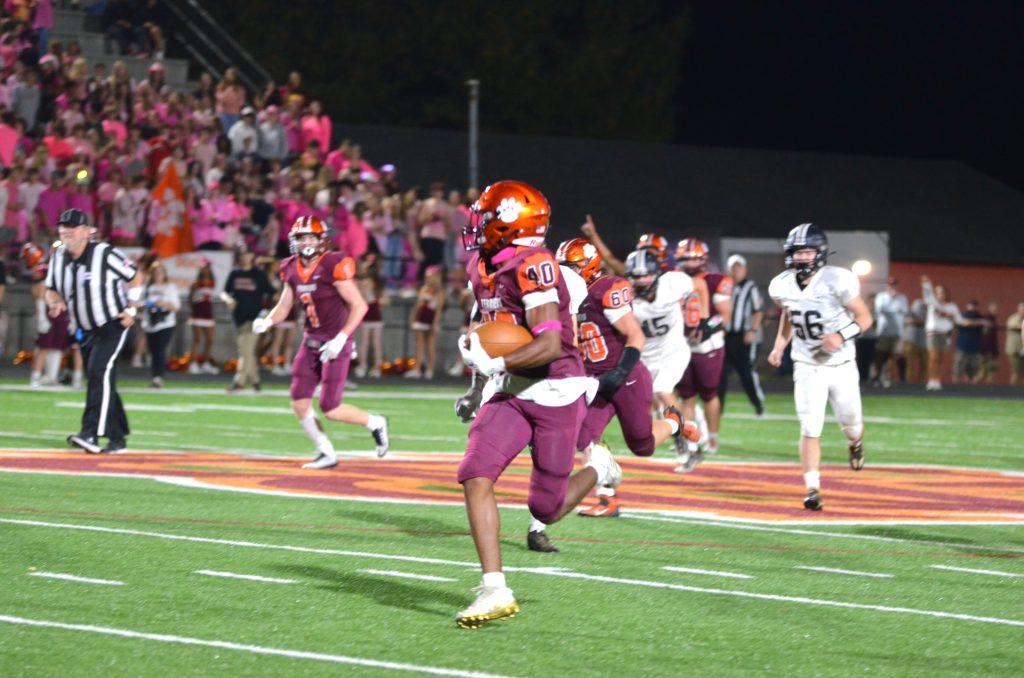 Staunton River cut the lead to 27-6 in the third period but a two-point conversion failed. Then Byrd
put it away with a two yard TD run by Lane Shoemaker and Bricen Lancaster kicked the extra point for a
34-6 final.
Hairston, who is a strong candidate for district player of the year honors, rushed for 112 yards and
threw for 64. Barrows ran for 93 yards on 12 carries, Andrews had 32 on 13 attempts and Shoemaker had 12
yards as Byrd ran for 249 yards against the Eagles. Cooper Minnix had five receptions for 48 yards.
On defense Jerrett Shepherd had seven solo tackles and three assists. Maurice Burnette had another
big game with two sacks, a tackle for a loss and five quarterback pressures. Jonathan Rosser and John Kiker
had four solo tackles each and Jahdai English had three solos and four assists.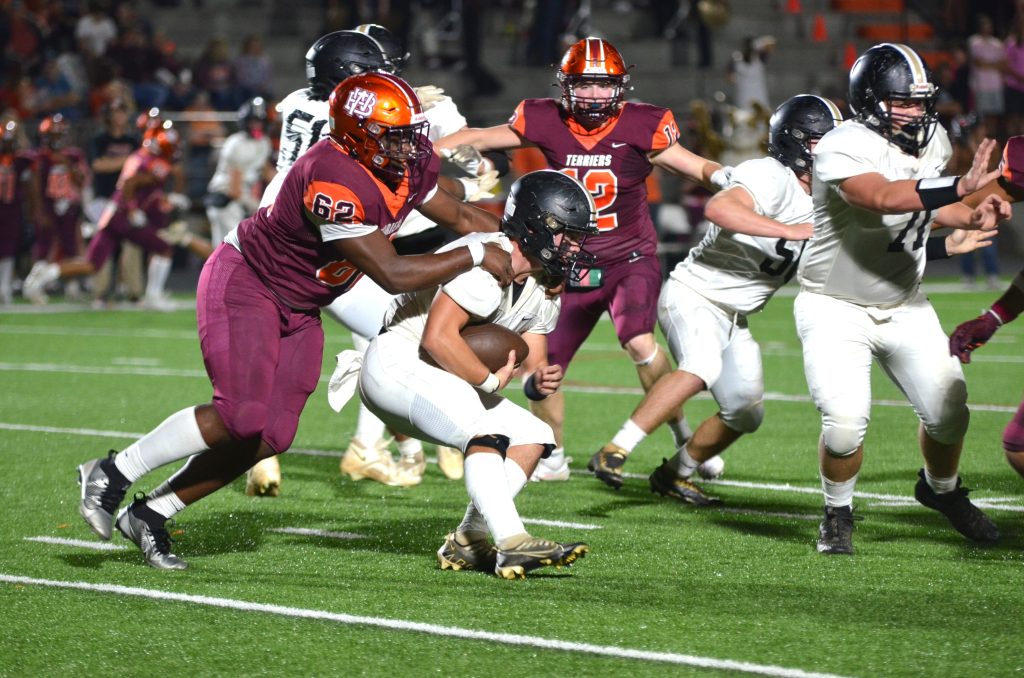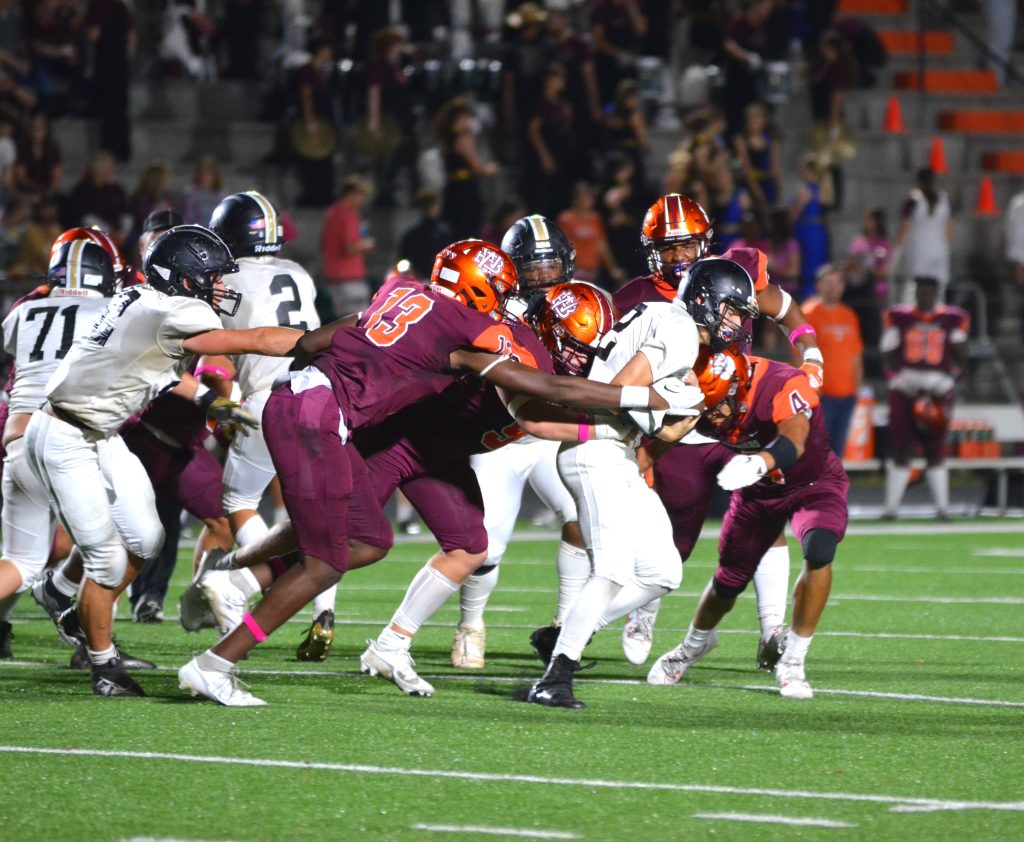 Byrd's defense has allowed just 70 points in nine games and has only given up more than 14 once,
and that was in a win over Fleming. The Terriers have played with passion on the defensive side of the ball
and the results speak for themselves.
"Our defense continues to be the pulse of our team," said Lutz. "We are playing well in all three
phases of the game, but our defense has played really well and very consistent. Friday, our coaches were
very proud of the defense, who held Staunton River to under 130 yards of total offense."
With the win the Terriers remained in second place in the Virginia High School League 3D rankings,
behind undefeated Magna Vista. The Warriors are home against 2-7 Mecklenburg County Friday so it's
unlikely Byrd can catch Magna Vista without an unanticipated upset. If the season ended today Byrd would
open the playoffs at home against Pulaski County on November 10.
The Byrd junior varsity remained undefeated with a 28-0 win over Staunton River last week, and the
combined record of the varsity, jayvee team and middle school is now 25-2. The jayvees will finish their
season tonight with a 6 p.m. game against Northside at Patterson Stadium.