By Debbie Adams
E-scooters from the Bird company, an electric scooter rental service, are about to make their debut on the streets of Vinton. E-scooters are not toys, and the town wants to emphasize there are rules and regulations that apply to this type of vehicle.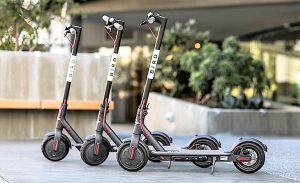 Bird created the e-scooter industry in 2017 and is the largest operator in the United States. Bird scooters are placed in areas of a town or city that are authorized for scooter use. Prospective users download the app and then can rent the scooters for a ride. The electric motor will not turn on without being activated with the app, which helps discourage theft. At the end of the ride, a user can just drop off a Bird right on the sidewalk, so long as it's not blocking the public right-of-way. The Bird company retrieves the scooters to recharge batteries.
"The idea behind Bird is simple–the scooters are fun, low-cost, and environmentally friendly ways to get around town without a car, an Uber, or a bus," says founder and CEO Travis VanderZanden, who worked as an executive at both Lyft and Uber. "The 'Birds' are meant to provide a cheap alternative mode of transportation and ease traffic."
"We've found that smaller cities [like Vinton] embrace Bird as a naturally socially distanced way to get around," said a company spokesperson. "Bird is working with the town to determine where our scooters will be used."
Riders can even travel between Vinton and Roanoke, where Bird e-scooters have been available for about a year. E-scooters, in their short existence, have become more popular than station-based bikeshares. In the future, Bird hopes to coordinate with the RIDE solutions program as one of their alternative transportation options.
As for how the Bird e-scooters will benefit the citizens of Vinton, the company explains, "Residents and visitors of Vinton deserve additional, sustainable modes of transportation. Bird is easy to ride, affordable, and a fun way to get around! Additionally, as the town rebuilds, recovers, and spurs economic growth in the wake of COVID-19, a new study from Emory University finds that e-scooter programs drive significant consumer spending in towns and cities, which could greatly help local Vinton businesses."
According to the company's website, "Bird's mission is to make cities more livable by reducing car usage, traffic, and carbon emissions."
The Bird e-scooters are described as "dockless," which simply means they can be left anywhere. You don't have to go to a particular place to rent one. You either happen upon one or you use an in-app map to find the nearest Bird. When you're done, you park it at your destination. You don't need to find a rack to park them–unlike the bikeshare program.
The Town of Vinton has been preparing for an influx of e-scooters since before the pandemic. According to Vinton Principal Planner Nathan McClung, who is facilitating the program with Bird, the town has adopted a set of regulations for "Dockless Mobility Operations."
McClung himself has developed a ""Scoot S.A.F.E Vinton" campaign, emphasizing the most important safety tips for e-scooter use, to be shared on the town's website and through social media.
The "S.A.F.E." acronym stands for:
S: Signal, use hand signals before turning
A: Always wear a helmet,
F: leave Four feet of sidewalk space when parking, and
E: ride as closely as safely practicable to the right curb or Edge of the street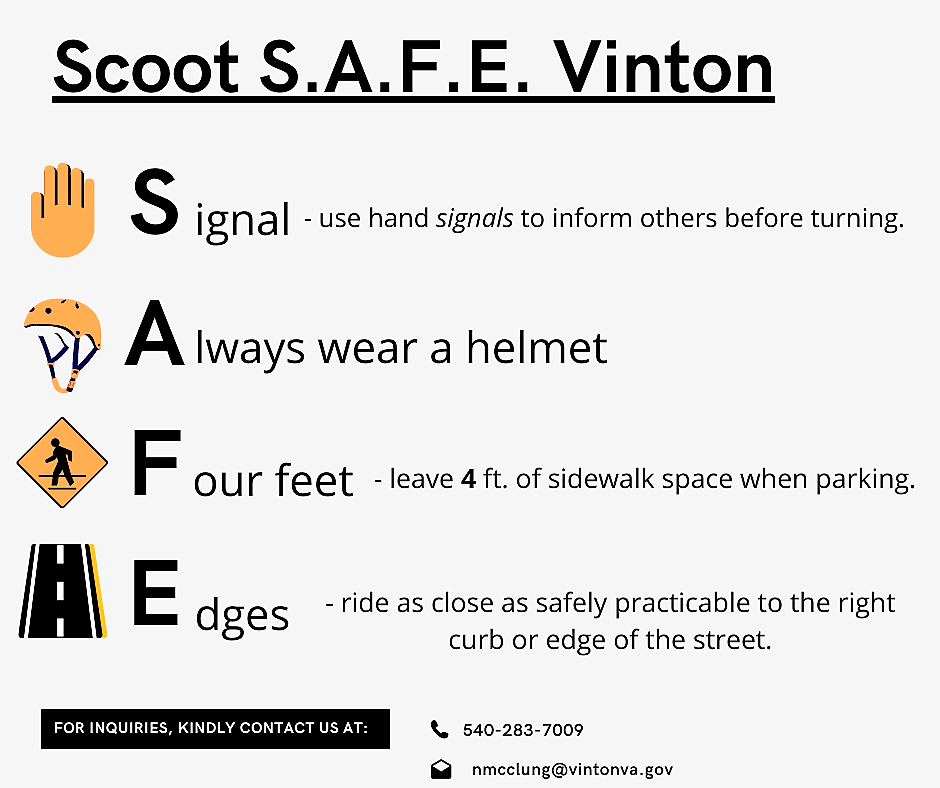 McClung says the major rules when using these devices in the Town of Vinton include:
Before turning or altering the course of operation of any device, the operator shall use hand signals to indicate the direction in which it is intended to proceed.
Use of helmets is strongly encouraged for all users.
Bicycles and e-scooters shall be parked in such a manner as to provide a four-foot pedestrian clear zone area in the sidewalk.
Stand-up electric scooters are to stay to the right of street lanes and to offer the right of way to bicycles on bike lanes and bike paths.
Users must not ride on sidewalks, trails, or greenways and must yield to pedestrians at crosswalks.
Operation by anyone less than 16 years old is prohibited.
All users must carry a government-issued photo ID when operating a device.
Users shall ride on streets and, where available, in bike lanes.
Parking must be done in designated areas.
Wearing headphones on or in both ears while riding a bicycle or scooter is prohibited.
Operating a shared mobility device while texting or while under the influence of alcohol is prohibited.
The town manager, or the manager's designee, reserves the right to determine certain blocks where e-scooter parking is prohibited.
E-scooters shall not be parked adjacent to or within: transit zones, including bus stops, shelters, passenger waiting areas and bus layover and staging zones, except at existing bicycle racks; loading zones; disabled parking zones; street furniture that requires pedestrian access (for example – benches, parking pay stations, bus shelters, transit information signs, etc.); curb ramps; entryways; and driveways.
Any shareable mobility device found to be in violation is subject to removal; the permittee must pay a fee for each scooter removed and for storage.
"We really want to emphasize that users must leave four feet of sidewalk space for pedestrians when parking," said McClung. "They have to park them on hard surfaces that do not impede the public right-of-way. Bicycles and e-scooters shall not be parked in such a manner as to impede or interfere with any fire hydrant, call box, or other emergency facility; bus stops; or utility pole or box; or the reasonable use of any commercial window display or access to or from any building. Also, they cannot be driven on the greenways anywhere in the Roanoke Valley."
E-scooter drivers must:
Comply with traffic signals.
Keep their hands on the handlebars.
Stay off sidewalks.
Refrain from reckless driving
Refrain from carrying other persons.
Refrain from holding onto a moving vehicle.
The Bird company also has some guidelines to share with riders for their own safety, public safety, and to safeguard the equipment:
When parking Birds, park out of the right of way, ensuring that sidewalks, driveways, and fire hydrants are accessible.
Be sure the kickstand is securely in the down position so that the Bird stays upright.
Avoid uneven surfaces like grass or gravel.
Bird operates in over 100 cities around the world, as well as on nearly 40 university campuses in the United States. While most of its markets are in the U.S., Bird can also be found throughout Europe and in Chile, Israel, and Mexico.
In 2018, Time Magazine named Bird as one of its "50 Genius Companies," commending its contribution to the "'first mile, last mile" problem in transportation.
For inquiries or questions, contact Nathan McClung at 540-283-7009 or by email at nmcclung@vintonva.gov.