By Sports Editor Brian Hoffman
The William Byrd football players are putting last year in the rear view mirror as
they prepare to open the 2023 season at home. The road ahead looks good with Liberty
coming to Vinton for Friday's opener at Patterson Stadium.
Byrd won at Liberty to open last season, 42-6, but after that the season went
south. The Terriers were 2-7 the rest of the way and only won one home game, a
shutout of winless Northside. However, optimism is high this year as a bunch of young
players are a year older and the Terriers looked sharp in two preseason outings.
"Our football team has improved in every aspect of the program," said coach Brad Lutz,
who enters his fifth year with the team. "Our players have worked really hard to build themselves into a bigger, faster and stronger team. The standard of our program has always demanded hard work, but our players pushed themselves to do more than what was expected. As a result, this is the biggest and strongest team we've had."
The Terriers have 17 seniors on the varsity this year, their largest senior class since Lutz
took over as coach after long-time coach Jeff Highfill retired following the 2018 season. What's
more, they have a stout junior class of 21 players, many of whom were starters as sophomores or
freshmen.
"In the last two years we've played a lot of younger players, so we've been able to
develop a lot of depth at each position," said Lutz.
At the key quarterback position dual threat Israel Hairston returns. He's been on
the varsity for four years and is primed to have a big season behind a bigger and
stronger Byrd line.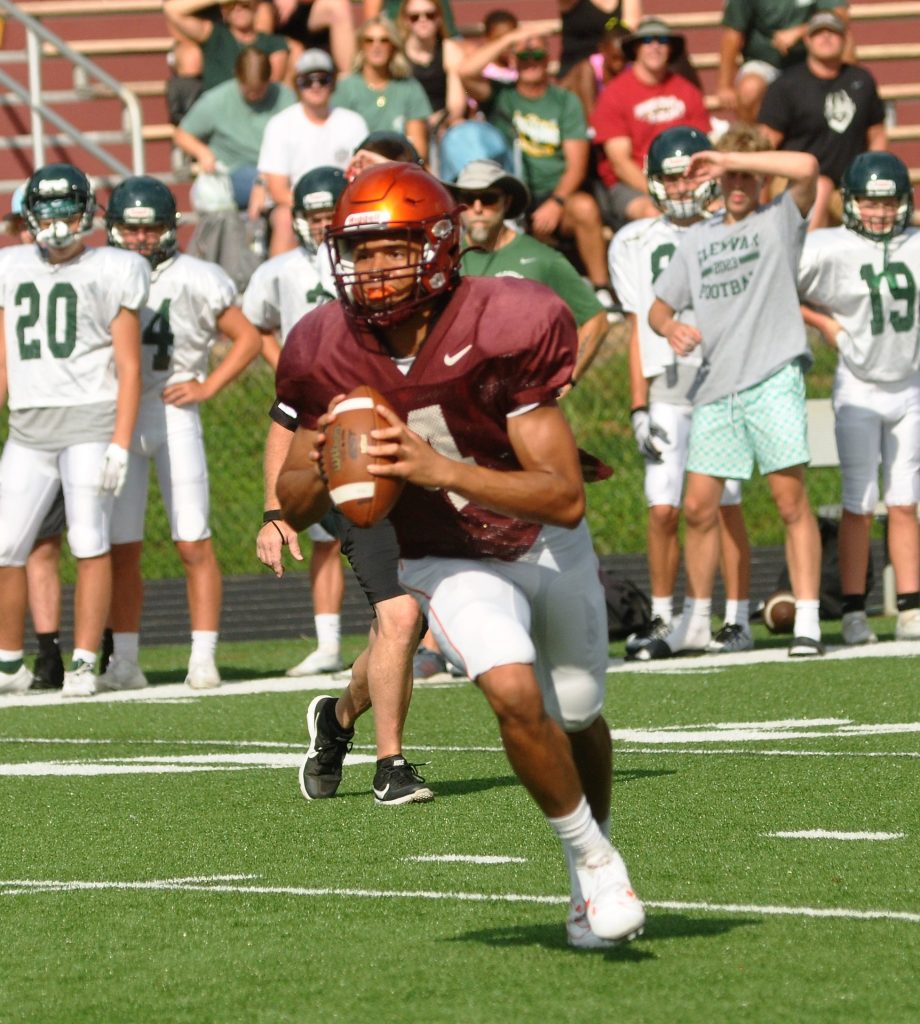 "Israel is a very athletic, smart, competitive leader," said Lutz. "He's a dynamic athlete
who can create opportunities for the offense, even if the play breaks down. He's a great
teammate, and he has worked really hard."
Senior Lane Shoemaker is the backup. He's had some starts when Israel couldn't go and
he's capable. Lane also plays running back on the offense.
"We are very fortunate to have two outstanding varsity quarterbacks," said Lutz. "Lane is
also getting reps at quarterback, and he has worked really hard.
Joining Shoemaker among a stable of backs are Brayden Andrews, Jerrett Shepherd,
Jalen Toler and Jamez Toler.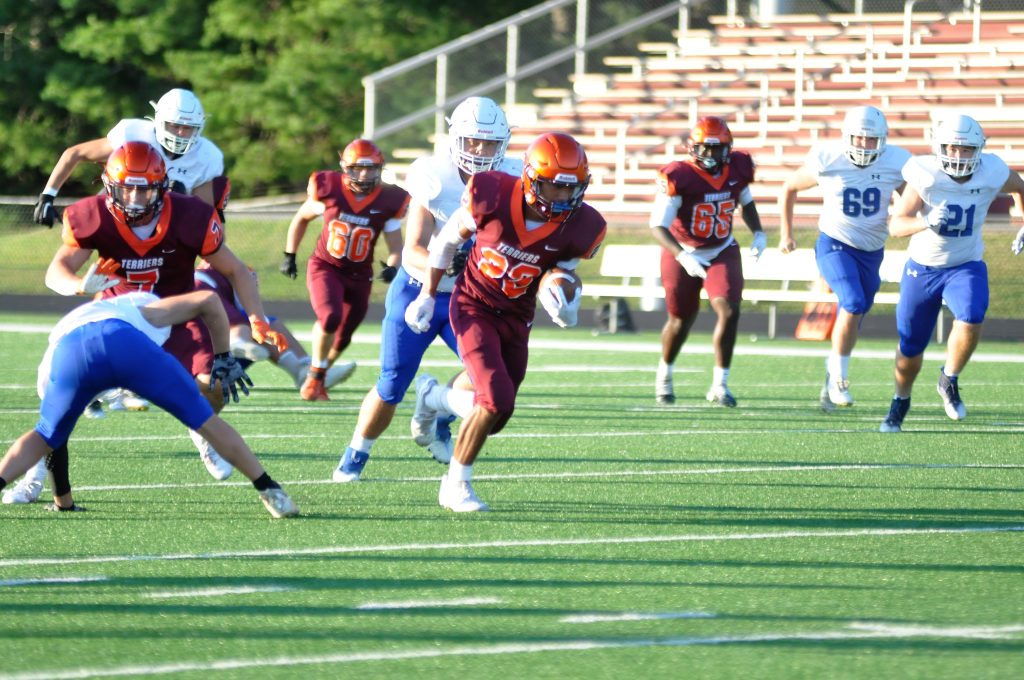 "Our coaching staff is very excited about the running back position," said Lutz. "We have
had a great off-season. Each one brings a different strength and style, and all of them will help
our offense."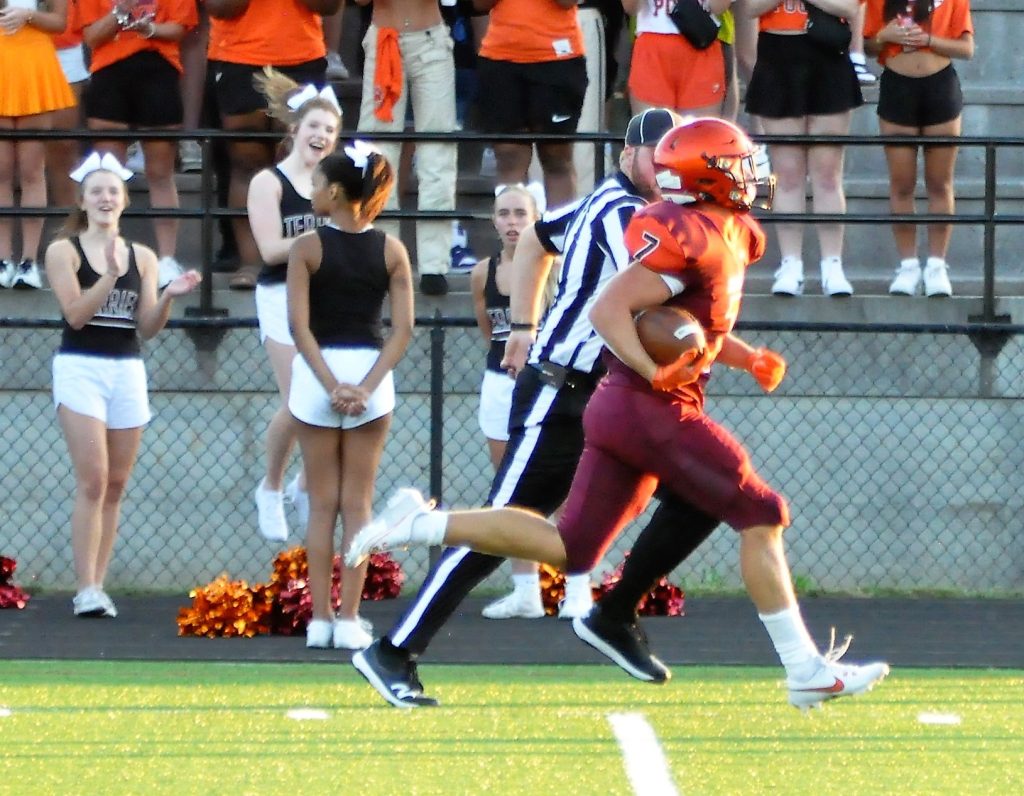 On the offensive line BJ Cheatwood and Nick Bustamante will be the tackles. Cheatwood
is the left tackle and Bustamante is on the right side and both are juniors and third year starters.
"They have a lot of varsity game experience and that has been critical in their
development," said Lutz. "I believe they have the potential to be two of the best tackles in our
district."
Center Julian Pantoja is the only senior among the starting linemen and he's a good
leader. Junior Cyrus Adams is the right guard and a second year starter and Hayden Lish, another
junior, will be the left guard.
"Cyrus is a very intelligent player, who is very physical and tough," said Lutz. "Hayden
is coming off of a great jayvee season, and he's made huge strength gains in the weight room."
Backups on the line include Camden West and George Slusser at tackle, Greg Stitner and
Carson Bivens at guard and Gabe Dixon and Adams at center.
"We have a lot of confidence in this group," said Lutz.
John Kiker, Ian Vest, Jonathan Rosser, Elliott Gaines, Jahdai English and Aiden Kelly
will all get valuable reps as tight ends and wings.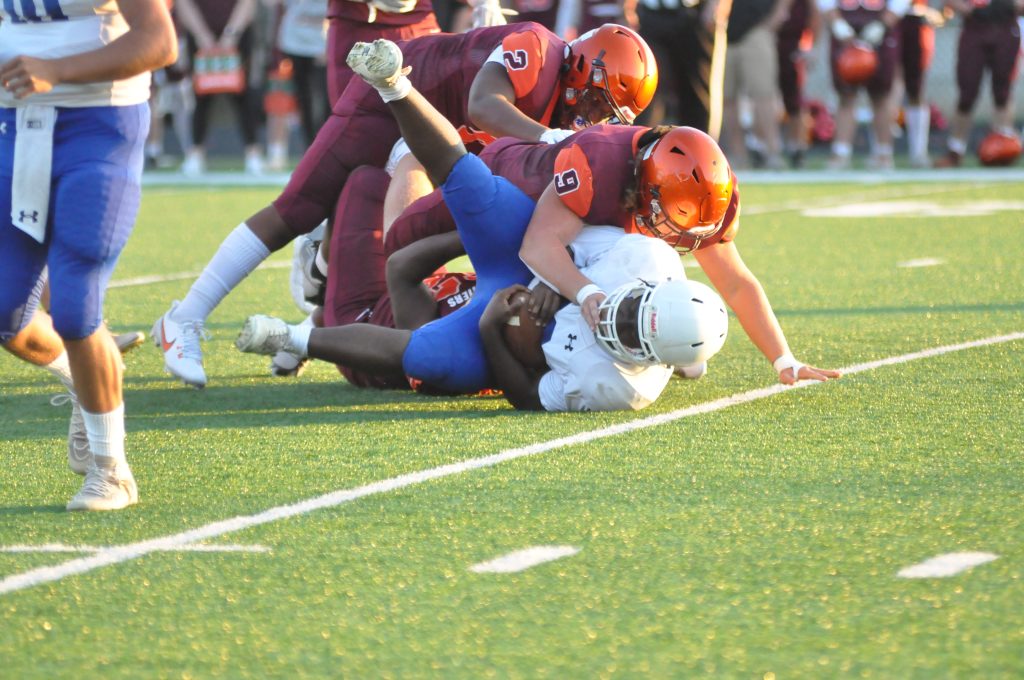 "They are a talented, strong group, and they have allowed us to add new formations and
plays to the playbook," said Lutz. "The tight end and wing group is going to be a great group to
watch this season."
The receiving corp will be led by Dominic Dulak, Cooper Minnix, Dexter Gaines, Ethan
Haston, Brady Reachy and Shepherd. Blake Anderson, Landon Martin and Walter Barrows bring
a lot of value to the group and will get opportunities to get game reps this season as well. With
great depth the receivers will be rotated to keep fresh legs on the field.
On defense the line will come from a group of Maurice Burnette, Doniven Davis, Ian
Vest and Lee Doss. Nick Bustamante, BJ Cheatwood, Camden West, Cyrus Adams, and Greg
Stiltner will be rotating in as well.
The linebackers have the potential to be the strongest group in Byrd's defense. They're
led by John Kiker, Jahdai English, Jonathan Rosser, Lane Shoemaker, Brayden Andrews and
Elliott Gaines. Also getting reps will be Graylen Castleberry, Blake Anderson and Aiden Kelly.
"They're a really strong group and the quality depth we have allows them to rotate," said
Lutz.
The cornerbacks are a young group but they have a lot of varsity experience. The corner
position will be led by Ethan Haston, Braeden Young and Dexter Gaines. Haston, a junior,
started as a freshman and is entering his third year on varsity and Young started last year as a
sophomore.
Hairston and Shepherd bring a lot of speed and athleticism to the defense at safety.
"Both of them are smart, athletic and very competitive," said Lutz. "Landon Martin and
Cooper Minnix will bring strong depth to the position as well. Our staff is very excited about the
safeties.
Bricen Lancaster returns as place-kicker, and he's one of the best around.
"Bricen is arguably the best kicker that I have coached in 25 years," said Lutz. "He's
coming off of a huge junior season, and we look forward to him making huge impacts in the
kicking game."
Lancaster and Shepherd will do the punting with the graduation of all-region punter
Dustin Richards.
Byrd's coaching staff includes Brad's dad, Charlie Lutz, who serves as director of
football operations. Brad's brother Adam is the varsity defensive coordinator and coaches inside
linebackers.
Andrew Close returns as special teams coordinator and he also coaches running backs
and safeties. Andrew's brother Avery is new to the staff and he'll work with tight ends, h-backs
and outside linebackers. Both Close brothers were standout players at Salem High and went on to
play in college, Andrew at Washington & Lee and Avery at Richmond.
Will Satterfield, another Salem grad who is also head lacrosse coach at Byrd, coaches the
defensive line and special teams. Ron Hicks works with the quarterbacks and former Byrd
quarterback Reece Watson has joined the staff to work with corners. Long-time Byrd coach Kim
Colls is back to work with special teams, receivers and defensive backs.
Andrew Mitchell is the junior varsity head coach and he's assisted by Josh Camden.
Ryan Hutchison returns for his second year as head middle school coach.
Byrd's schedule has the same opponents as last year. They open with four non-district
opponents followed by a bye, then a home game with Cave Spring. That should be interesting as
the Knights are now coached by former Byrd player Hunter Shepherd. Hunter's dad, long-time
Vinton recreation coach Robert Shepherd, is on the staff and has coached many of the present
Terriers in youth football.
William Fleming, who Byrd ended the season with last year, has been moved up to the
sixth game and the other four district opponents will follow in the same order as last year, only
with sites reversed. Lutz is hoping many of those results are reversed as well as the Terriers open
Friday with high hopes.
"Our team wants to build off of last year and take the next step," he said. "Our players are
working for an opportunity to play in the playoffs and win a championship. We will not be able
to achieve either of those goals if we don't find success in each day of the week.
"I can't say enough about the players and assistant coaches in our football program," he
continued. "The last two seasons have included a lot of growing pains and adversity. In many
cases, people run the other way when difficult times arise, but we have a team of strong willed
players and coaches that are determined to build a strong program. I'm proud of them, and look
forward to working with them every day."