By Debbie Adams
Battle at Byrd is one of the premier high school cheer competitions in Virginia, hosted by the William Byrd High School Cheer Team and Booster Club. The competition welcomes middle and high school cheer teams from around the region and across the state.
This year's event was held on October 2 at Byrd with a gymnasium packed with cheerleaders and spectators. Anyone who doesn't think cheerleading is a sport should have been in the WBHS gym to see the athleticism on display.
Battle at Byrd is a VHSL-sanctioned event organized and coordinated by WBHS coach Dee-Anne Dillon. Routines must follow VHSL/NFHS guidelines and must be at least 2:30 minutes in length but no longer than 3:00 minutes, with no more than 90 seconds of music.
This year's middle school division included teams from Graham, New Kent, Cave Spring, Glenvar, Hidden Valley, and William Byrd Middle Schools who performed in the morning session.
In the afternoon session, teams competing in the high school division included Franklin County in the JV division; William Fleming and Franklin County Varsity in the 5A/6A Division; Hidden Valley, Northside, Staunton River, New Kent (from Eastern Virginia), Lord Botetourt, Heritage (Lynchburg), Cave Spring, Blacksburg, and Bassett in the 3A/4A Division; and Lee (Springfield), Graham (Tazewell County), Glenvar, Central (Norton), and Auburn in the 1A/2A Division. The William Byrd High School competition team was scheduled to perform in exhibition but was unable to, due to injuries.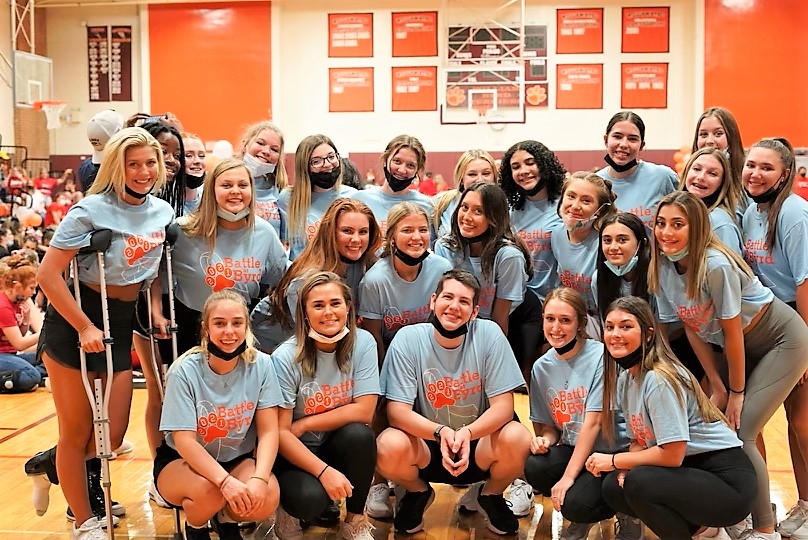 The first Battle at Byrd cheerleading competition at William Byrd High School was held in 2008. The purpose of the original event was to honor breast cancer victims and raised about $5,000 from entry fees, admission, and vendors.
Over the years, the fundraising competition has raised tens of thousands of dollars for programs benefitting cancer research and programs.
This year's competition was dedicated to Mary Ann Trent Rowland, who passed away on September 1 of this year at age 43. In 2019, she took on the role of president of the William Byrd Cheerleading Booster Club. She spent countless hours organizing and planning many events for the team and according to her friends and colleagues "was a real-life superwoman."
The first place trophy in the Middle School Restricted Division went to William Byrd Middle School; second place to Cave Spring Middle. In the Non-Restricted Middle School Division, Graham Middle won first place; New Kent Middle, second.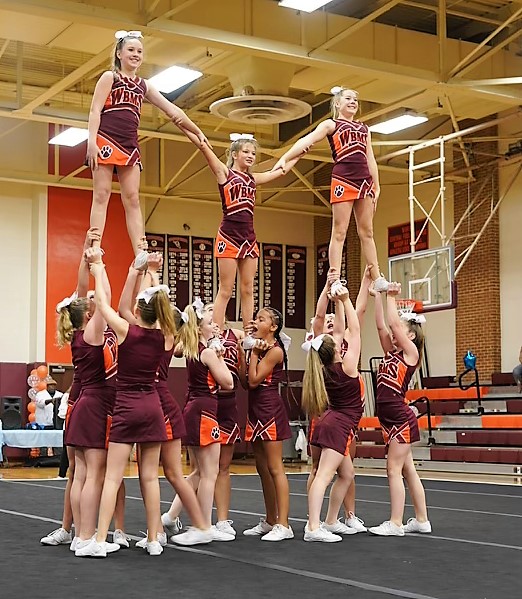 The William Byrd Middle School squad includes Ashley Arven, Kelsey Bell, Lily Carrell, Mattie Cox, Brihanna Harris, Taylor Jacobsen, Carleigh Leonard, Ellie McCulloch, Miley Moses, Makenzie Scott, Bailey Tabor, Aubrey Booze, Kaidence Stores, Aniyah Harper, and Jamya Rosborough. Team Managers are Natalie Kraemer and Addyson Simmons. Their coach is Shannon McCulloch; assistant coach is Jessica Kingery.
In the afternoon divisions, Franklin County won first place in the JV Division.
Graham High School took first place in the 1A/2A Division, with Central High School in second place.
In the 3A/4A Division, Cave Spring High School won first place honors, New Kent High School, second place, and Northside High School, third place.
First place in the 5A/6A Division went to the Franklin County varsity cheerleaders.
The Franklin County High School varsity squad received the special Sportsmanship Trophy voted on by the officials.
Members of the William Byrd High School competition cheer team squad are Faith Trent, Kaitlyn Duncan, Sheradyn O'Neill, Olivia Staten, Ashlynn ReMine, Madison Saunders, Brooklyn Arven, Emma Kageals, Wendy Grimm, Emma Dalton, Jasia Wheeler, Remi FiGart, Spencer Peters, Ashlynn Thomas, Casi Carawan, Julie Sattah, Alexis Loughlin, Autymn Dillon, Lexie Labarbera, and Olaedo Anyanwu. Dee-Anne Dillon is their coach, assisted by Logan Johnson and Daria Kay. The team assisted with the Battle at Byrd event throughout the day.
Community sponsors for the Battle at Byrd this year were Defy Gravity, the Greenway Boothe Real Estate Team, Tuck Chiropractic, Salon 121, Sunset Renovations, Poe & Cronk, W.E. Cundiff Realtors, and Eaheart Industrial Service Inc. Patron sponsors included Bedford Well Drilling, the Gene West Painting Company, Grace Family Church and Powers Pool Company. Czar Graphics designed the program, which was printed by First Impressions Printing and Graphics Inc.
Community donors included Sal's Italian Restaurant, Sam's Club, Chick-fil-A, and Kroger.