By Debbie Adams
Renowned local artist Walt Hodges partnered with the Roanoke Drop-In Center, a program of
the Council for Community Services, for a benefit show entitled "Just Off the Easel" at the
Garden City Recreation Center on June 11.
His goals were to "unite people with his art while supporting the center's community services
and reviving the recreation center by housing the event there." Admission to the show was a
canned food donation with the intention of "filling the food pantry" at the center.
"Walt has a very special way of connecting with others, in person, and through his art," said
Roanoke Vice Mayor Joe Cobb. "The Drop-In Center focuses on that human connection
too…That'ss what makes this partnership so unique."
Hodges introduced 27 new pieces at the show to much acclaim and sold quite a few during the
afternoon.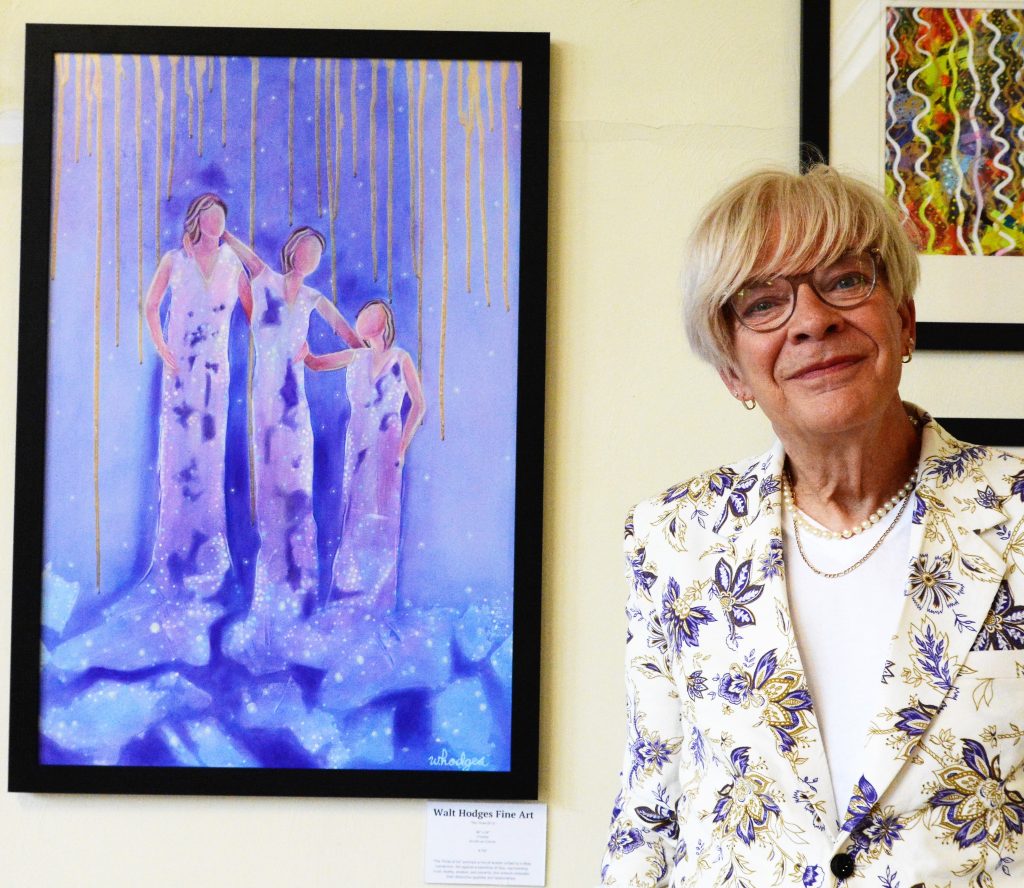 The was Hodges' first in-person art show since 2015. His first solo exhibit was in November
2012 at Metropolitan Community Church.
Hodges grew up in the Mount Pleasant area, the youngest of four children, and the only son. He
discovered his unique talent when he won his first art competition in second grade – a crayon
drawing of trees. He says he was a child who loved the outdoors and nature, and those elements
of nature have heavily influenced his life. Some of his most beloved paintings include butterflies,
fireflies, stars, and the cycles of the moon.
He graduated from William Byrd High School, where he was a drum major for the WBHS
Terrier Band, and then studied fine arts at East Carolina University.
In a recent interview with Angie Chewning on "Vinton Chatter," Hodges explained that when he
came out of college as an artist, his father suggested that he attend cosmetology school. That led
to a years-long career as a hairstylist, beginning in Greensboro.
"There is such a unique relationship between fine arts and cosmetology," said Hodges. "They
involve the same elements of color, shape, form, design, and texture. They are a good fit."
He eventually returned to the Roanoke Valley to take a position as director of a local school of
cosmetology and to be near his aging parents. He owned and operated Masterpiece Hair Studio
in the Garden City area.
Hodges says he "can't remember a time I didn't do art. When I was a hairdresser, I was able to
showcase my art at the salons where I worked."
Then something fairly simple changed his course. He purchased three tuxedo shirts at Burlington
Coat Factory and painted them as gifts. After three years, he had painted over 300 shirts. Then he
branched out to hand-painting glasses. His business "took off." With the advent of social media,
he was able to sell his artwork online. He transitioned from being a hairstylist to becoming a full-
time artist.
He continues to especially enjoy creating works that include elements of the natural world. His
2012 show, "In the Garden: An Homage," focused on butterflies, with a family story behind the
painting. Both his parents had just passed away – in their 90s. Months after their deaths, Hodges
noticed a pair of butterflies flitting around his yard. He photographed the butterflies and then
turned the photographs into a painting.
Hodges's sister Donna passed away in January 2023. He included a portrait of her in his new
show.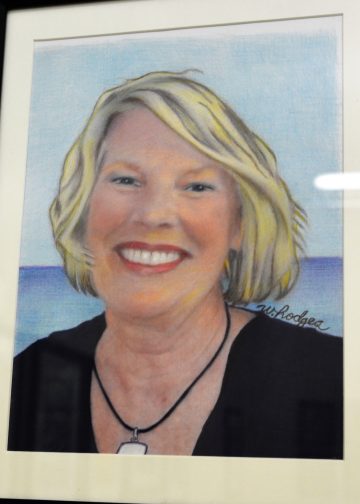 He says that art "allows him to tell stories I may not have the words to tell. Art speaks to
people."
"I no longer paint for people just to see a piece of art," Hodges told Chewning during her
interview. "I want them to feel something; I want them to experience something. I want them to
have some emotional attachment."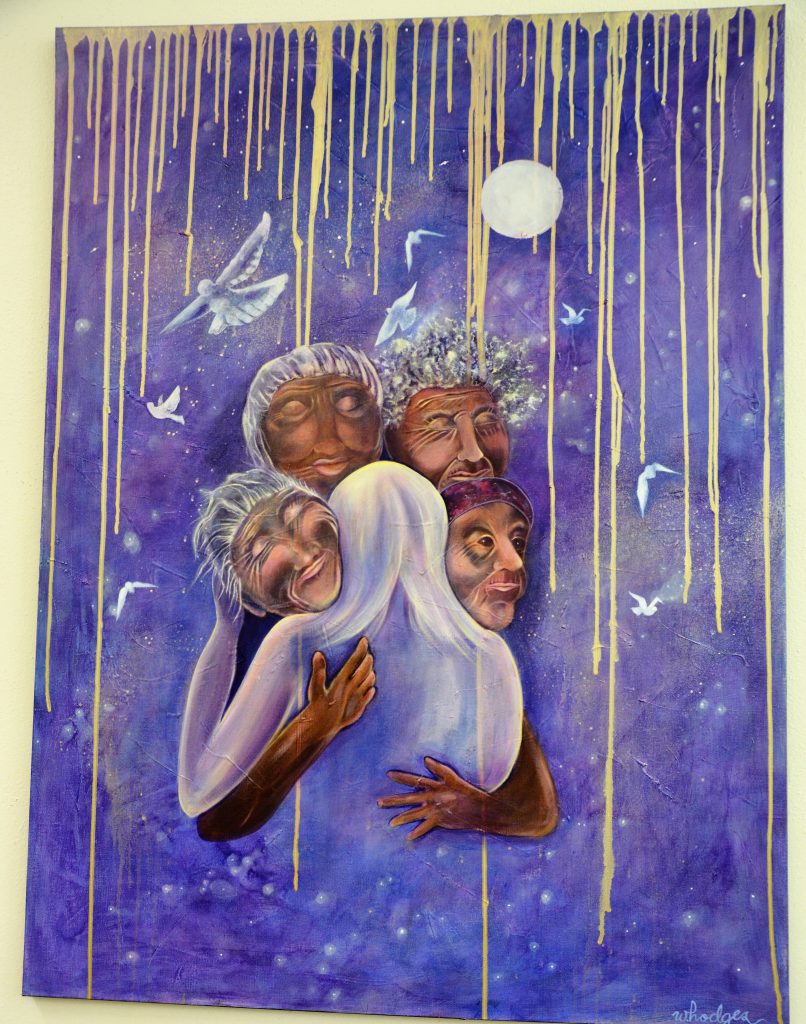 During the June 11 show, attendees were able to participate in what Hodges christened  "Creative
Assembly," a collaborative art process to create one cohesive piece. Everyone attending the show was invited to paint whatever they wished on a large canvas, which evolved into one piece of art as the afternoon progressed, and as people "left some of themselves for everyone to see and enjoy in the years to come." Hodges planned to add some finishing touches, along with some finishing polyurethane and then donate the painting to the Garden City Recreation Center for permanent installation.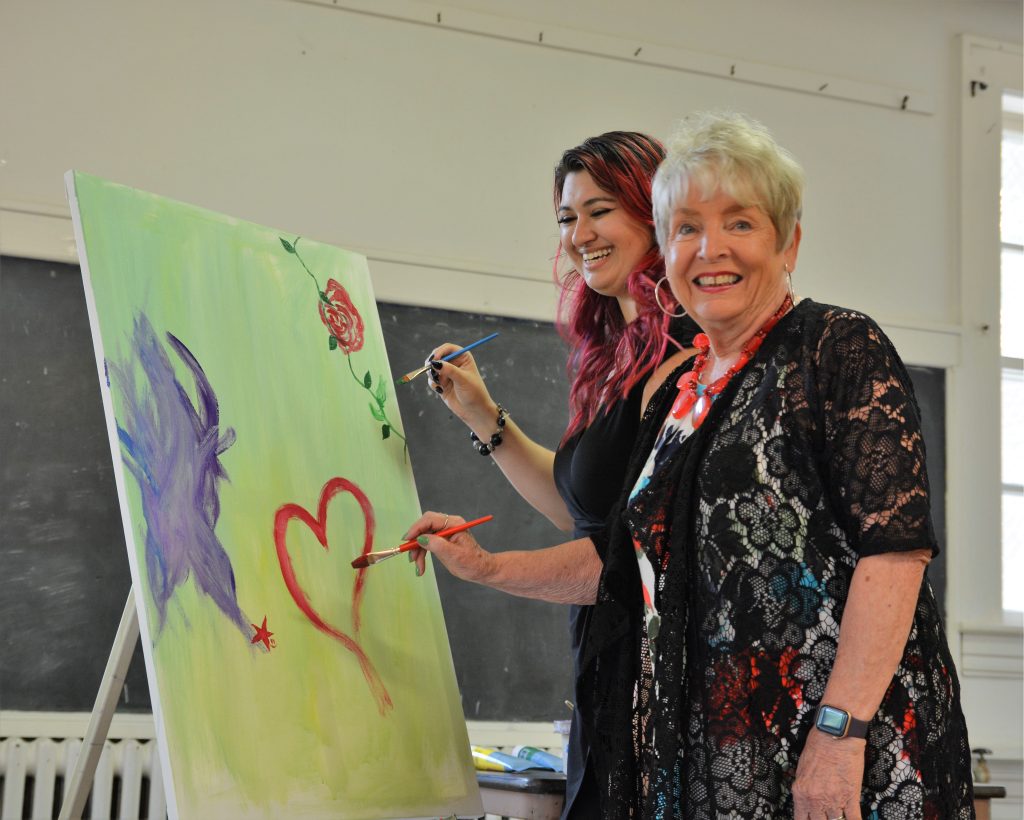 In the "Vinton Chatter" interview, Hodges commented that the art show had been almost two
years in the planning and producing, working with his creative director, Cameron Masters. The
pandemic caused some glitches. And it was difficult to keep 27 new pieces of art a secret.
His desire was for the show to be "memorable," and it exceeded expectations.
Hodges was recognized in both 2022 and 2023 at the Gold Level by the Roanoker Magazine as
the "Best Place to Buy Local Arts & Crafts." His art business is unique in that it is a two-person
(Hodges and Masters) online-only business.
For more information and to see a gallery of Hodges' works, visit their Facebook page at
https://www.facebook.com/WaltHodgesFineArt/, or contact Cameron Masters, creative director
for Walt Hodges Fine Art at 540-524-8511 (PST) or cam@socialdcollective.com.