The Big Orange headed south to Christiansburg last weekend for the annual "Big Blue" wrestling tournament and the William Byrd team grappled to an impressive third place finish. Staunton River won the team championship and Brentsville District was second among 17 strong teams from Virginia and West Virginia.
Byrd had two individual winners. At 106 Darin Witcher pinned Alan Vu of Glenvar in 4:40 to open the championship round. Witcher, a freshman, improved his record to 25-7 with the win.
"Darin has been steadily improving all year and finally got on top of the podium," said Byrd coach Thomas Kessler. "I expect a lot more of those performances from him."
Dustin Richards, a senior, won the other championship for Byrd in the last match of the championship round. Dustin pinned Kojo Osafa-Mensah of Washington High in West Virginia in just 1:17 to improve his record to 16-1. Dustin missed several tournaments to start the season with an injury but he's rounding into form with the post-season nearing.
"It was fun seeing Dustin get to the top of the podium," said Kessler. "I have always known how good Dustin is but he just hasn't had the chance to go out and show everyone."
Xavier Preston took a second at 175 in his return to the mats after being injured. Xavier lost to Josh Kelly of Staunton River in the final due to medical forfeit.
"Xavier saw his first action back since an injury earlier in the season," said Kessler. "I wasn't sure if I was going to wrestle him past the quarter finals but he convinced me to let him wrestle the semis.  We are working him back into shape since his injury and we are looking to take it slow and get him ready for the state tournament."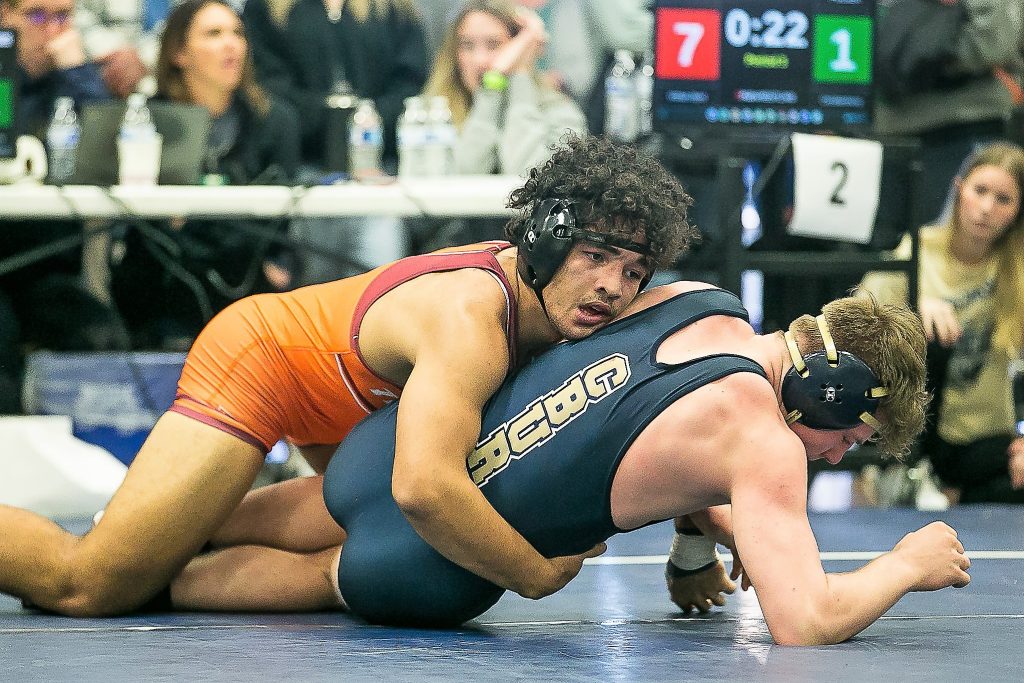 Dominic Pascoe made the final at 120 and took a second after losing to Brady Hand of Christiansburg in the championship match. Dominic is now 29-6.
Landon Barber and Aiden Lucas both won their consolation final matches to take thirds. Lucas beat Brennan Metz of Hidden Valley to improve to 29-11 and Barber is now 28-15 after beating Dakota Mcglothlin of Salem in the 165 pound consolation final, pinning the Spartan in 4:10.
Also scoring for the Terriers were Gage Cockran with a fifth, Bricen Lancaster with a sixth place and two eighth places finishes by Evan Tabor and Graylen Castleberry.  Cockran won the award for most pins in the quickest amount of time.
The Terriers were scheduled to wrestle William Fleming and Salem on Wednesday at 5:30 pm, and that was Senior Night. On Saturday they go to Riverheads for an invitational.