By Debbie Adams
In March 2020 with the arrival of the pandemic, almost overnight there was a drastic change in how people work. Many who worked in offices were suddenly forced to work from home. Now that the novelty of being able to work in your pajamas has worn off, many employees are struggling with figuring out how to separate work from home when you never really leave the office–when work is at home.
Mitchell Tyler has opened a new business on Hardy Road in Vinton, @lt Offices, which he says provides "a great opportunity for folks to put the 'balance' back in 'work/life balance.' As telework is likely here to stay, we believe people are looking for convenient locations to work in an office setting outside the home."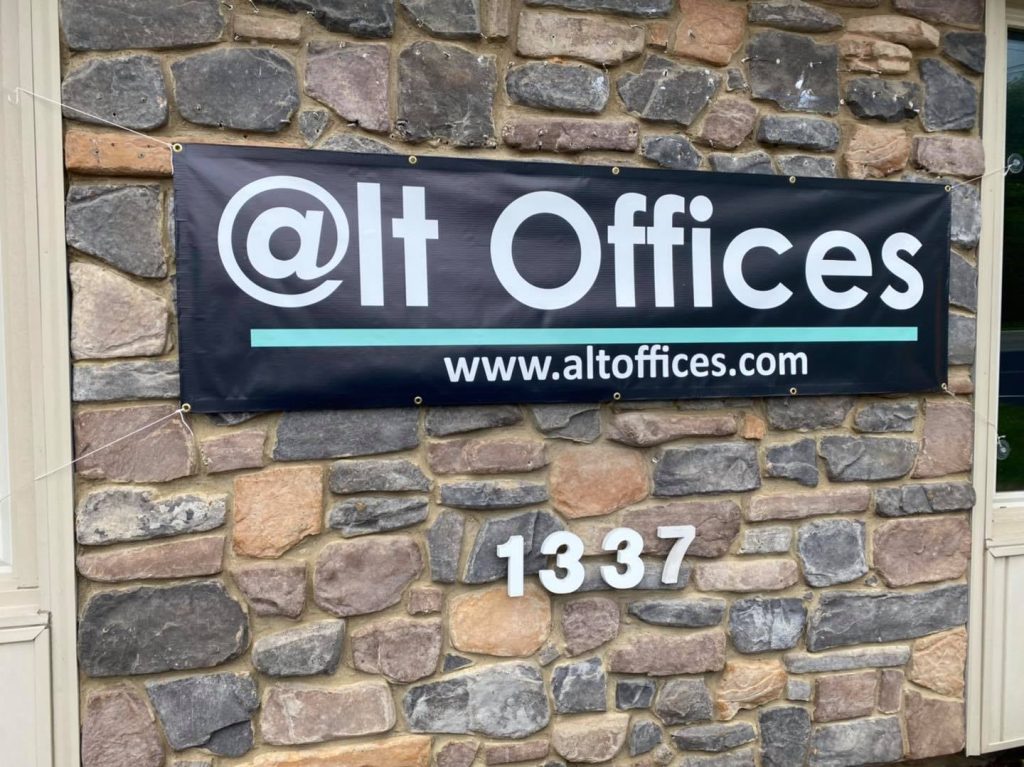 Also, while some have enjoyed the autonomy of working from home, there are challenges, such as the need for office amenities– high-speed Internet, for technology for Zoom meetings, hot spots, and for privacy to meet with clients without the family interrupting.
Tyler discovered for himself that it is "hard to disconnect from work when the phone and computer are right there next to you 24 hours a day," putting you in an always-on-duty workplace.
He began to think about developing something people could afford—offering them alternate office space where you "can work remotely without working from home."
"You can now have an affordable Dedicated Desk (co-working space) or Private Office to use as your corporate home, then go back to your real home," Tyler said. (A Dedicated Desk means it's not shared; you set up the space and it's yours alone to use.)
After several months of planning and remodeling, @lt Offices is now accepting co-working and Private Office partners at their its. Tyler and his wife Suzanne purchased the former dental offices of Skaff and Law at 1337 Hardy Road and converted them into six private offices and six co-working desks. They opened in late July.
While traditional office space is available throughout the valley, @lt Offices offers the unique concept of providing a business all the tools that might be needed in one place for one price with no variables, and Tyler is there to take care of issues that might arise.
There is no long-term lease; there are no fees; rental is by the month. @lt Offices offers a predictable flat-rate fee that includes all utilities, mailbox services, and even furniture. The only additional cost is a business license from the Town of Vinton. (You also need a no-charge zoning permit from the town to be "legal." There are some restrictions put in place by the town due to zoning—retail sales, personal services, manufacturing, and warehousing are not permitted at @lt Offices.)
Small businesses or entrepreneurs will have a physical address instead of a post office box number to receive correspondence and deliveries. Tyler even offers private mailboxes as a separate service for those who don't want an interior space, just the physical address.
He says @lt Offices can usually get someone set up and started the next day.
Here's an example of what they have to offer:
Suite 1 is their premium private office which includes a desk, mounted bookshelf, whiteboard, desk chair and side chair. It has windows facing the back parking area and the side of the building which flood the room with natural light.
(That's the first thing you notice when entering the building—the bright interior—since all of the offices have windows.)
Suite 1 also features a dedicated private entrance, private restroom, and numbered hard-surface parking space with easy access to the rear entrance.
The other office suites are similar, minus the private bathroom, but including parking. One of the suites will comfortably accommodate two desks. Most of the offices occupy about 100 square feet.
There's a small breakroom and restroom, a coffeemaker, copier/printer/scanner, shredder, laminator, and access to basic office supplies and equipment. The reliable high-speed Internet is with Cox Communications—wi-fi or hardwired.
The private offices have 24-hour electronic access to the building (digital keypad) as well as app access to exterior cameras.
The building is ADA accessible from the front parking lot.
Tyler notes that @lt Offices has a great accessible location on Hardy Road, just across from what used to be the Best Little Hair House, on a four-lane road with a turning lane in a 35mph zone, located in close proximity to both Roanoke and Smith Mountain Lake.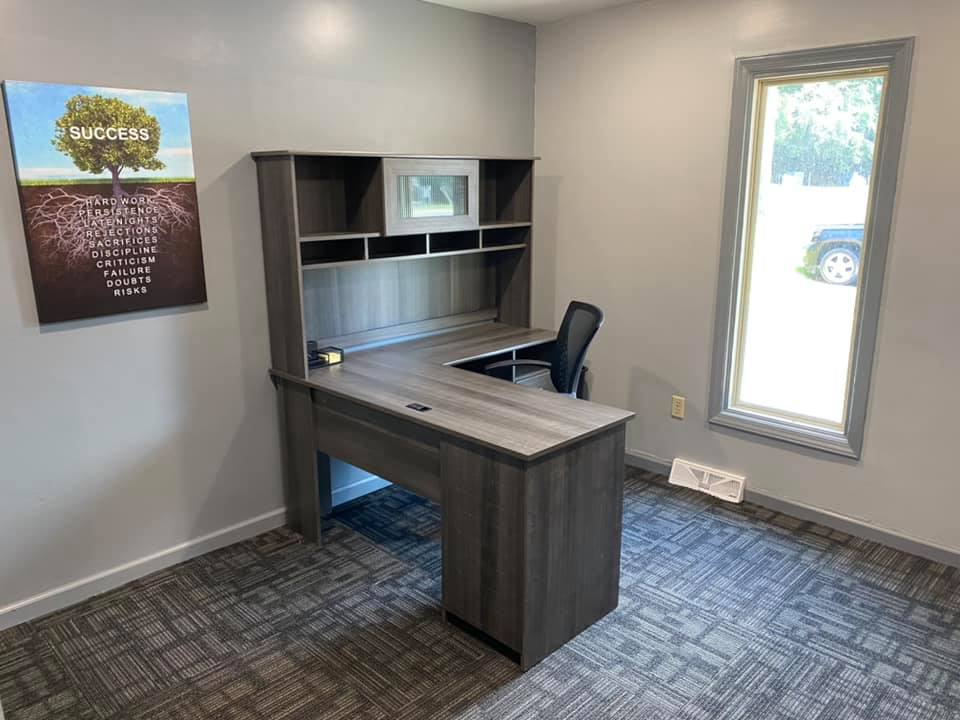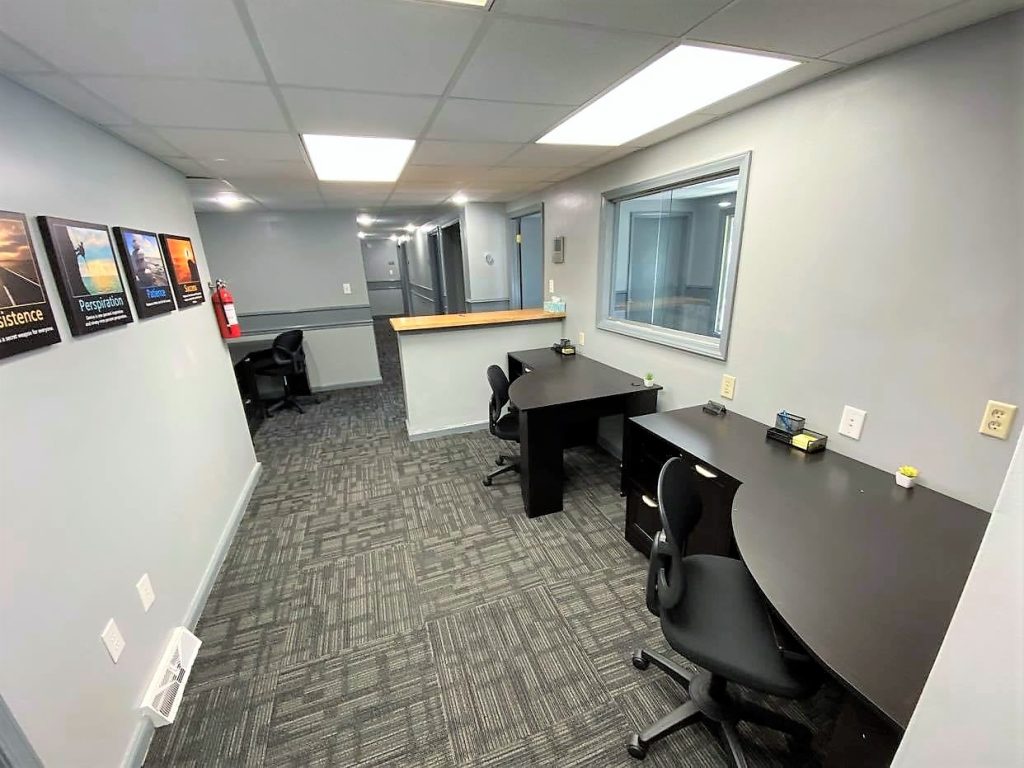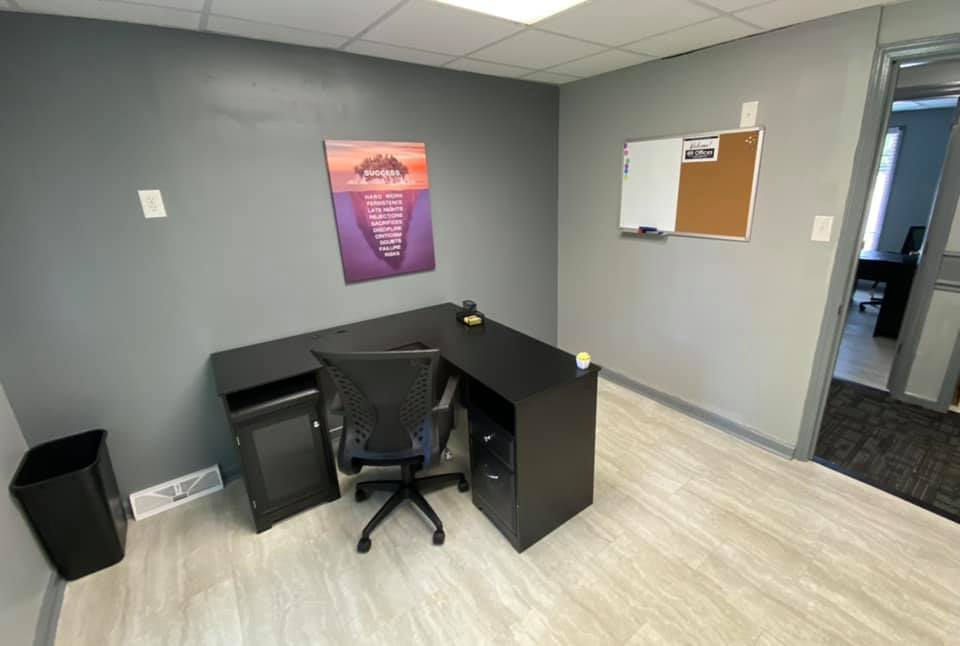 Tyler has been an entrepreneur since he was a kid and a third generation Roanoke Catholic School student.  He was involved in Junior Achievement in high school and president of their student company over 20 years ago. He attended Full Sail University in Florida and studied Entertainment Business. He worked for Stage Sound until he married (his wife is a nurse) and started a family (two children, ages 7 and 9) and being on the road six days a week was not the best option. He worked from home as a consultant for years and continues some consultation work with automation systems.
The Tylers live in Bedford County, and he has been driving past the Hardy Road property for many years. When he came up with the idea of @lt Offices, he noticed the vacant dental office building, and thought the dental exam rooms would be perfect for his concept and an office layout. He worked very amicably with Dr. Zachary Law to purchase the building and spent three months doing renovations.
He says most of the renovations to the 40-year-old modular building were "upfittings." They painted, replaced floors and trim, installed a new roof, and added LED lighting. Vinton's W. C. Butler company cleaned the ductwork.
Bug Man Exterminating was hired to complete the most extensive part of the remodeling project—encapsulating the crawl space to make the building more energy efficient and to provide moisture control.
Mitchell says his typical customer is usually either a sole entrepreneur or small business owner who finds their home environment is not conducive to business, or a person who works for a larger company and can't go into the office due to a situation such as COVID. Some might need office space briefly if their home is being remodeled, if they need a home base, or if they are working here from out-of-town in a short-term situation.
For more information ,call Tyler at 540-566-0100, leave a message on the @lt Offices Facebook page at https://www.facebook.com/Alt-Offices-Vinton-VA-106370204946274/  or complete an application on the website at http://www.altoffices.com/.