By Debbie Adams
Thirteen William Byrd High School student athletes in 11 different sports signed letters of intent to continue their educations and athletic careers at the collegiate level during the spring Athletic Commitment Ceremony in the WBHS auditorium on April 12.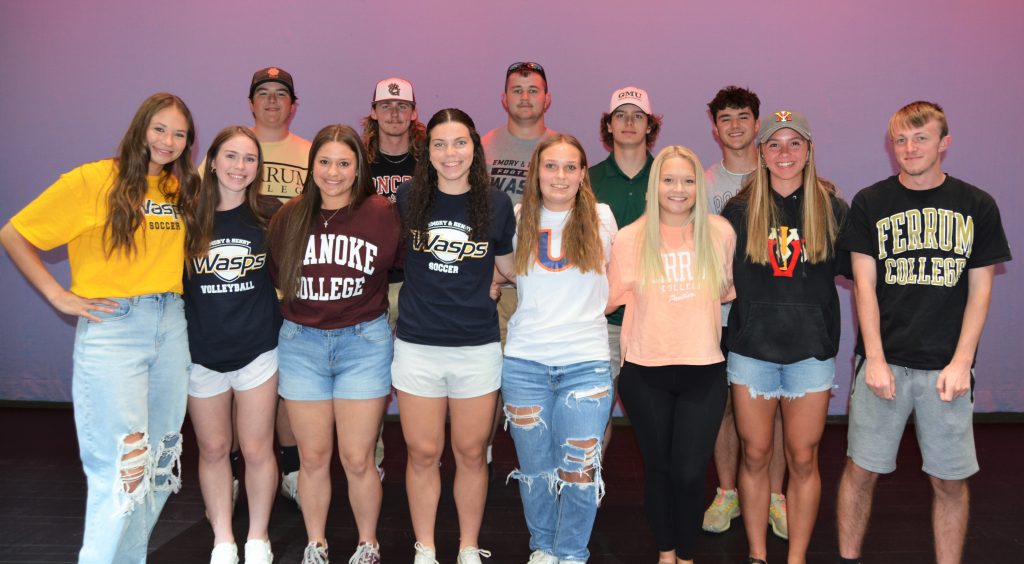 Principal Tammy Newcomb welcomed the auditorium filled with student athletes ready to sign the letters, their fellow students and teammates, their coaches, and their supportive families. She commended those signing letters as "great representatives of the school who love your sport and it shows in your performance." She noted that only 2% of students end up continuing their athletic careers at the collegiate level.
Ella Ashworth was the first student to sign her commitment letter during the ceremony. She will be continuing her studies and athletic career at NCAA Division II Emory and Henry College. Ella was introduced by Varsity Volleyball Coach Allison Thornton who said, "It has been both an honor and a privilege to share this moment with Ella as we celebrate her commitment to playing volleyball for Emory and Henry next year. With Ella's dedication and leadership, our volleyball program has continued to reach new goals, set new standards, and continue a growth mindset in every aspect of the game.
"Ella is a three-year Varsity Letter winner who has set new standards for our program," Thornton said. "She finished her career with the second most digs per game in school history with 974 total. She also finished her career with a school record of 9.5 digs per game. She is a two-time 1st Team All Blue Ridge District winner and two-time All-Region 3 recipient. Ella was unanimously voted as a team captain this year by her peers and coaches alike.
"We all know having good leaders can make or break a team—I can truly say I have never seen leadership like that of Ella. She was compassionate but expected 'best effort'. She led by example—the first one in the gym and the last one out. Ella always pushed for the team and herself to be the best to make our program successful.
"I know your drive, the love of the game, and your 'can't stop until it's right attitude' will continue to bring you success in your college career," Thornton said. "Congratulations, Ella, on your commitment to Emory and Henry—although we hate to see you lose your orange and maroon, we know you are going to do big things as a Wasp, too!"
Ella Ashworth is the daughter of Andy and Emilie Ashworth.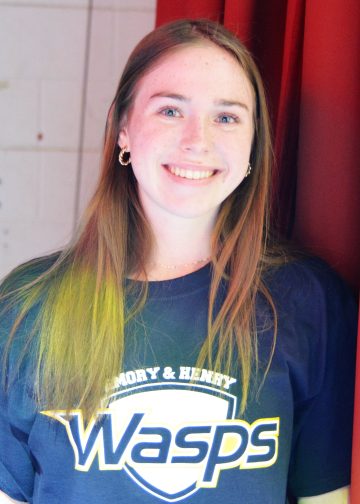 Haleigh Vaughan signed her letter of intent to continue her softball career at NCAA Division III Roanoke College. Varsity Softball Coach Greg Barton, who has coached varsity softball for 26 years, commented, "I can honestly say that Haleigh is the best third baseman I have ever coached. She is competitive in practice and in games. She has a burning desire to be good. Haleigh gives it her all. In past years she has been named to All-District, All-Region, and All-State. She is a tremendous athlete and softball player. It has been an honor to coach her.
"I wish you the very best," Barton said. "I know you are going to do big things."
Haleigh Vaughan is the daughter of Josh and Melissa Vaughan.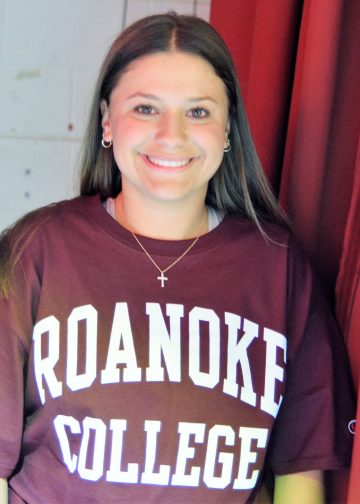 William Byrd golfer Clayton Gilmore signed his letter of intent to play golf for NCAA Division III Ferrum College. Varsity Golf Coach Tyler Goodman noted that Gilmore had been on the team at William Byrd for three years—"he's a guy who can really hit a golf ball. He broke 80 this year after just three years—an incredible feat!"
Goodman described Gilmore as a "competitor who works hard in class, out of class, and on the golf course."
Gilmore led Byrd to a third-place finish in the Blue Ridge District Golf Tournament and has been named to 1st Team All-District.
Clayton Gilmore is the son of Annette and Chad Gilmore.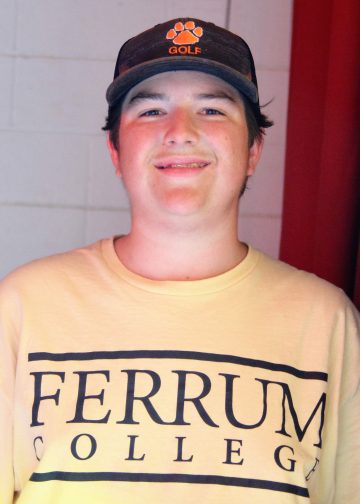 William Byrd Athletic Director and Varsity Baseball Coach Jason Taylor congratulated all of the student athletes signing letters of intent, saying he had watched most of them grow and develop from middle school through high school and "you all put in a lot of work in sports, the classroom, and the community. I challenge all of you to make it hard on yourself, push yourself [in college]. It will be tough, but we are very proud of all of you." He thanked parents and the community for supporting their students and the school.
Taylor introduced student athlete James Purcell who he has coached for two years. Purcell signed his letter of intent to continue his baseball career at NCAA Division II Concord University. Taylor described Purcell as a very good player who has the self-discipline and motivation to succeed at the next level; someone who has been known to lift weights at 4:30 a.m.
"James puts in the extra work and has self-motivation—you can't coach that," Taylor said. "He has improved each year. He was an unknown to other schools starting out in middle school, but by the end of his first year, everybody knew him and his skills." He made 1st Team All-District, All-Region, and All-State in his time with the Terriers last year.
"He is a quality young man," Taylor continued. "During football and basketball seasons, he was a member of the Dog Pound, cheering on those teams. That says a lot about his character. I know he will succeed. He puts in the extra work and will continue to grow as a baseball player."
James Purcell is the son of David and Angie Purcell.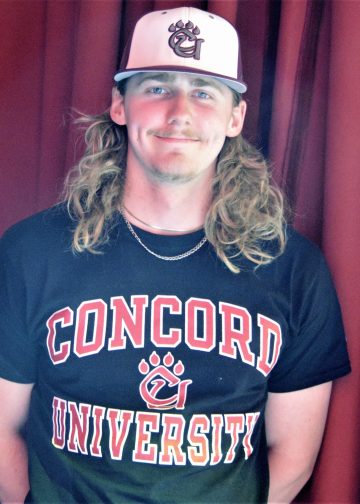 Brayden Crossan signed his letter of intent with Ferrum College to continue his education and soccer career at the next level. He was introduced by Varsity Soccer Coach Russell Dishman who had met Brayden through travel soccer before his high school days. In fact, when he first saw him, Brayden was in a baby carrier accompanying his dad who was an athletic scout. Brayden was "super prepared" to play his freshman year when COVID shut things down. They talked over Zoom meetings for the duration.
Dishman said that last year 75% of the goals the team scored were by Brayden or in assists by Brayden. "He just wanted to create them; he didn't care about the recognition." He is also a great communicator with his teammates.
Last year Brayden was named All-District and All-State.
"Brayden is a student of the game," Dishman said. "He has found the right fit at Ferrum. Kids like him challenge us as coaches. They want us to be a better program. He has done a lot for our program."
Brayden Crossan is the son of Michael and Stephanie Crossan.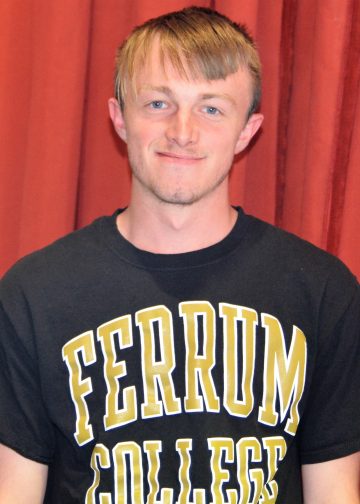 Varsity Girls' Soccer Coach Molly Cox introduced the next three signees— Madeleine Wolters-Argenio, Maci Glass, and Maddy Simmons.
"I have been lucky to have these three student athletes," Cox said. "I never have to worry about them—they are smart, they participate, they are leaders. They are the best student athletes in the building, and brilliant. They do more than just soccer. They are all going to do great things."
Madeleine Wolters-Argenio signed her letter of intent to continue her soccer career at NCAA Division III Utica University in New York. Her position on the Byrd team has been center back. Cox described Madeleine as "quiet, but a vocal leader on the field–in a leadership manner. She is a great player and will thrive at Utica. She is a solid player who wins tackles, won't stop, and her work ethic will take her far."
Last year Madeleine was named 2nd Team All-District.
Madeleine Wolters-Argenio is the daughter of Scott Argenio and Jennifer Wolters-Argenio.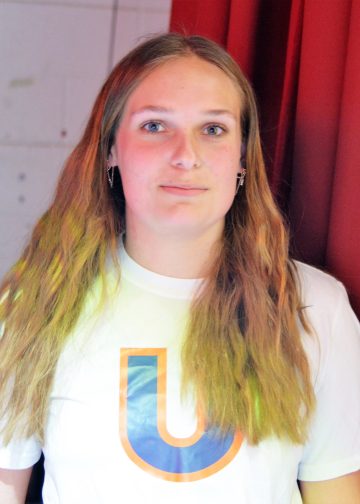 Maci Glass, another center back, signed her letter of intent with Emory and Henry College. Cox described her as "a strong defensive player, Team Captain—an excellent leader on the field and in school. She has battled through injuries but comes back stronger. She is one of the most solid defense players in our area. She can play any position. You can build a team around her; goals don't come easily against us."
Last year, Maci was named 1st Team All-District and 2nd Team All-Region.
Maci Glass is the daughter of Lynn and Christopher Glass.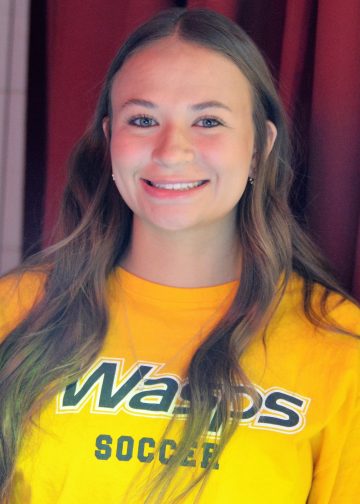 Maddy Simmons also signed her letter of intent to continue her soccer career and education at Emory and Henry College. Cox noted that Maddy scored 25 goals last year and served as Team Captain. "She is a tough player. She fights the challenges with physicality and speed. She is one member of the team that opposing teams warn their players to watch out for. She impacts our school and other schools."
Last year Maddy was named to 1st Team All-District and 1st Team All-Region.
She is the daughter of Brian and Samantha Simmons.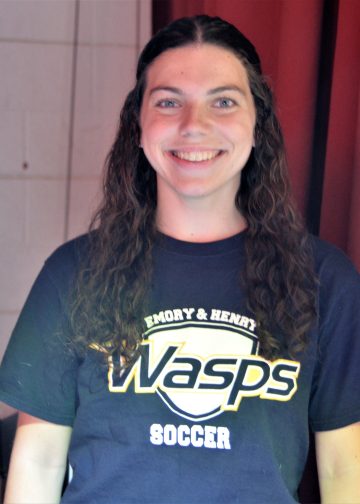 Mikayla Belanger signed a letter of intent with Ferrum College to continue her education and Cheer career at the collegiate level.
Varsity Cheer Coach Dee-Ann Dillon said Mikayla has been with the William Byrd cheerleading program for six years. She has served as Team Captain and "has been a great leader, leading by example. She helped shape our team dynamics. She has a great attitude and is well-respected by her teammates. She suffered a knee injury but kept going. She enjoys what she is doing. Congratulations!"
Mikayla Belanger is the daughter of William and Lori Belanger.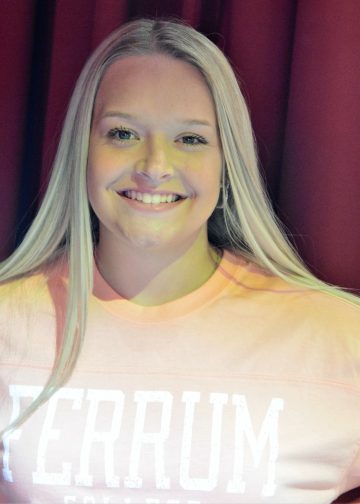 Colin Murtaugh will be swimming for NCAA Division I George Mason University as a freshman, after signing his letter of intent on April 5. Varsity Swim Coach Krista Martin said Murtaugh has "earned so much respect" in his time with the swim team. "He is an exceptional athlete and also one of the most humble" she has ever worked with.
"Colin has been named All Region and 1st Team All District all four years! He represented Byrd at State for all four years. This season Colin won both of his individual events at Regionals and those victories helped our boys' team earn the title of Region 3D champions. At State this year, Colin was on two relays and was 2nd in the state in the 100 fly and your VHSL State Champion in the 50-freestyle. He was named Blue Ridge District Male Swimmer of the Year and Region 3D Male Swimmer of the Year. He has, and will have, a stellar swimming career."
Murtaugh also swims year-round with the Gators Swim Team.
Colin Murtaugh is the son of Patrick and Miranda Murtaugh.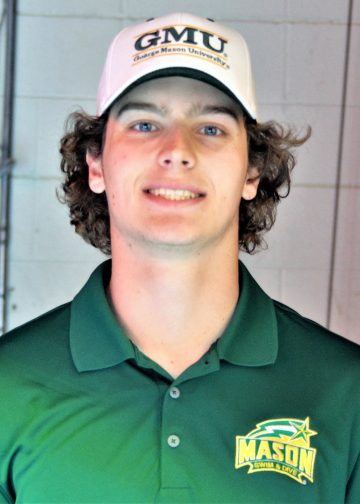 Olivia Hurd signed her letter of intent to her education and track/cross country with NCAA Division I Virginia Military Institute (VMI). Varsity Coach Eric Royal has worked with Olivia for four years. He described her as "a stellar runner, competitive, and also great in her classes with a weighted 4.12 GPA," and active in many clubs and activities.
She has been Captain of the Track team for two years and has a "go to" attitude. Coach Royal said he has depended on her a great deal as leader of the team.
"Running is hard; she likes to do it; and it shows," Royal said. "She sets goals and meets them. She is the third fastest girl of the 125 I have coached at WBHS. I am proud of her. She has had a tremendous running career."
Indoor Track and Field Coach Junius Pannell said, "Olivia sets the bar high for herself and works extra hard."
Olivia ran Varsity Cross country all four years of high school and went All-District all four years. She went All-Region in 9th, 11th, and 12th grade. She competed in Cross Country in States in 9th, 11th, and 12th grades and won All-State as a junior. This year she went All-Metro.
Olivia is the daughter of Chris and Taressa Hurd.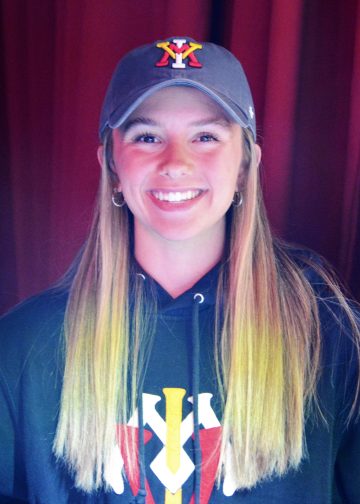 Dylan Hughes will be continuing his athletic career and education at Roanoke College, signing his letter of intent to run track. Hughes was a Nike Nationals Qualifier in the 4 x 200 meter and the sprint medley. He was named All State athlete in the 4 x 200 relay and Regional Champion in the 55-meter dash and the 4 x 400 relay.
Varsity Coach Junius Pannell said Hughes played basketball his freshman and sophomore years and then came to indoor track, where he will race in any race he is asked to and always works hard, "a good kid."
Dylan Hughes is the son of Tim and Barbara Hughes.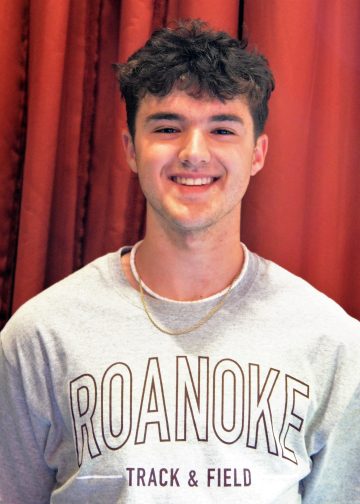 Dustin Richards will be playing college football and continuing his education at Division II Emory and Henry College. Varsity Football Coach Brad Lutz described Richards as "one of the best students I have ever coached. He is a four-year starter in football. He never misses practice. He played an entire season with a broken wrist and as a result ended up teaching himself to be a punter. With his drive Dustin will go on to become a great player. He never misses practice. He works hard, comes from a great family, is a strong student, a standout, and an unforgettable teammate."
This year, Dustin earned 1st Team All-District at tight end, defensive line, and punter. He earned 1st Team All-Region at tight end, defensive line, and punter. He earned honorable mention at defensive line on the All-State Class 3 team. He finished his career as the 8th leading tackler in school history.
Richards is the son of John and Christine Richards. His older brother, Hunter, also plays at Emory and Henry.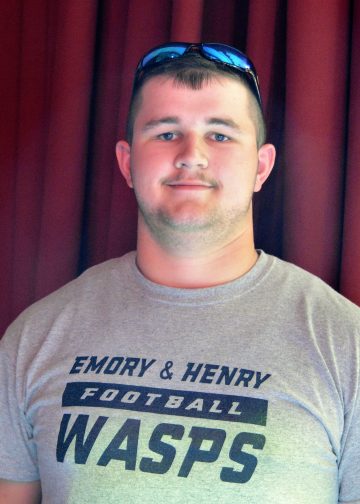 The signing of his letter of intent by wrestler Dominic Pascoe was postponed from April 5 to a later date.
At the end of the signing ceremony, Coach Lutz reminded all those students signing letters of intent and committing to play sports and continue their educations at the collegiate level, that "your journey to this table is the result of the efforts of lots of people. You couldn't have done it without your coaches, your families, your teammates, your teachers. Thank them for investing in you. Remember you represent a lot of people."