By Debbie Adams
William Byrd High School has welcomed several new members to the faculty and staff for the 2022-2023 school year.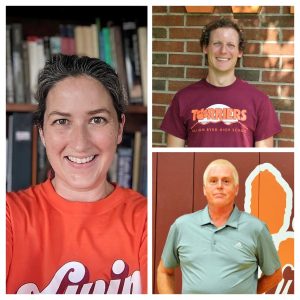 Charles Cline is a new Special Education teacher at WBHS, co-teaching biology, mostly to sophomores. He is originally from Flatwoods, W.Va., and has lived in seven different states. He has lived in Roanoke now for about seven years.
He earned his Bachelor's Degree in Political Science from West Virginia University, his Master's in Fine Arts degree in film production from Ohio University, and his MA in Special Education from Mary Baldwin University. He has taught Special Education for three years and also film production for 10 years at the college level. He transferred to WBHS this year from Hidden Valley High School.
Cline says he was motivated to become a Special Education teacher "by experiences with children with special needs in my family."
He has two children and enjoys creative writing and filmmaking.
Jordan Downing is a new English teacher at both WBHS and WBMS. She is teaching 7th grade English and 9th grade English. She is also the new assistant director for the Marching Terriers band. Downing is originally from Fredericksburg, and a graduate of Massaponax High School. She graduated from Virginia Tech in 2021 with her Bachelor of Arts degree in English literature and creative writing. In 2022, she completed her Master's degree in Curriculum and Instruction from Tech.
Claire Eisenhart is teaching Geometry and AFDA (Algebra, Functions, and Data Analysis) this year at William Byrd. She is from Mullica Hill, N.J., and just graduated from Roanoke College with degrees in Education Professional Studies and Math Education. She worked at William Byrd this past spring as an Algebra Readiness tutor.
"I love math and have wanted to be a math teacher since I was little," Eisenhart says. "I am looking forward to getting know the community and am so excited to help coach the girls lacrosse team. Go Terriers!"
Johannes Grow is teaching Virginia and U.S. History at William Byrd. He was born in Germany to a German Mom and an American Dad. He and his family moved back and forth between the two countries 11 times or so. He graduated from Jamestown High School in Williamsburg, Va.
Grow earned his Bachelor of Arts degree in International Studies and German from Virginia Tech, as well as his Master's in Public and International Affairs. He speaks German fluently.
He is teaching at three schools this year – Hidden Valley Middle, William Byrd Middle, and William Byrd High School.
Grow has been teaching at the college/university level since 2014. Prior to teaching in Roanoke County Schools, he was a faculty member at Radford University, where he had been teaching since 2017.
Andrew Hale is serving as an Education Specialist this year at William Byrd. He will be co-teaching in the subjects of government and geometry with juniors and seniors. He will also be working as an education specialist with freshman and sophomore students.
He is originally from Roanoke and graduated from Northside High School in the Class of 1987.
Hale earned his Bachelor of Business Administration with a focus in Operations Management from Radford University. He recently acquired his Master of Science in Special Education, also from Radford University with the Class of 2021. He has four years of teaching experience.
He came to WBHS when "the opportunity arose to teach in the high school environment at William Byrd. I am currently working in education as an education specialist to become more knowledgeable about different learning/teaching styles for students with disabilities."
Hale is a dedicated Rail Yard Dawgs hockey fan!
Wayne Janney is a teacher in the Marketing and Business Department at William Byrd High School. He previously taught for 25 years in North Carolina and coached girls basketball. His family is from Franklin County, and it was his dream to move here when he retired. He enjoys Smith Mountain Lake, the mountains, and the Roanoke Valley, and "couldn't ask for a better to community to live in."
When choosing a profession, he was working in the field of business while doing substitute teaching on the side. When his company downsized, he decided on education as a career and fortunately received a scholarship. Janney majored in Education at Longwood and is currently working on his MBA. He enjoys the field of real estate. He also has his CDL license for driving activity buses.
He and his wife have three children, ages 36, 21, and 16.
Grace Johnson is teaching 9th grade World History at WBHS. She is from Vinton and graduated from William Byrd in the Class of 2018. She participated in the Teachers for Tomorrow program while she was a teacher at Byrd and helped with after-school programs. She also coached gymnastics for roughly three years at the Roanoke Academy of Gymnastics.
She earned her degree from Roanoke College with a major in history and a minor in secondary education. She is a "brand new" teacher this year.
"It was always my goal to end up back at Byrd at some point in my teaching career, I just thought it would be later in my career," Johnson says. "But when Caitlin Lilley, a fellow history teacher at Byrd, told me about the open social studies position at Byrd, I jumped on the opportunity to try to get an interview with Tammy Newcomb. It is so nice to be starting my career at a school that is familiar, even with the renovations, and with colleagues who will show me support as I am navigating my way through my new role.
"I picked my subject area because history was always a subject that clicked in my head the most," Johnson says. "But more importantly, I found it fascinating how one person/country can make a decision that could ultimately have such a large effect on so many other aspects of the world.  Also, it was always interesting how new discoveries can be made through the resurfacing of new documents, pictures, personal accounts, etc.
"I have always been a patient and compassionate person, working with children was always in in the cards for me," she continues. "I chose education because I was lucky enough to have teachers throughout my education who were supportive, encouraging, and knowledgeable in the way that they delivered all the facts but allowed me to make my own opinions and conclusions. I wanted to be able to pass on the exact environment that was given to me. I wanted to watch the 'ahh ha' moments, watch them fall in love with learning and help students understand their world on a deeper level."
As for her special interests, "I am an avid reader. Since January I have read over 100 books, and they range anywhere from historical non-fiction to any kind of fiction. Also, last summer, I did a summer internship at the Vinton History Museum with Judy Cunningham. I was one of the first college interns at the museum along with Ben Tate."
Amanda Lohr is a new school counselor at William Byrd High School, assigned to students whose last names begin with the letters L-R.
She is originally from Stoystown, Pa. She graduated from the Indiana University of Pennsylvania in 2017 with a Bachelor of Science in Child Development and Family Relations as well as a Bachelor of Arts in Psychology. She then graduated with her Master of Education in School Counseling in 2019. She has spent the past three years working as a school counselor at Giles High School in Pearisburg, while living in Roanoke. She came to Roanoke looking for something closer to home.
"I entered into the field of counseling because I enjoy working with students in all aspects of their lives.," Lohr said.
Catie Long is serving as the English Language Learner (ELL) teacher at both William Byrd Middle and William Byrd High. She is from Roanoke and a graduate of Roanoke Valley Christian School. She graduated from Cedarville University with a degree in Elementary Education. She has been teaching for 25 years.
Long says she chose to teach English as a Second Language because of her love for internationals. Her special interests include knitting and reading.
Senior Chief David Perrin, US Navy (Ret.), is the Naval Science Instructor for the Navy National Defense Cadet Corps at William Byrd High School. The Navy established a Navy National Defense Cadet Corps (NNDCC) program in April 2011 and is offering the program to qualifying secondary educational institutions. The NNDCC program is a steppingstone for schools who do not currently meet NJROTC requirements due to enrollment.
Perrin was born and raised in a small town in Northern Maine. He graduated from high school at Southern Aroostook High School located in Island Falls, Maine. He currently resides in the Lynchburg area with his wife.
He retired from the military in 2016 after 26 years of active service. He has been a certified Naval Science Instructor for three years and comes to WBHS from being the NJROTC Senior Naval Science instructor at Nottoway High School.
"As a NNDCC instructor, I want to help students in the program to be inspired to serve others, have a sense of community, be engaged citizens, be successful future leaders; most importantly to be successful students," Perrin said. "I am looking forward to the new school year and the impact that the program will make in the school and the community of Vinton."
Mary Jean C. Sullivan is teaching Economics and Personal Finance this year at Byrd.
"I am really looking forward to hearing what my students' financial goals and dreams are," Sullivan said.
She moved to Roanoke from New York 12 years ago— "I like to joke that I traded bagels for biscuits." She is a Terrier by marriage.
Sullivan earned a Bachelor of Science in Clothing and Textiles from Virginia Tech, a Master's degree in Business Administration from Shenandoah University, and a Master of Arts in Teaching from Hollins University.
"I had a fulfilling 23-year career in financial aid, helping families figure out how to pay for college," she shares. "Even though I loved my job, I was spending way too much time doing behind-the scenes-work and not enough face-to-face time with my students. My husband encouraged me to change careers, and I'm very thankful for his support!"
She has taught at the college level and worked with high school and college students for 23 years at this point.
"I've stayed with the field of education, because I love interacting with, and supporting, young adults," Sullivan says. "Hopefully, my enthusiasm and love for all things 'financial' will encourage my students to enjoy piloting their financial futures."
In her spare time, "I love to bird, hang out at my husband's farm, read, and experiment with new recipes."
Laury Ward is teaching Latin at both WBMS and WBHS. She says she has "lived all over seven states in the United States and overseas in Germany." She graduated from Thomas Jefferson High School for Science and Technology in Alexandria, Va. Ward earned her BA in Philosophy and Classical Studies and a BS in Psychology from Virginia Teach. She received her Ph.D. in Classical Studies from Duke University and has taught for 11 years on the collegiate level.
"I was teaching at a college in Michigan, but my family was looking to relocate to Virginia, and I was looking to move to teaching Latin at the secondary level – William Byrd was the perfect fit!" says Ward.
"I love the classics!" Ward says. "Greek and Latin were the first foreign languages that really clicked for me, and I adore getting to share my love of the ancients with a new generation of students!"