The William Byrd girls were 22nd and the boys were 33rd in the Virginia High School League Class 3 state indoor track meet this week. The Heritage girls and Abingdon boys won team championships in the two day meet at Liberty University in Lynchburg.
The meet started off strong for Byrd on Monday when Sela Beatty qualified for the 55m dash with a school record tying time of 7.31 and Walker Nance just missed qualifying in the 55m hurdles with a time of 8.58.  In the field events, Remi Figart and Chloe Harrilla tied for 8th in the high jump with a clearance of 4'8".  Harrilla was 10th with a jump of 15'9.25".
On Tuesday Figart finished 10th in the triple jump with a season best jump of 32'3.25". Sydney Blewett finished 8th in the shot put with a throw of 33'4.5" and Mya Rosser was 11th with a throw of 31'2".
In the 55m dash finals Beatty finished took all-state honors with a 4th place finish time of 7.37 seconds. Sela was 11th in the 300 meters with a season best time of 45.09 whihle Emma Gordon finished 13th in the 500 meters with a time of 1:29.53.
Olivia Hurd was all-state in the 1000m run with a 6th place finish time of 3:16 minutes and she was also 10th in the mile run at 5:42.49.  The 4x200m relay of Harrilla, Beatty, Emma Dalton and Figart finished 11th (1:54.60) and the 4x400m relay of Harrilla, Gordon, Hurd and Figart finished 11th (4:26.42).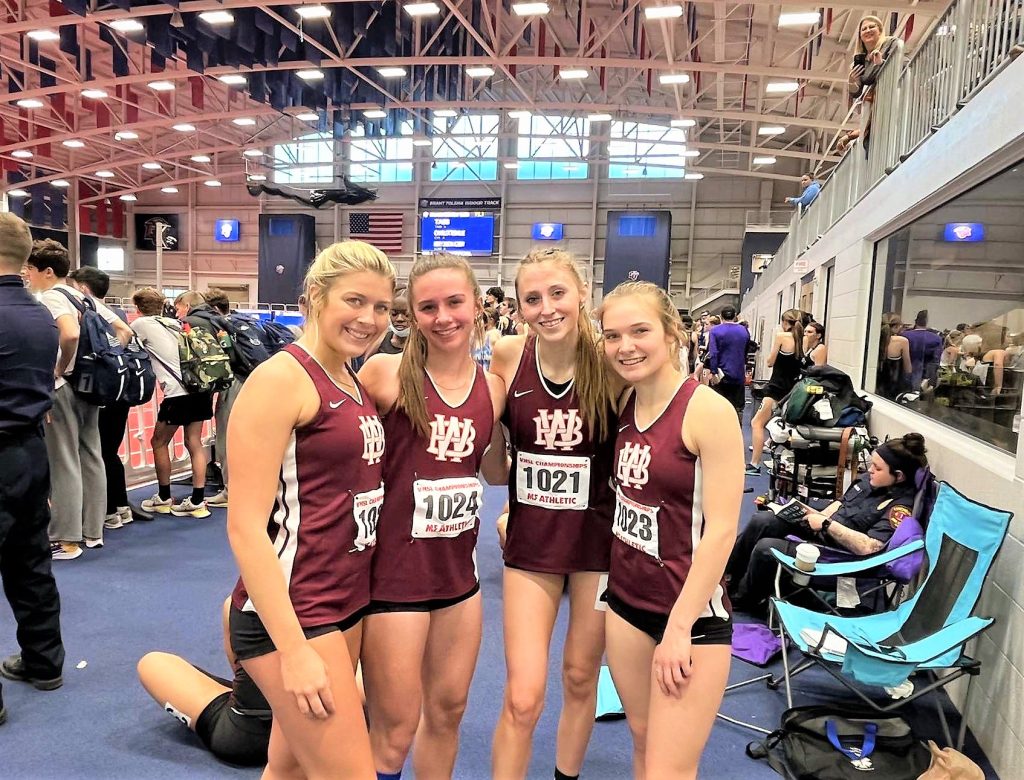 On the boys' side Dylan Hughes finished 8th in the 300m dash on Tuesday with a time of 36.73 and Wyatte Bailey finished 11th in the 500m dash with a time of 1:11.21.  The 4x200m relay of Hughes, Bailey, Brady Reachy and Noah Thompson was 13th with a time of 1:36.60.  Hughes also finished 16th in the long jump with a distance of 18'11.5".
That wrapped up the indoor season for the Terriers. Outdoor practice has already started and the first meet is scheduled for March 23rd.