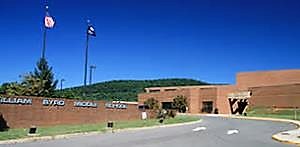 William Byrd Middle School has announced their A and A/B Honor Rolls for the second nine weeks of 2021-2022 school year.
Students on the "A Honor Roll" at WBMS include:
Sixth grade: Addison  Alexander, Kayden Althoff, Caleigh Aremia, Tayler Austin, Isabella Barrette, Jackson Booze, Greyson Bradford, Norah Buck, Stephen Byars, Gabriel Campbell, Mason Campbell, Ryan Carroll, Hayden Chappell, Isabella Clark, Milton Clark, Jazmine Clifton, Jahniya Coles, Claire Cooper, Bradley Counts, Riley Cummings, Isabella Davis, Nathan Doan, Keeli Emery, Payton Farmer, Reagan Fike, Alanna Fitzgerald, Adrian Garcia, Peyton Gates, Kyleigh Ginger, Carson Gordon, Ainslee Hall, Michal Hamlar, Kenleigh Hetherington, Camryn Hicks, Landon Hollins, Benjamin Hoyos, Cooper Kageals, Naleigh Lewis, Ava Lorton, Olivia Marcus, Katelyn Mills, Kenley Minnix, Josephine Mullen, Mallorie Mullins, Allen Nunez, Emma Olivit, Jacob Perez, Anna Perkoski, Jack Petersen, Jenna Petersen, Kendall Ranson, Aiden Rhodes, Nathaniel Roberts, Elliana Ruble, Haleigh Sauceda, Enna Schofield, Breann Sigmon, Teagan Simmons, Gwen Summo, Kara Sutton, Hadyn Terrell, Emma Thierry, Hope Thomas, Juan Torres´Carreon, Mia Vest, Kolee Walter, Hailey Webster, Jacey Weddle, Aaden  Whitaker, Emma Whitcomb, Levi Whitcomb, Ryan Witcher, Cayden Wright, Hendrix Wright, Caleb Wrye, and Gianna Zivelonghi.
Seventh grade: Alyssa Abdelhadi, Lauren Baringer, Erica  Barton, Kyle Bell, Ava Betterton, Janelle Bibby, Aubrey Blewett, Raegan Bowman, Madelyn Brown, Lane Brunk, Natalie Buck, Hudson Cain, Casey Carter, Emily Clinebell, Addison Collins, Jenna Cruz, Chase Daugherty, Fallon Davis, Colter Dean, Heidi Dixon, Hannah Eakin, Colton Edwards, David Foster, Clarissa Gill, Jeremiah Harper, Emmalee Harris, Sophie Hoagland, Lukas Johnson, Owen Johnson, Cole Johnston, Alexander Jones, Evelyn Jones, Britton Jordan, Arianna Krista, Vincent Liu, Olivia Long, Helena Longstreth, Olivia Lorek, Joseph Madonna, Layla Matz, Emma Milliron, Tyler Minnix, Penley Moore, Elena Mullen, Sarah Nguyen, Sydney Nichols, Carly Norton, Kendall Norton, Brody Parrish, Sebastian Perdomo, Eric Pierce, Myles Preston, Thomas Purcell, Jamya Rosborough, Willow Seth, Charley Sherburne, Aubrey Sink, Riley Slusher, Riley Spradlin, Ramsay Stephens, Zachary Stiltner, Bailey Tabor, McKayla Tingler, Izabella Trumble, Sydney Tuck, Kara Watkins, Owen Webb, Heidi Wienke, and Maggie Zimmerman.
Eighth grade: Ethan Alexander, Olivia Basham, Ainslsey Bolen, Braeden Booth, Aubrey Booze, Tyson Brady, Kaylin Bumgarner, Olivia Bustamante, Addison  Clark, Asher Claybrook, Aiden Cottrell, Matilyn Cox, Ashton Dillon, Samuel Geist, Elizabeth Gheen, Ryleigh Grubb, Ryan Hurley, Taylor Jacobsen,  Macabe James, Cary Jones, Brooke Justus, Tate Kotz, Tatianna Kubik, Carter Leonard, Kenady Leonard, Jayden Niday, Lilian Perez, Mallory Peroulas, Bethany Pittenger, Meisha Robinson, Gabrielle Romeo, Kyle Saccocci, Christopher Shively, James Smith, Jr., Jarrett Smith, Ethan Sutton, Lucy Whitenack, Darin Witcher, Lennon Wright, and Peyton Wright.
Students on the "A/B Honor Roll" at William Byrd Middle for the second nine weeks include:
Sixth graders: Garin Adkins, Kaleb Agee, Bryce Angle, Franklin Apple, Jacob Artrip, Asia Bannister, Kayleigh Barber, Madelyn Barrette, Logan Beverage, Logan Blevins, Allison Bowling, Paxton Brown, Caleb Bryant, Shawn Bunce, Morgan Burroughs, Olivia Bush, Wyatt Childress, Elliana Conner, Bella Craddock, Kayden Creel, Braylon Dent, Meranda Dilcher, Morgan Dillard, Marshall Dooley, Anthony Dudley, Dustin Dudley, Lily Duffy, Timothy Duncan, Noah Dunithan, Justin Dunn, Caeden Eanes, Angelyce Enriquez, Logan Ferguson, Ethan Francisco, Madison Garman, Blair Godlesky, Kur Gon, Thalia Green, Riley Gregory, Hadyn Grubb, Charley Harmon, Josiah Harper, Aubrey Harris, Samuel Hartless, Harmony Hedberg, Mason Hershel, Jude Hinkle, Olivia Holcomb, William Lasecki, Leona Logan, Reese Mahanes, Gray Matthews, Jacob McCoy, Luka Mihelcic, Irene Miller, Adalie Mills, Jack Mills, Mia Mohamed, Leah Montgomery, Kennedy Moseley, Ethan Neville, Riley Niday, Daniel Ochoa, Brooklynn Padgett, Caridad Palmero, Emily Pearce, Cooper Peery, Amy Rickman, Karley Robinson, Lexi Rock, Maksymilian Rosenberg, Vivian Schmidt, Luke Scott, Joshua Serreno, Richard Smith, Zoe Sowers, Paul St. Clair, Alyssa Steahly, Brooklyn Strother, Jaiden Swanson, Cameron Thomas, Jake Thomason, Cassidy Thompson, Isaiah Thompson, Jamari Toler, Jesse Underwood, Braelyn Webster, Bryson Wendell, Keenan West, Carson Wheeler, Noah Wheeler, Haleigh White, Bindi Whitenack, Jaden Wood, Sabrina Wray, and Skylar Young..
Seventh grade: Grayson Adams, Adok Adok, Chaelyn Bandy, Morgan Belcher, Alanah Bonnell,Tanner Bromfield, Sage Brown, Sophia Buendia, Ashlyn Cain, Madalynn Cale, Bridget Carlisle, Riley Carlisle, Andrew Carter, Brianna Carter, Isabella Chandler,  Cohen Cook, Alexis Davis, Alyssa Dennis, Carina Dibenedetto, Emmalee Dodson, Brooklyn Dooley, Sidney Draper, Campbell Duff, Alexis Felty, Jaxon Fowler, Savannah Hardman, Lanaiya Hardy, Caiden Harnish, Aniyah Harper, Braedyn Henritze, Dorian Hollis, Shayla Hunt, Christopher Hurd II, Lilly Jarels,  Levi Johnson, Stella Jones, Joel Kinney, Reagan Kirby, Ariel Kirkham, Evan Klein, David Krawczyk, Austin, Kroner, Isabella Lane, Scotlyn Leonard, Elena Lopez, Reece Magill, Angel Marchese III, Bradley Martin, Mia Martin, Ella McCoy, Jackson McCoy, Caden McReynolds, Kaden Mitchell, Giovanni Pandolfini, Jeremy Paul, Maggie Peters, Michael Ramos, Grace Reynolds, Hope Reynolds,  Luke Richardson, Makayla Ring,  Liam Robertson, Bruce Robinson, Hayleigh Sallee, Abigail Saritelli, Jonah Schofield, Colten Sheppard, Elliott Smith, Noah Spradlin, Tarren Staten, Aiden St. Clair, Kaitlyn Tang, Zane Taylor, Zane Telsch, Aubrey Tidrow, Michael Tidrow, Jakeem Toler, Lauren Toney, Nicholas Toney, William Turman, Colton West, Arianna White, Connor Whitehead, Logan Williams, Skye Williams,  Makaylah Witt, Leighann Wood, Isabella Worley, and Aiden Wright.
Eighth graders: Jeremy Abbott, Kyndall Agee, Joshua Allen, Ashley Arven, Lillian Ashley, Blake Austin, Ceiliann Baldwin, Aiden Barton, Kelsey Bell, Sawyer Bolen, Ella Brady, Sophia Brown, Caleb Brunk, Lily Carrell, Xavier Clingenpeel, Sydney Coles, Bladimir Cortes´Martinez, Jacob Courtemanche, Evelyn Dickason, Emma Dooley, Beckham Draper, Isabella Dudley, Nevaeh Edwards, Jaelyn English, Paul Ferrebee, Draven Flinchum, Katelynn Franks, Cody Gardner, Chloe  Gill, Sofia Gonzalez, Kevin Green, Jr., Keegan Harnish, Keegan Harold, Philip Haroulakis, Osheanna Hartless, Luke Helton, Brooke Hershel, Jaden Holmes, Lauren Johnson, Connor Jones, Kasey Kendall, Shelby Krawczyk, Iziah Logan, Jr., Kennedy Lohrmann, Elizabeth Martinez, Collin Mills, Lindsay Murtaugh, Emily Ngo, Lizeth Nolasco, Morgan Odum, Carlee Partleton, Sienna Perdue, Leila Pichardo, Makiya Price, Thomas Robbins, Ashlyn Rogers, Anna Sanderson, Keith Schult, Jr., Makenzie Scott, Brayden Serfass, Napiray Sierra´Prin, Mitchell Sigafoes, Kairi Simms, Bryce Simpson, Taylor Spangler, Kylind Spence, Christian Stanley, Kole Stephenson, Mallory Summo, Kaeleigh Swan, Evan Tabor, Annabelle Teague, Zane Vasser, Dixie Venable, Aliyah Ware, Micah Wheeler, Emma Williams, Noah Williams, Aaron Wood, and Angie Zaragoza´pena.
Congratulations for your hard work and accomplishments!