By Debbie Adams
According to Principal Todd Kageals, "William Byrd Middle School opened a new chapter in the girls basketball program when Coach Missy Hershel was hired to coach the 2020-2021 Terriers basketball team."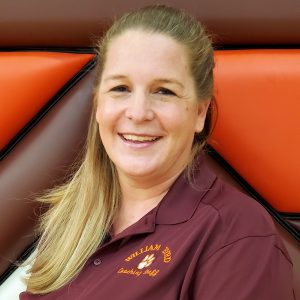 Coach Hershel played college basketball at Mount Aloysius College in Cresson, Pennsylvania, where she was part of a National Championship team in 2003. She scored 1093 points, captured 474 rebounds, and was named to the AMCC All Conference 2nd team.
After graduating, Coach Hershel remained with the Mounties as a coach for the next three seasons.
She holds an undergraduate degree in Elementary/Early Childhood Education, and a Master's degree in Educational Leadership.
In Pennsylvania, Coach Hershel led Bellwood-Antis Middle School to a league championship in 2012.
Coach Hershel and her husband, who volunteers as a youth hockey coach, moved to Roanoke with his job–at the time–with Norfolk Southern Railroad.
After moving to Virginia, Hershel added a special education endorsement and began teaching at a private school in Roanoke in the Rivermont Autism program.
When asked about her coaching priorities, Coach Hershel said that she would focus on sound fundamentals, team-oriented basketball, offensive spacing and ball movement, and player movement with primary emphasis on defense.
Her main goal is to help develop young athletes who will be leaders on the court and in the classroom. She is looking forward to helping Coach Brad Greenway (William Byrd High School Girls Basketball Head Coach) develop a basketball program which begins before middle school and stretches through the varsity team.
The WBMS girls basketball team will open the 2020-21 season on Thursday, January 7, at home against Read Mountain Middle School. Practice/tryouts begin on December 7. Conditioning will begin about two weeks prior to the start of practices.
WBMS is part of the Roanoke Valley Middle School League.  The RVMSL follows VHSL guidelines, with specific modifications for middle schools.  (The VHSL officially governs high schools only.)
WBMS would like to recognize and thank Ashley Stultz who has been coaching the WBMS team for the past seven seasons.  Prior to coaching at WBMS, Ashley was an assistant Coach at Staunton River High School.  Coach Stultz resigned this season due to the demands of teaching in the current environment.