William Byrd Middle School has announced their A and A/B Honor Rolls for the third nine weeks of 2022-2023 school year.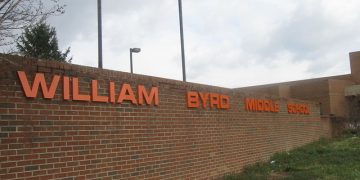 Students on the A Honor Roll at WBMS include:
Sixth Grade: Ace Adkins, Noah Adok, Carlee Akers,Tabitha Allen, Katie Altamirano Diaz,  Elizabeth Ball, Lola Barbour, Addison Bradford, Madison Brigdon, Garrett Brunk, Ethan Camper, Savannah Chassereau,  Calvin Chen, Payten Childress, Avery Chitwood, Carston Di Benedetto, Reid Divers, Kelly Dixon, Michael Dixon, Landon Dolan, Dakoda Downs, Claire Draper, McKinley Edberg, Kayden Gibson, Jaxon Glatt, Landon Hagy, Tenley Hardifer, Alyssa Harless, Madelyn Huffman, Nathen Hurley, Zachary Ingram, Marygann Jenkins, Caroline Johnson, Brogan Jordan, Briggs Kotz, Rylan Lang, John Lee, Brooke Lomax, Ashlynn Lovern, Melissa Madonna, Lixi Martinez'Maldonado, Ella McReynolds, Cale Meador, Corinne Michalski, Layna Miller, Bryce Moding, Miriam Moore, Grady Morck, Gracie Morgan, Vanessa Mullen, Philip Nguyen, Jaxon Oneill, Alaura Overstreet, Madilyn Overstreet, Bryn Padgett, David Pham, Mahkenna Ramsey, Madelynn Ray, Maxwell Reeves, Kayleigh Roberts, Emily Robtison, Isabella Shropshire, Olivia Strassburg, Jonathan Underwood, Isabella Wertz, Temperance Whorley, Wesley Wilson, and Carlie Zimmerman.
Seventh grade: Kayden Althoff, Caleigh Aremia, Tayler Austin, Corey Bailey, Jr., Asia Bannister, Kayleigh Barber, Isabella Barrette, Madelyn Barrette, Logan Beverage, Jaiden Blankenship, Logan Blevins, Jackson Booze, Greyson Bradford, Norah Buck, Stephen Byars, Gabriel Campbell, Ryan Carroll, Isabella Clark, Milton Clark, Jazmine Clifton, Jahniya Coles, Claire Cooper, Bradley Counts, Riley Cummings, Isabella Davis, Helen De la Cruz'Cala, Braylon Dent, Nathan Doan, Dustin Dudley, Keeli Emery, Payton Farmer, Reagan Fike, Alanna Fitzgerald, Peyton Gates, Kyleigh Ginger, Thalia Green, Ainslee Hall, Michal Hamlar, Aubrey Harris, Kenleigh Hetherington, Camryn Hicks, Christian Hodges, Raelyn Hodges, Benjamin Hoyos, Margaret Jennings, Cooper Kageals, Naleigh Lewis, Ava Lorton, Olivia Marcus, Mallory Michalski, Katelyn Mills, Kenley Minnix, Leah Montgomery, Kennedy Moseley, Mallorie Mullins,  Riley Niday, Allen Nunez, Daniel Ochoa, Emma Olivit, Cooper Peery, Jacob Perez, Anna Perkoski, Jack Petersen, Jenna Petersen, Kendall Ranson, Aiden Rhodes, Lexi Rock,  Elliana Ruble, Enna Schofield, Luke Scott, Aaron Start, Alyssa Steahly, Gwen Summo, Kara Sutton, Hadyn Terrell, Emma Thierry, Cameron Thomas, Hope Thomas, Isaiah Thompson, Mia Vest, Kolee Walter, Hailey Webster, Carson Wheeler, Emma Whitcomb, Levi Whitcomb, Haleigh White, Bindi Whitenack, Jaden Williams, Sabrina Wray, Hendrix Wright, Caleb Wrye, and Gianna Zivelonghi.
Eighth grade: Alyssa Abdelhadi, Eleanor Ball, Erica Barton, Aubrey Blewett, Addison Collins, Heidi Dixon, Jeremiah Harper, Aaron Hemming, Sophie Hoagland, Cole Johnston, Britton Jordan, Arianna Krista, Olivia Long, Olivia Lorek, Emma Milliron, Tyler Minnix, Elena Mullen, Sarah Nguyen, Carly Norton, Kendall Norton, Giovanni Pandolfini, Sebastian Perdomo, Thomas Purcell, Jamya Rosborough, Abigail Saritelli, Willow Seth, Aubrey Sink, Ramsey Stephens, Gavin Thornton, McKayla Tingler, Izabella Trumble, Sydney Tuck, Heidi Wienke, Aiden Wright, and Maggie Zimmerman.
Students on the AB Honor Roll at WBMS include:
Sixth grade: Kendall Adams, Raylend Agee, Levi Amos, Alexander Ashwell, Lakyn Austin, Laylah Austin, Elyshah Ball, Jayden Beasley, Ryan Bell, Ethan Bibby, Evan Bibby, Tristen Blevins, Emma Boyd, Karla Brumback, Liam Bruner, Sienna Burkus'Landis, Sofia Butler, Cooper Butrym, Jennifer Cabrera, Robert Campbell, Sariah Carpenter, Colten Carter, Serenity Cassell, Joshua Christensen, Allyssa Clyburn, Riley Cobb, Eliana Colwell, Alexander Dolan, Ashlynn Doss, Iris Dudley, Izaih Duncan, Lillian Duncan, Remington Duncan, Drayven English, William Etue, Jayden Ferris, Macie Fields, Russell Fisher, Ryleigh Fisher, Kyleigh Flurnoy, Brayden Furrow, Nyah Gaines, Cohen Gill, Jeffrey Gill, Nyankor Gon, Madison Gordon, Carter Gray, Joshua Hale, Jackson Henderson, Katelynn Howell, Ayriana Huff, Jackson Johnson, Makenzie LaPradd, Zoe LaRose, Makinleigh Lee, Chase Madonna, Charlotte Manning, Silas Marshall'Emma, Kyler Martin, Nancy McGlothlin, Oliver Moore, Mason Moses, William Muddiman, Hailey Mullins, Sophia Nester, La'Riah Noel, Jayden Omiyo, Vishva Patel, Aiden Perdue, Marley Poindexter, Talon Ray, Nolan Riley, Landon Rodgers, Aubrey Roye, Evan Scott, Cora Shell, Kennedi Shifflett, Nami Shively, Rafe Smith, Corryn Speed, Jacob Spradlin, Graceyn Taylor, Nicholas Trettner, Christopher Turner, Peyton Turner, Paylin Waldron, Holden White, Jack R. Williams, Joshua J. Williams, Briana Willis, Gavin Wintz, and Josiah Wright.
Seventh grade: Bryce Angle, Jacob Artrip,
Aiden Beasley, Katelyn Bennett, Allison Bowling, Paxton Brown, Olivia Bush, Mason Campbell, Eric Chen, Wyatt Childress, Noah Ciafardini, Aarolyn Cohen, Elliana Conner, Bella Craddock, Kayden Creel, Meranda Dilcher, Morgan Dillard, Kylie Dixon, Marshall Dooley, Lily Duffy, Timothy Duncan, Justin Dunn, Caeden Eanes, Angelyce Enriquez,Gabriel Felty, Logan Ferguson, Debra Gamble, Adrian Garcia, Benjamin Gardner, Madison Garman, Mackenzie Gillett, Blair Godlesky, Kur Gon, Carson Gordon, Haydn Grubb, Preslee Hamm, Josiah Harper, Mirian Hernandez'Lemus, Mason Hershel, Jude Hinkle, Landon Hollins, Anthony Holmes, Jr., Khloe Humphrey, Jayda Jordan, Alyvia Lee, Samuel Leftwich,
Reese Mahanes, Andrea Maldonado, Gray Matthews, Jacob McCoy, Luke Mihelcic, Adalie Mills, Mia Mohamad, William Morgan, Josephine Mullen, Eric Nguyen, Brooklynn Padgett, Carter Palmer, Ethan Parker, Khloe Peters, Riley Rhine, Amy Rickman, Nathaniel Roberts, Haleigh Sauceda, Vivian Schmidt, Joshua Serreno, Teagan Simmons, Zoe Sowers, Aiden Stiltner, Brooklyn Strother, Cassidy Thompson, Jamari Toler, Juan Torres'Carreon, Jesse Underwood, Chyna Walker, Braelyn Webster, Jacey Weddle, Bryson Wendell, Keenan West, Noah Wheeler, Aaden Whitaker, Ryan Witcher, and Kaydy Wright.
Eighth grade: Adok Adok, Ava Betterton, Janelle Bibby, Raegan Bowman, Madelyn Brown, Sage Brown, Lane Brunk, Hudson Cain, Riley Carlisle, Cohen Cook, Jenna Cruz,
Chase Daugherty, Colter Dean, Alyssa Dennis, Carina Dibenedetto, Colton Edwards, David Foster, Jaxon Fowler, Clarissa Gill, Caiden Harnish, Aniyah Harper, Emmalee Harris, Braedyn Henritze, Christopher Hurd, II, Brandon Hurley, Lilly Jarels, Lukas Johnson, Owen Johnson, Evelyn Jones, Stella Jones, David Krawczyk, Scotlyn Leonard, Charley Lord, Joseph Madonna, Bradley Martin, Ella McCoy, Jackson McCoy, Caden McReynolds, Penley Moore, Sydney Nichols, Brody Parrish, Jeremy Paul, Eric Pierce, Mia Pippin, Myles Preston, Luke Richardson, Colin Rodgers, Jonah Schofield, Riley Slusher, Nathaniel Smith, Noah Spradlin, Riley Spradlin, Bailey Tabor, Kaitlyn Tang, Zane Telsch, Lauren Toney, Owen Webb, Colton West, Connor Whitehead, Skye Williams, and Makaylah Witt.
Submitted by William Byrd Middle School Assistant Principal Katherine Hutchison