Presented by the Administrative Team at William Byrd High School
Each week, in the Terrier Spotlight of the Week, the administrative team at William Byrd High School recognizes faculty and staff members for their wonderful contributions to their students and community.
The first Terrier Spotlight of the Week announced on December 11, is Mrs. Kathrine Bumgarner. Mrs. Bumgarner is one of our many talented co-teachers here at William Byrd. If you've spent any time observing her in the classroom or on Blackboard, it's clear that she and Mr. Hinkle are truly a model for co-teaching. Apart from being a fabulous co-teacher and case manager, Mrs. Bumgarner also coaches our color guard team. Outside of school, she enjoys spending time with her family. She especially enjoys taking the family to her family cabin in Bland County and enjoying a day of trout fishing. Mrs. Bumgarner's hard work and devotion to our students and staff, as well as her unrelenting optimism and positive attitude have been invaluable this school year.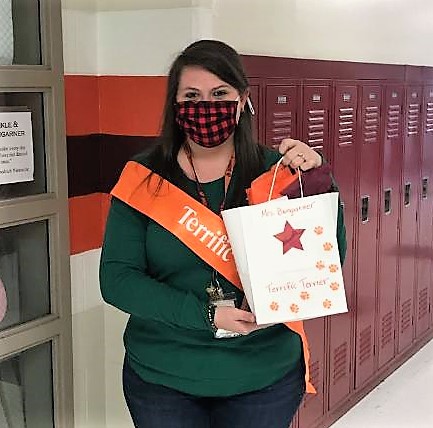 Next, is U. S. History teacher, Cristy Spencer. There are clearly those who were born to be teachers. We've all been fortunate enough to have been a student in their class. Mrs. Spencer is that teacher! Her passion for the content and love for her students truly cannot be contained. Perhaps we shouldn't be surprised; after all, she is a third-generation teacher! If that's not shocking enough, the connection doesn't stop there. She's also married to an educator, and rumor has it that her daughter is also going into education. When not teaching or thinking about teaching (which is pretty much never), Mrs. Spencer enjoys soaking up the sun on a beach or escaping to the mountains for a weekend getaway. We cannot thank you enough Mrs. Spencer for the passion and commitment you give to our students each and every day. Thank you!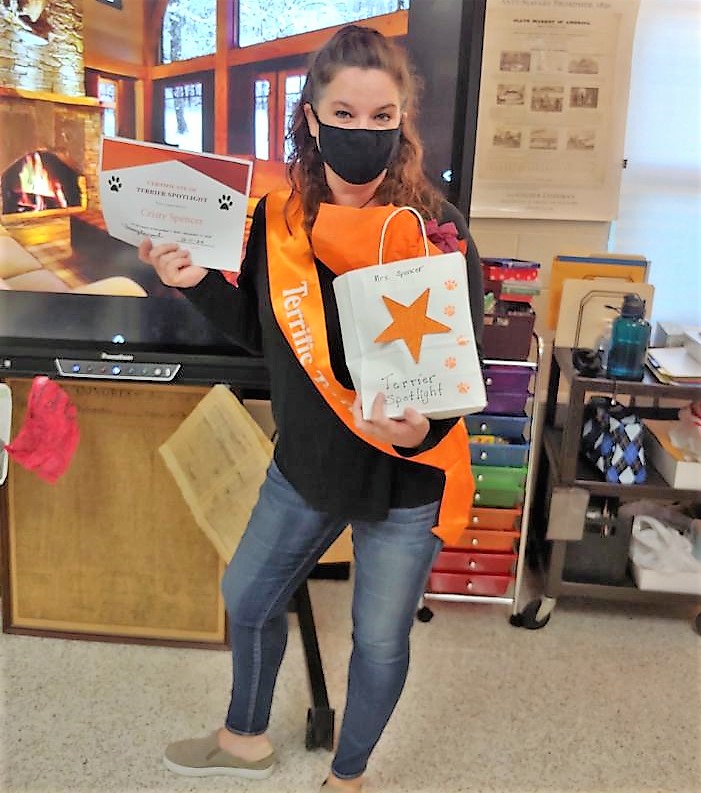 Our next Terrier Spotlight of the Week, is Mrs. Victoria Hawkins! Mrs. Hawkins is the school nurse here at William Byrd. I'm sure when she decided to become a school nurse, she probably never envisioned anything like the 2020 school year. The responsibilities and day-to-day operations have fundamentally changed over the course of the past nine months. She has been tasked with ensuring that our school remains safe during the pandemic. This has included contact tracing, sharing medical updates and guidelines with faculty and staff, managing health screenings, and so much more. We want to sincerely thank Mrs. Hawkins, as well as all of our health care professionals, for the sacrifices that they've made this year.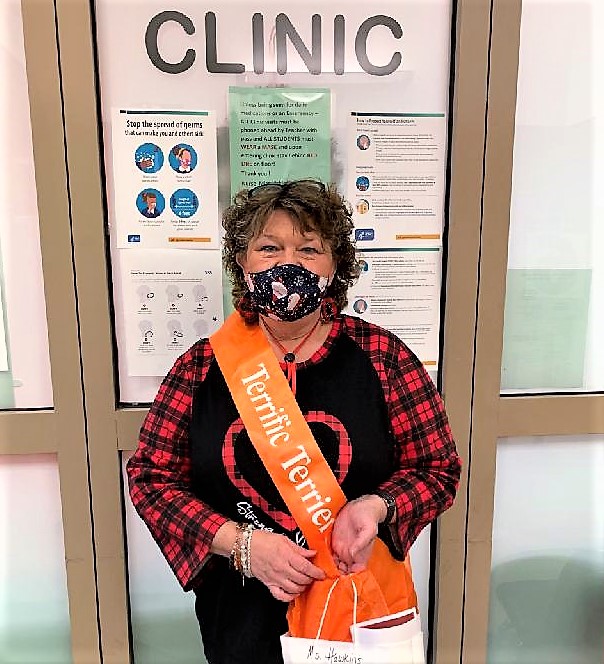 Finally, our Spotlight is on the coolest counselor in the building, Mrs. Katie Bredenkamp!  This former Knight turned Terrier never fails to bring fun and excitement into the building. It's not just the caffeine from that morning's Starbucks either; it's all-natural. If your last name ends in S-Z, then you know what I mean. Mrs. Bredenkamp's positive energy and infectious spirit have been particularly important this school year. She also knows how to truly listen and relate to our students. Her ability to connect with students and provide guidance and direction during those all-important teenage years is unparalleled. When not helping students with wisdom and sage advice, Mrs. Bredenkamp enjoys going for a run, grabbing a cup of coffee, or spending time with friends and family, including her husband and two adorable sons. Thank you again Mrs. Bredenkamp for being such a wonderful counselor and role model for our students.