By Debbie Adams
William Byrd High School recognized the accomplishments of the Class of 2022 at the Distinguished Honors Banquet on May 9. The ceremony and dinner were held in the main gymnasium at the high school.
WBHS Principal Tammy Newcomb welcomed the students and their parents. "Tonight, we are here to celebrate you–the Class of 2022," she said. "You have worked really hard to get where you are."
During the ceremony, Emilie McCaskill and Emiliano Gonzalez were named Best All Around Female and Best All Around Male for the WBHS Class of 2022.
According to William Byrd Assistant Principal Marcee Cook, "Best All Around" is a coveted honor based first on academic success, and second on who best represents good character and investment in their school and community. "These young people have also participated in a variety of academic and extracurricular activities and the selections are determined by a faculty nomination and vote."
Department Awards were also presented. Each department selects an outstanding senior who maintains good academic standards in the department, displays good character, and contributes constructively to the class, department, and school. They are recommended by teachers and determined by a consensus vote by the teachers of that department. The names of the department award recipients are kept secret until the night of the banquet.
Department Award recipients for 2022 include:
Art: Samantha Shrader
Band: Annabelle Moore
Business: Hannah Sutton
Choir: Anya Hunter
Drama: Victoria Lovern
English: Daniel Letz
Family and Consumer Science (FACs): Bryson Crawford
French: Emilie McCaskill
Latin: Emiliano Gonzalez
Marketing: Micah Kiker
Math: Hannah Sutton
Physical Education: Hunter Richards
Science: Emilie McCaskill
Social Studies: Grace Saunders
Spanish: Grace Saunders
Technology Education: Austin Nielsen
Yearbook: Kassidy Wrye
Newcomb recognized several students with special awards:
Chloe Harrilla was recognized as Top Terrier for the Class of 2022. "The Top Terrier is nominated by students, elected by the faculty, and awarded to the senior who best exemplifies the qualities of integrity, loyalty, courage of character, and who serves as a model for everyone," said Newcomb. "This person values education as well as the traditions of the school."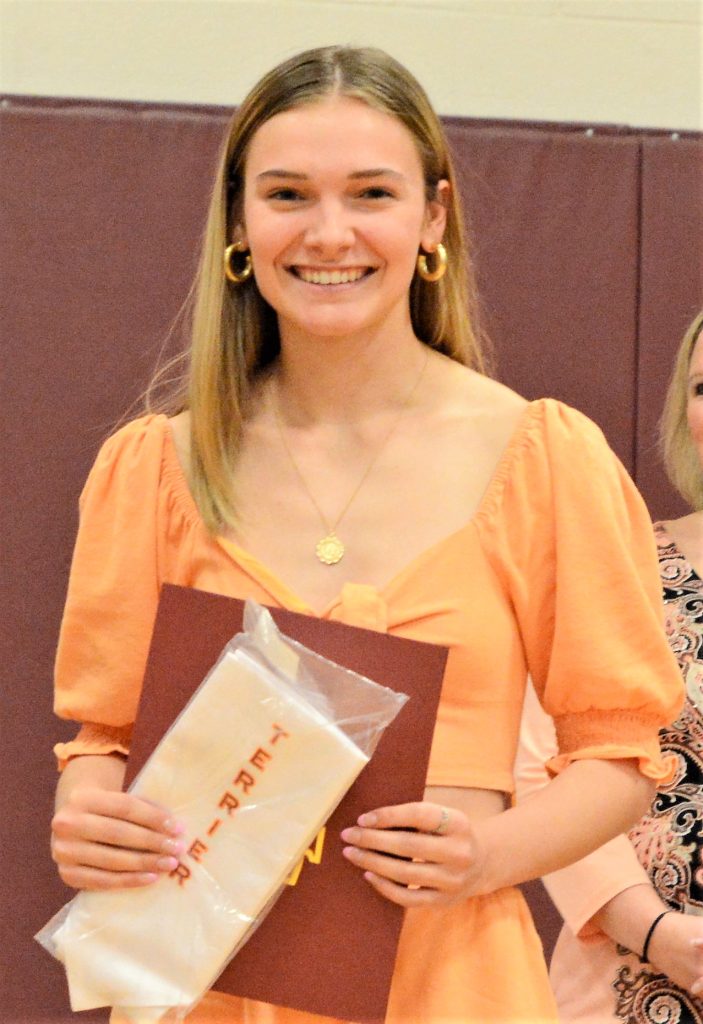 Five students were awarded the Blue Ridge District Academic Awards for having the highest GPA and the most awarded school letters: Riley Firebaugh, Haley Day, Trevor Ruble, Emilie McCaskill, and Emma Copening. Each high school selects its top five.
Hunter Richards and Remi FiGart were recognized as the 2022 B'Nai Brith Award school winners for William Byrd High School. The B'Nai Brith awards are given each year to a male and female winner from among 19 schools in the Roanoke Valley. The awards are viewed locally as the area "Heisman trophy" of high school awards. The student-athletes are judged differently than most awards of this kind. The award is weighted 40 percent on athletic success, 40 percent on academic success and 20 percent on community service. Richards and FiGart will compete with the winners from the other 18 schools for the prestigious award.
Emilie McCaskill was recognized for completing her Associates Degree at Virginia Western Community College while completing her high school diploma.
Maddie Tuck and Landon Niday were honored as the 2022 Dog Pound leaders. Each year the Senior Class nominates and votes for two students to lead the award-winning school-spirited, rowdy, but fun, student spirit and cheering section known as the Dog Pound.

Dog Pound Leaders for 2022, Landon Niday and Maddie Tuck
Candidates for valedictorian were announced at the banquet. Valedictorians have achieved a cumulative GPA of 4.0 or higher during their high school years. In recognition of that accomplishment, the students were presented with their Valedictorian Stole to be worn at graduation, their Valedictorian Certificate, an Honor Graduate gold tassel, and an Advanced Diploma pin.
Class of 2022 valedictorians include: Alexa Rae Aquino, Isabel Burnett, Gentry Carle, Emma Copening, Haley Day, Ross Divers, Haley Firebaugh, Riley Firebaugh, Emiliano Gonzalez, Ethan Hairston, Chloe Harrilla, Griffin Horacek, Matthew Hoyos, Jocelyn Hunter, Carlee Hutchens, Micah Kiker, Devin Liu, Jaiden Lorton, Victoria Lovern, Emilie McCaskill, Wesley Nance, Landon Niday, Austin Nielsen, Timber Raines, Joshua Roop, Jaylen Rosser, Mya Rosser, Trevor Ruble, Daniel Sarver, Grace Saunders, William Sayers, Hunter Sipe, Ashlyn Stover, Hannah Sutton, Charles Trogdon, Jr., Madison Tuck, Lana Turner, Amber Vaughn, Cadence Wilkerson, and Kassidy Wrye.
Distinguished Honor Graduates with GPAs of 3.5 or higher were also recognized and presented with an Honor Graduate Gold Tassel. (Starred * names also received Advanced Studies Diploma pins.)
Distinguished Honor Graduates for 2022 include: *Sela Beatty, *Tyler Begasse, *Chayton Behrens, *Yulissa Bonilla Guacheta, *Mackenzie Browne, Bryson Crawford, *Emily Dalton, Bronwyn Fenimore, *Kaitlyn Ferguson, *Remington FiGart, *Jade Fleitz, *Mackenzie Foley, *Peyton Fuchs, *Sarah Fuchs, Elisha Gayles, *Nevaeh Guenthner, *Abigail Gunn, *Wills Halliwill, *Catherine Harless, *Jacob Hilliard, Kaiya Hoagland, *Keely Hoal, Sean Hoey, Anya Hunter, *Elsie Kincer, *Daniel Letz, *Brysen Lish, Amaris Markham, *Jayson Marvin, *Madeline Miller, *Robert Miller, *Anna Milliron, Natalee Mills, *Annabelle Moore, *Hunter Muddiman, *Jenna Nicely, *Shivani Patel, Hunter Richards, *Matthew Scavelli, *Natalie Schneider, *Samantha Shrader, Damien Chaos'Smith, Faith Smith, Greta Walls, *Verity Watkins, *Victoria Watts, *Travis West, *Claire Wray, and *Cross Yonce.
BETA Club members were recognized at the honors ceremony. BETA Club is a national honor and service organization that has been a part of William Byrd since 1960. Students with a 3.75 GPA at the end of their junior year are invited to join. If a student decides to become a member, they participate in volunteer activities in the school and in the community.
BETA Club members in the Class of 2022 received BETA Club pins; those who completed 10 hours of volunteer service also received a BETA cord to wear at graduation and are indicated with an * before their names:  *Alexa Rae Aquino, *Tyler Begasse,*Isabel Burnett, Gentry Carle, *Emma Copening, *Emily Dalton,  Haley Day, *Ross Divers, *Bronwyn Fenimore, *Remi FiGart, *Haley Firebaugh, *Riley Firebaugh, *Jade Fleitz, *Emiliano Gonzalez, *Ethan Hairston, *Wills Halliwill, *Catherine Harless, *Chloe Harrilla, *Kaiya Hoagland, *Keely Hoal, *Sean Hoey, *Griffin Horacek, *Matthew Hoyos, *Jocelyn Hunter, *Carlee Hutchens, *Micah Kiker, *Brysen Lish, *Devin Liu, *Jaiden Lorton, *Victoria Lovern, *Amaris Markham, *Jayson Marvin, *Emilie McCaskill, *Madeline Miller, *Robert Miller, *Hunter Muddiman, *Wesley Nance, *Jenna Nicely, *Landon Niday, *Austin Nielsen, *Timber Raines, *Joshua Roop, *Jaylen Rosser, *Mya Rosser, *Trevor Ruble, *Daniel Sarver, *Grace Saunders, *William Sayers, *Natalie Schneider, *Samantha Shrader, *Hunter Sipe, *Ashlyn Stover, *Hannah Sutton, Charles Trogdon, Jr., *Madison Tuck, *Victoria Watts, *Cadence Wilkerson, and *Kassidy Wrye.
The Best All Around Male and Female awards were presented at the end of the evening. Each year the awards are presented by members representing organizations active in the community—  the Breakfast Lions Club of Vinton and the GFWC Woman's Club of Vinton. Winners were awarded a $250 scholarship.
Vicki Newburn from the Vinton Woman's Club presented the Best All Around Female award to Emilie McCaskill.
"This young lady has been quite busy during her high school years," Newburn said. "During her senior year, she stepped up to serve as the SCA President and became a member of the BETA Club. Other highlights of her four years include: Leo Club (11th-12th grades), hosting two French Exchange students in October 2019 and going to France for Foreign Exchange in July 2021. Being fluent in French made this experience truly memorable.
"Emilie has been a member of the Fellowship of Christian Athletes since freshman year. She played on the varsity girls basketball team serving as team captain. She received accolades for being the leading scorer in 10th and 12th grades. She was recognized for being a 1,000-point scorer. She was also 1st Team All-District. On the varsity tennis team, she had the most singles wins and the highest GPA on the team.
"Emilie is a hard-working and determined young woman who loves to lead in organizations, sports, and her church. She served as a student intern at Vinton Baptist Church. From 10th-12th grades she served on the Vinton Baptist Student Leadership Committee; she worked in Vacation Bible School, and she sings in the Vinton Baptist Choir.
"She volunteered for Feeding Southwest Virginia from April through July 2020, working on the Café to Grow Truck, providing food to impoverished neighborhoods in Roanoke at the most critical time during COVID, so I know her 70 plus hours were appreciated.
"This goal-oriented student has accomplished all of this, and she has held a part-time job at Kroger since the summer of 2020. She is organized, manages her time well, and always serves as a team leader."
Chris McCarty from the Vinton Breakfast Lions Club and Lions Zone 1 Chairman presented the Best All Around Male Award to Emiliano Gonzalez.
"In 2020 the Vinton Host Lions Club merged with the Vinton Breakfast Lions Club and I am happy to continue the tradition they started in presenting the Best All Around Male Award," said McCarty.
He described Emiliano as well-rounded. He has played in the band for six years, including three years in Marching Band, three years in Jazz Band, and three years in Concert and Symphonic Band. He's also an athlete, playing travel soccer for four years and high school soccer for three years.
He is involved in the community by being a Boy Scout with highlights including being a Patrol Leader and a Senior Patrol Leader with Troop 210. He has also reached the ultimate goal in Scouting by becoming an Eagle Scout. He was named District Eagle Scout of the Year for 2022.
He has been involved with the Science Fair for three years, winning first place in the county and second place in Regionals as a freshman and sophomore, and then Honorable Mention after advancing to the state fair as a junior.
His GPA is 4.00 unweighted and 4.32 weighted: he is ranked number one in his class. He plans to attend Georgia Tech and major in Materials Science Engineering, Entrepreneurship.
Emiliano also attends the Burton Center for Arts and Technology (BCAT) where his team was named as a National REACH Challenge Semi-Finalist. He has been co-captain of the Academics Team for two years.
Each Distinguished Honor Graduate was asked to create a "Senior Board" with their pictures and accomplishments, which were then displayed in the gym.
The 2022 Senior Honors Banquet was organized and facilitated by Senior Sponsor Hannah Blais, assisted by faculty members Sherri Mays and Krista Martin. The meal was catered by Sal's with cupcakes from Cupcake Katie.