By Debbie Adams
William Byrd High School held its annual Senior Awards Ceremony on May 17.
Principal Tammy Newcomb thanked the William Byrd PTSO and its president Kori Webb for sponsoring the assembly and other programs "to enrich our students' high school experience."
First to be recognized were not seniors, but Junior Marshals who have a 4.0 or higher GPA and as such will assist with the graduation ceremony for the Class of 2021.
Junior Marshals in the Class of 2022 are Alexa Aquino, Isabel Burnett, John Cooley, Emma Copening, Haley Day, Ross Divers, Haley Firebaugh, Riley Firebaugh, Emiliano Gonzalez, Jocelyn Hunter, Carlee Hutchens, Micah Kiker, Devin Liu, Nicholas Long, Jaiden Lorton, Victoria Lovern, Emilie McCaskill, Wesley Nance, Landon Niday, Austin Nielsen, Steven Nguyen, Timber Raines, Joshua Roop, Trevor Ruble, Daniel Sarver, Barbara Saunders, Cole Spencer, Hannah Sutton, Lana Turner, Travis West, Cadence Wilkerson, and Kassidy Wrye.
SCA Awards were presented to officers Keaton Band, Caroline Dullaghan, Catie Dullaghan, Natalie Mullins, Hailey Ramsey, Arielle Shiloh, Erin Taylor, and Julie Wang.
The PTSO Senior Awards Assembly includes the presentation of many scholarships established in memory of former students by their families or of past educators or community leaders. Many scholarships are presented by organizations as well.
The following scholarship awards were presented on May 17:
Camilla Cabaniss, secretary of the GFWC Vinton Woman's Club presented the Vinton Woman's Club Scholarship to Hailey Ramsey. The annual scholarship goes to "a graduating senior to assist with their pursuit of a higher education."  The Woman's Club has served the community for over 65 years.
Coach Paul Barnard presented Arnold R. Burton Scholarships to Joseph Johnson and Luke Taylor.
The Thomas Family presented the Erica Thomas Memorial Scholarship to Erin Courtemanche and Hailey Ramsey. This scholarship is given in memory of Erica Thomas, a 1999 honor graduate of William Byrd High School.
Dave Riddle and Dean Rorer presented Ethan Wray the Mount Pleasant Fire Department Scholarship.
The Wickham family presented the Adam Wickham Scholarship to Hailey Ramsey.
Teacher Ed Donahue announced Hailey Ramsey as the winner of the Henry Lee Memorial-Member One Scholarship, established in memory of Henry Lee who lost his life in the shootings at Virginia Tech in 2007.
Len Hale presented Reindeer Club Scholarships to Amna Becirevic, Natalie Mullins, Charlotte Rose, Megan Thomas, and Reagan Tuck.
Sam Cundiff presented the Vinton Breakfast Lions Club Scholarship to Natalie Mullins. This scholarship is based on "academic achievement, community service, Leo Club activities, and financial need to help the chosen student pursue higher education."
Cundiff also presented four Wallace Cundiff Memorial Scholarships to Kasey McKee, Elizabeth Recktenwald, Megan Thomas, and Katie Wheeler.
Charlie and Carolee Lovelace presented two scholarships in memory of their son, Dr. Charlie J. "Jay" Lovelace III, to Caroline Gibbs and Kasey McKee. Dr. Lovelace was tragically killed in an automobile accident in 1997. Recipients of this scholarship are active members of Vinton Baptist Church planning to attend a four-year university.
Deedie Kagey presented the Bonsack/Blue Ridge Ruritan Club scholarship to Natalie Mullins.
Chuck Lionberger from the Roanoke County Public Schools Education Foundation presented the following scholarships to William Byrd students in the Class of 2021:
Education Foundation Golf Scholarship: Charlotte Rose
Education Foundation Golf Scholarship: Hailey Ramsey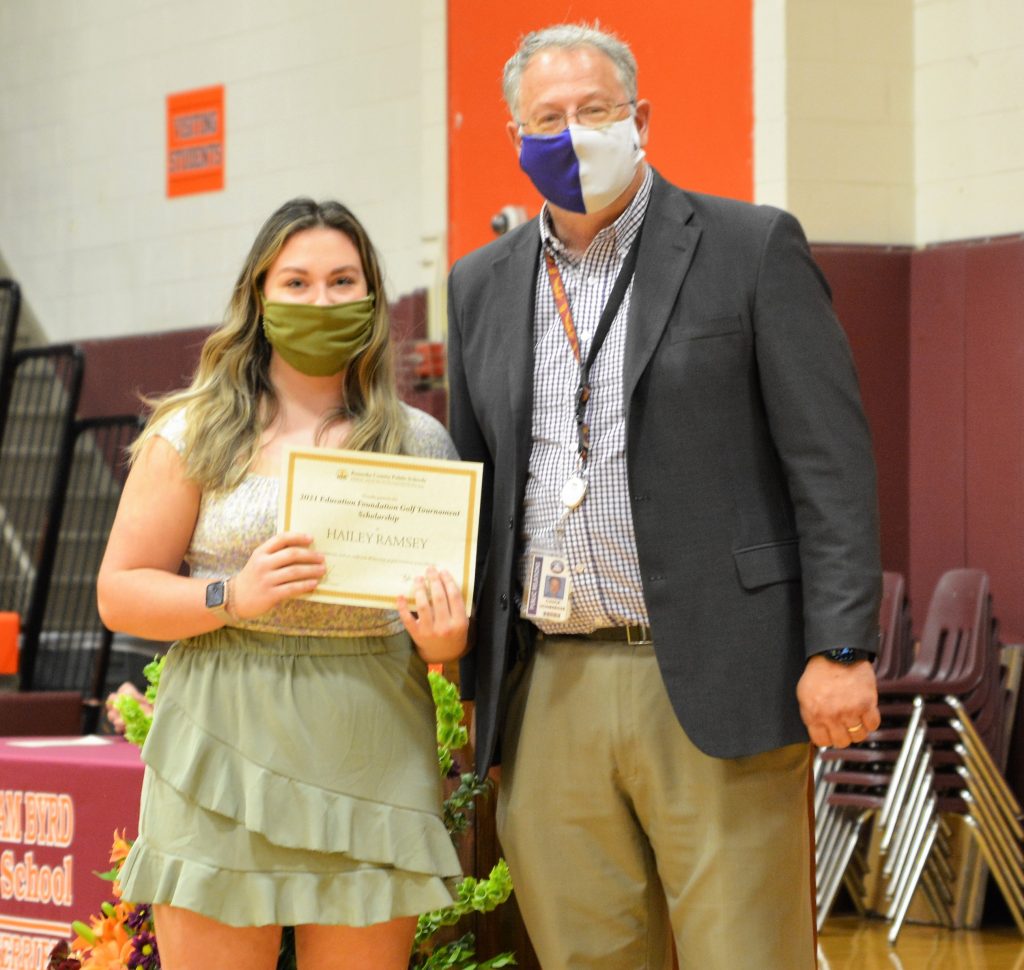 Herman L. Horn Elementary PTA Scholarship presented to a former HLH "bee": Caroline Gibbs
Hildegarde and Cecil G. Smith #1 Memorial to Amna Becirevic
Hildegarde and Cecil G. Smith # 2 Memorial: Will Howell
D. Sisson Golf Scholarship: Christopher Blankenship
LaCole Board Memorial: Cade Hanson
Michelle Montano Dowdy Memorial: Hanna Howell
Quincy Development Company: Elizabeth Recktenwald
Tina Cook Woods Memorial: Natalie Mullins
Toni Tillman Scholarship: Olivia Darnell
Vinton McDonald's Scholarship: Luke Taylor
Robert A. Patterson Memorial Scholarship: Kasey McKee
The Roanoke County Education Foundation was created in 1991 as a non-profit organization to help young people in Roanoke County Public Schools meet some of their educational and personal goals. Its mission has been to promote the advancement and further the aims and goals of Roanoke County Public Schools through the development and application of donated financial resources. In addition to student scholarships for graduating seniors the Education Foundation provides classroom grants for innovative teaching ideas; assist with student travel to attend state and national competitions; provides resources for international education; and assists students in remedial education and substance abuse programs.
Kori Webb presented WBHS PTSO Scholarships to Brooke Johnston and Elizabeth Recktenwald.
Yearbook Advisor Christine Acker presented the Yearbook Award to Natalie Mullins
Sgt. Benjamin Kanode presented United States Army certificates of enlistment to Gavin Ellis and Zachary Minter. Their enlistment will qualify them for the GI Bill.
Sgt. Eric Bradley from the United States Marine Corps welcomed new enlistees John Belcher, James Cawley, Craig Hall, Kollin Slusher, and Tanner Smith.
Bradley also presented United States Marine Awards to Taylor Dawson, Hunter Harris, and Elizabeth Recktenwald.
WBHS Assistant Principal Marcee Cook presented Community Scholarships:
Natalie Mullins was awarded the Richard L. Dick Williams Memorial Scholarship.
Hailey Ramsey won the Dorothy and Julien Meyer, Sr. M.D. and Melva P. Jones Scholarships.
Katie Wheeler was awarded the Bettie Nichols Guthrie Scholarship.
The Vinton Booster Club, an organization which provides athletic programs for youth, provided two scholarships for seniors who played a sport through the Vinton Booster Club for three or more years. Recipients were Isaac Fix and Hunter Harris.
Cook also presented the Roanoke County Retirees Scholarship certificate to Olivia Darnell. This scholarship goes to a Roanoke County graduating senior who plans to become an educator.
The NCWIT Award for Aspirations in Computing is a scholarship given to students who demonstrate aptitude and aspirations in technology and computing as demonstrated by their computing experience, computing-related activities, and leadership experience. Out of 4200 applicants, only 39 were selected as National Winners, including this year's WBHS winner Athena Liao.
The Stovall-Page Scholarship has been awarded for the past 45 years. Raymond Eugene Page and Joseph William Stovall were both graduates of WBHS and lifelong members of Vinton Baptist Church. Stovall was also a lifelong member of the Lions Club. Page, who developed the scholarship, made the first class ring for William Byrd High School and wanted to do something to help the students of WBHS with these scholarships. "Their investments to our local Vinton community have added value to what it means to be a Terrier," said Newcomb. Winners this year of the Stovall-Page Scholarship were Kasey McKee and Caroline Gibbs.
Newcomb announced Taylor Dawson as the winner of the National Merit Bridgestone Americas Inc. Scholarship, saying, "Over 1.5 million students in about 21,000 high schools were entered into the 2021 National Merit Scholarship Program when they took the 2019 PSAT as juniors. In September 2020, around 17,000 semifinalists were chosen as the highest-scoring students in their states, representing about one percent of the country's high school seniors. Around 16,000 semifinalists qualified as finalists.
"Taylor Dawson was selected as a finalist and is a winner of a corporate-sponsored scholarship," Newcomb said. "She will be attending MIT this fall."
Newcomb presented the Uri D. and Balance A. Smith Scholarship to Hanna Howell. This scholarship fund was established in the Roanoke Valley to give one scholarship to each of the five high schools in Roanoke County. This scholarship is awarded to a student planning to pursue a higher education in Virginia. Howell is the winner from WBHS.
"Our students have made incredible strides over the past four years and we are proud of all their accomplishments," said Newcomb in closing the awards ceremony.