By Sports Editor Brian Hoffman
William Byrd graduate Reece Watson, a rising senior at Emory & Henry College, has earned a spot on the Old Dominion Athletic Conference All-Academic team.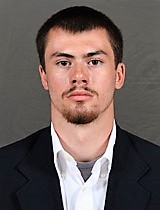 Eligibility for the ODAC All-Academic Team is open to any student-athlete that competes in an E&H varsity sport, regardless of academic class. He or she must achieve at least a 3.25 grade point average for the year to be considered.
Reece, who played quarterback at Byrd, saw action in three games as a freshman in 2017 as a reserve quarterback. In 2018 he was moved to defense and played in seven games. Last fall Reece played in nine games on special teams and had nine tackles and a forced fumble while also seeing action as a wide receiver.