By Debbie Adams
W.E. Cundiff Elementary School opens the school year with several new faculty and staff members.
"We are looking forward to an amazing year #TeamCundiff," said Principal Ashley McCallum.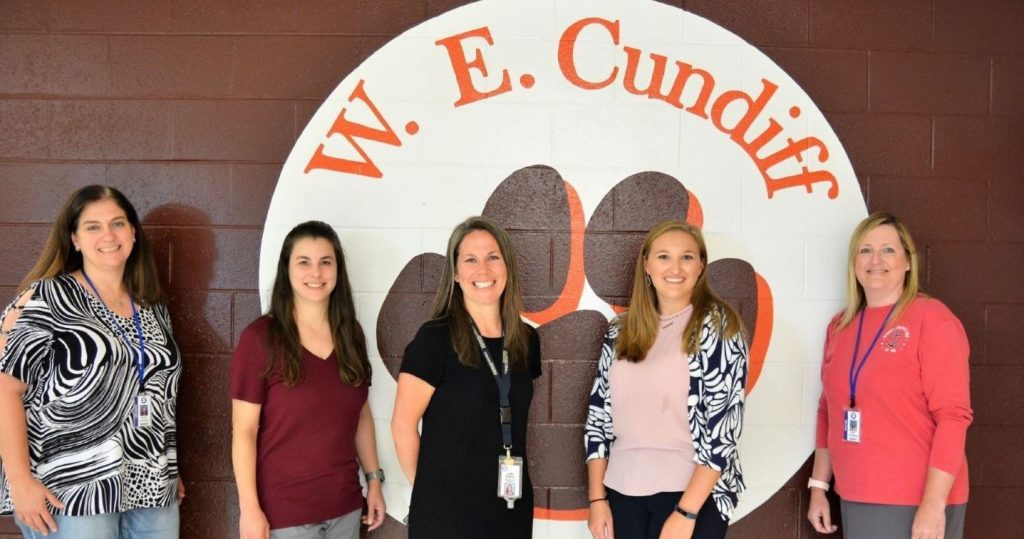 Abby Crawford will be an instructional assistant at W.E. Cundiff this year, working with kindergarten and first grade.
She is from Botetourt County and graduated from Lord Botetourt High School. She earned her Masters of the Art of Teaching in Inclusive Early Childhood Education from James Madison University.
"I have a cousin who has been teaching in the county for 16 years who helped me get to know [Principal] Ashley McCallum while I was searching for jobs, and after speaking with her I felt like W.E. Cundiff was going to be a great fit for me," Crawford says. "I am excited to be at W.E. Cundiff because the atmosphere has already been so welcoming, and I can't wait to get to know the students and the rest of the staff."
Crawford has several other family members who have taught in Roanoke County Schools.
Lori Dixon will also be an instructional assistant at Cundiff this year. She is from Virginia Beach and majored in Communications and History at Virginia Tech.
"Each of my four children have attended WEC and when a teacher friend shared with me that an IA position opened up, I put in for a transfer and was hired," Dixon said.
She has spent the past two years as an IA at Herman L. Horn Elementary.
Dixon says she is "thrilled" to be working at Cundiff.
"I have been a WEC parent since 2011 and have loved every moment of being part of the family in that sense," Dixon said. "It is a wonderful school and my kids have always had great teachers. Two of my kids have moved on up to the middle and high schools, but my twins will be going into fourth grade and I am so excited to be at the same school as them!"
Her family has lived in Vinton since 2008 when her husband's job brought them to the area.
Dixon says as far as special interests, she is a huge Atlanta Brave fan– "GO BRAVES!"
Kristy Muddiman will be teaching kindergarten at W. E. Cundiff. She and her husband are both graduates of William Byrd High School. They moved to South Carolina eight years ago, and then to Charlottesville before returning to the Vinton area this summer. Both their families still live here.
Muddiuman earned her Bachelor's Degree in Government and Foreign Affairs from the University of Virginia in 1996 and her M.A.T. in Elementary Education from Hollins University in 2003. This will be her 10th year in public education. She will actually be teaching in the same classroom her husband attended in kindergarten.
"After teaching at the high school level for many years, I began teaching first grade when we moved to Charlottesville; I will be continuing that path in the kindergarten position at Cundiff," Muddiman said.
"I have known Ashley McCallum for years and am looking forward to working with her," Muddiman added.  "Everyone else on the staff has been very welcoming."
Muddiman and her husband have three boys: Tyler, 18, is attending George Mason this fall as a Bonner leadership scholar and Computer Science major; Hunter, 16 will be a junior at William Byrd and is an oil painter.  He will also be in the Visual Arts program at BCAT.  Grant is 9 and will attend Bonsack Elementary. He loves to play guitar and act, and has just joined a local swim team.
Tracey Patterson will be the new library media specialist at Cundiff. She grew up in Roanoke in the Mount Pleasant area, but currently lives in Blue Ridge. She is a graduate of William Byrd High School. Her husband also grew up in the Vinton community. She earned her Bachelor's Degree in Music at Radford University and has taught elementary music for 17 years. During that time, she added an endorsement in library media through UVA-Wise.
"I was actually supposed to be on a cruise to celebrate my son's high school graduation and 18th birthday the same week I was called to interview for the library position at Cundiff, but COVID happened, and our vacation was cancelled," Patterson said.  "I never would have thought I'd say COVID would be any type of blessing, but in this case, it was!
"I am super excited to be a part of the team at W.E. Cundiff this year, and to be starting a new adventure in the library!" Patterson says. "I have heard wonderful things about the staff and school community, and I can't wait to be a part of it."
Dawn Werness, who taught at Herman L. Horn Elementary for about 17 years, will be a Title I teacher at WEC. She recently graduated from Radford University with a Master's in Literacy Education.
"I am excited to be a part of Team Cundiff," Werness said.